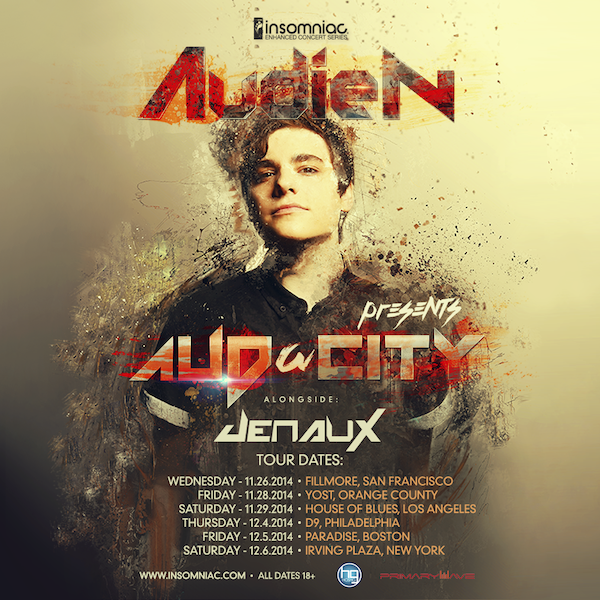 Purchase Tickets
Winter is coming, and if you're anything like us, you are gripping the last morsels of summer with every cell in your body; there's little to look forward to besides warm naps and hot chocolate. But wait, progressive house gurus Audien and Jenaux are skating from coast to coast to toast us up with their incredibly euphoria-filled fall tour AUDaCITY. A powerful combo to DJ a night of absolute dancing mayhem, both Audien and Jenaux are bound to veer on and off the progressive house path and give you a taste of their electro and deep house sounds as well.
It's quite an experience to see Audien play in more intimate settings, especially since he's recently dawned over massive festivals such as Beyond Wonderland and Tomorrowland. Listening to some of EDMTunes' favorites such as 'Leaving You' and 'Wayfarer' through headphones is one thing, but seeing him perform live takes that souped-up adrenaline feel to another level; as an added bonus, he promises to debut lots of new music.
It's also a pleasure to see Jenaux on the AUDaCITY tour. The burgeoning producer has a comparable, yet intricately unique style to Audien, and the exposure he will gain on this tour is well-deserved. Saturating deeper, funkier tones to his music, Jenaux will bring a perfect complement and diversity of flavor to the tour. His recent remixes of Lemaitre's 'Wait' and Cazzette's 'Sleepless' and mere teases to what he has offer, and we can only hope he will parallel Audien's promise for new music during the AUDaCITY tour.