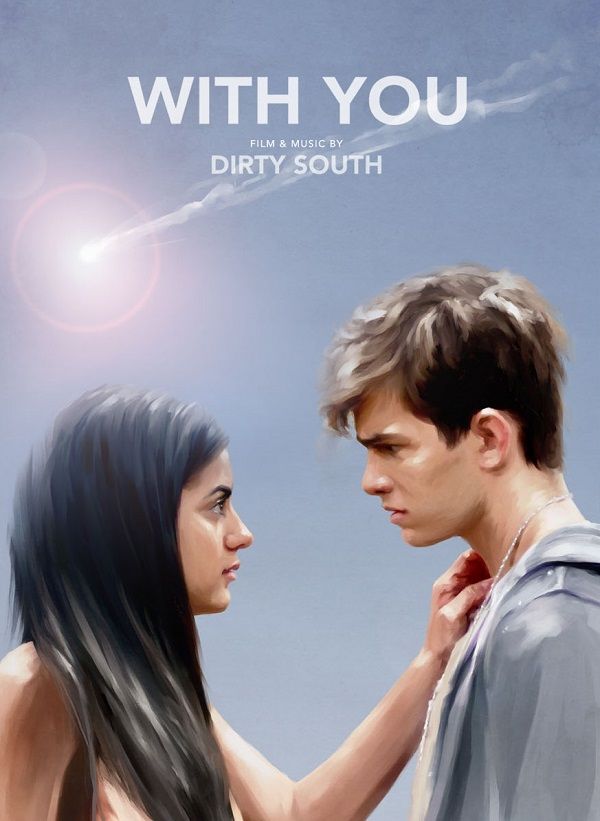 ​
Fans of Dragan Roganovic, better known to the electronic music world by his main moniker, Dirty South, have more to look forward to than an album's worth of new music. As a visual accompaniment to his forthcoming album, Dirty South co-wrote, directed, executive produced and edited ​a short​ film​ titled​ With You​ and screened it to a small invite-only audience in Los Angeles on August 11th. His manager Amy Thomson introduced the film, explaining that she had been captivated by the story the second Dragan told it to her. Dirty South then spoke, explaining that for many of the people he worked with on the film, it would be their first time seeing it.
With You is just short of an hour long and builds an entire narrative around the music Dirty South produced, succinctly telling a dramatic love story that begins with two teens meeting in ​an extremely rural​ and ​desolate community before being separated by a supernatural force. Years later, they find their way back to one another. With each vivid scene, Dirty South's music, which has never been anything short of cinematic, sweeps away the senses, fully engrossing viewers in the emotions the characters themselves experience.​ ​The cinematography is particularly stunning, with crisp imagery and clever shots ​that elevate the film to a true work of art, rather than an extended music video with standard-issue stor​​ytelling. ​​​
The film was ​shot​ in Los Angeles and Lake Hughes, an unincorporated community several miles north of Los Angeles that served as the gritty, rural community where the two characters meet growing up​. ​The visual variety and depth of the various settings contribute to the rich texture of the world Dirty South creates in With You. ​​Fans ​will appreciate the appearance of a character named Ruben Haze, whose dialogue is actually lyrics from the album. ​After the screening, Dirty South made some remarks and offered the audience an opportunity to ask him questions. He explained that the story was inspired by the music and as he set out to make the film, he had 10 tracks for the album, which will be his second studio album following 2013's Speed of Life. Through the filmmaking process, Dirty South built out the album, which will be released November 4th on Astralwerks, to 12 tracks.
The album With You is now available for preorder on iTunes and the first single, 'Unbreakable,' is out today. While fans await the new album, Dirty South says he's already working on new music.  What's most remarkable about Dirty South's accomplishment is in addition to touring, producing music and becoming a father, he successfully pushed his creative boundaries and executed a vision he conceived and believed in and the result is a piece worthy of film festival consideration.
The next screening of #WithYou is gonna be in…. NYC keep your eyes open for details… — Dirty South (@dirtysouth) August 12, 2014
Stay tuned for how you can check out With You for yourself.  Dirty South tweeted out that the next screening would be in New York City. Until then, check out the trailer below and get ready for a gorgeous studio album from the artistic and inspiring Dirty South.