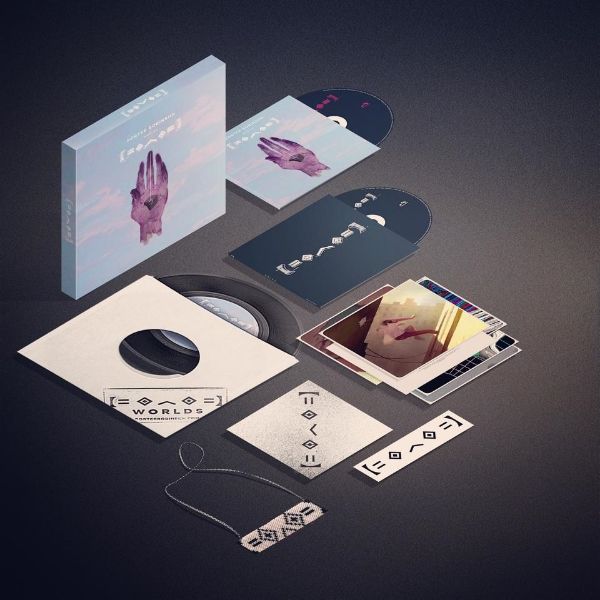 Emerging from the isolation he forced upon himself over the past year, extremely talented and prodigious DJ and producer Porter Robinson has finally rejoined the spotlight. It all started in February when he posted a very cryptic ten-hour long video to his YouTube account that served as the announcement for his new album Worlds.'About a month later came 'Sea of Voices,' the first proof that Porter was serious about his shocking but well anticipated shift in style away from typical 'EDM.' Since then, he has released two more singles—'Sad Machine' and 'Lionhearted'—with one more, 'Flicker,' to be released on July 29. Each of these songs has been extremely well received, so Porter is taking the next step ahead of the dropping the full album with his announcement of a limited edition 'Worlds' box set available for pre-order now.
Priced at $49.99, the box set of Worlds will of course feature a CD of the album, as well as a 7-inch vinyl copy and another CD including remixes from Arty, Anamaguchi and RAC. Porter has been adamant about the visual aspect of the album (and eventually his live show) being essential. As Porter said in an interview with Australian blog Stoney Roads in reference to the show he has created, "I've really been trying to up the ante in terms of visuals and production…there's not a single frame of it that hasn't been revised or given feedback on or changed by me." This will not be the last time he talks about how important those visuals will be, so it is only fitting that the box will also include 12 double sided custom lithographs created by the man himself.
There has not been an album in recent memory that has had this kind of hype built solely by the artist. Porter clearly knows he has created a masterpiece, and his Worlds releases so far prove that he has earned the right to build this kind of hype. 'Worlds' is set to come out on August 12 in the US, and is available now for pre-order digitally on iTunes for the casual fan. If you consider yourself more than that, you will not want to miss this box set, as only a small number will be sold. For now, prepare for the release of 'Flicker' a mere two weeks ahead of the rest of the album, and keep your eyes peeled for the box set, as it will disappear in the blink of an eye.
Check out our official EDMTunes playlist for the freshest tracks - updated weekly!