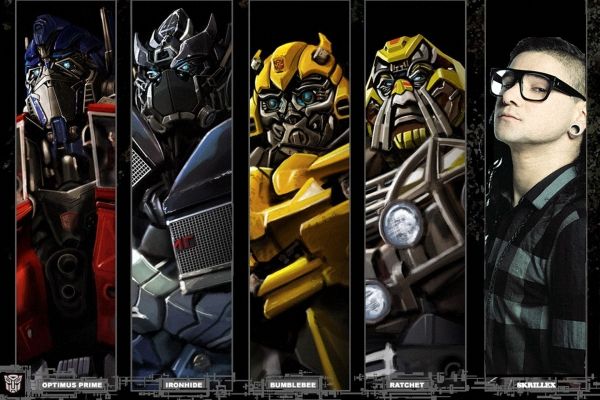 Last week, we discussed how Dillon Francis and Feed Me confirmed their collaborations with OWSLA head Skrillex. At the time we were writing that, Skrillex sat down with Billboard to discuss what he has in store for the rest of 2014. The note that stood out the most was his announcement that he is currently working on the sound design for the next Transformers movie which will see "the craziest Skrillex sounds I could ever make." It's only fitting that one of the pioneers of 'mainstream Transformers having sex' music would be working to bring an eargasm to the big screen.

But this announcement was just the tip of the iceberg; he also gave hint to his plans for 'Skrillex and Friends Superjam' at Bonnaroo. "I don't want to give too much away, but there's gonna be surprises, man. It's gonna be a fun time for sure," Skrillex says. "I basically hand-picked everyone and all the artists are actually friends and people that I've met over the years and worked with, so it's gonna be fun." Musicians slated for the line-up include Doors guitarist Robby Krieger, Grateful Dead percussionist Mickey Hart, Big Gigantic, Zedd and Chance the Rapper.
He then went on to talk about what's in store for his music post-Recess: "In the electronic world, it's not as necessary to just release albums," [so] even though I just put this record out, I'm going to sprinkle in some singles and mini-EPs throughout the year. ('Recess') doesn't feel that much different for me. I've just been releasing so much music in so many different ways, and any EP I've made, like 'Bangarang' and 'Scary Monsters…,' they all have some dynamic in the sense the songs are all different and they're not all bangers. But ('Recess') gave me the opportunity to create more dynamics, just because it's longer, and I really liked that challenge."
Do you think Skrillex's sound will be able to do the Transformers franchise justice?