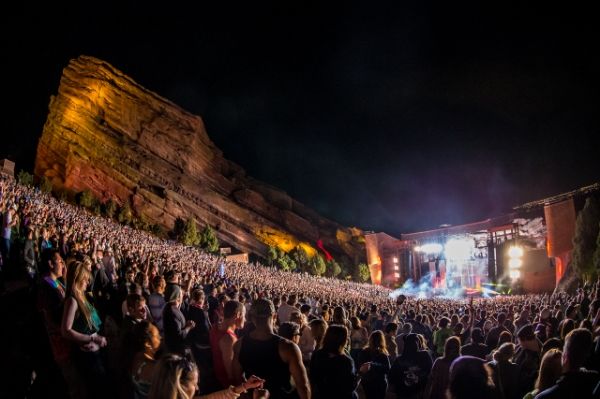 The snow melt of the Rockies is in full force this time of year, as it tumbles through the cozy forest rivers and cascades down the prairies and foothills. It's a gorgeous time of year in the West, the pristine peaks of the Great Divide standing proudly, jutting up through crisp yet hazy Summer winds. In Colorado, one sound begins to echo through the ancient gorges and sprouting flora this time of year: the sound of bass. Summer is officially here in the Rocky Mountains, and with it comes the most exciting time of year for dance music lovers: Red Rocks season. Artist like Skrillex, Bassnectar, Krewella, all come through the legendary venue with their massive countrywide tours, along with other huge acts from all genres of music. However, without a doubt the most vaunted and beloved event over the years has been Global Dance Festival. Entering its 12th year among the hallowed red-hued rocks, Global Dance has serenaded Colorado with star-studded and eclectic lineups for more than a decade. And this year is no different.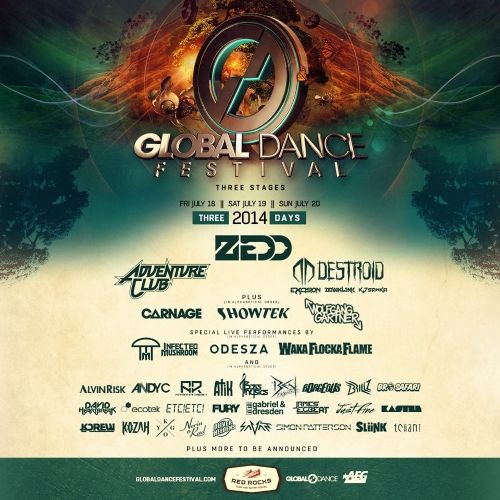 Zedd, Adventure Club, Destroid, Wolfgang Gartner, Kygo, Simon Patterson, Gabriel & Dresden, Etc!Etc!, Alvin Risk, Norin & Rad, Oliver Heldens, and now, Madeon, form a lineup that covers the entire spectrum of dance music. Trance, future house, dubstep, trap, big room, progressive vibes all emanate from the above lineup, as well as many other more niche sub genres.
Global Dance is a festival unlike any other and that's very much due to its setting. The scenery surrounding the music is arguably unparalleled by  almost any other venue  in the country. The event as a whole is very much an experience that is greater than the fantastic music it plays host to. Everything from the parties in the parking lot, to even the long shadows of Ship Rock and Creation Rock -the two massive monoliths that surround the ampitheatre- come together with the music to from the ultimate festival experience. If you're anywhere near Colorado this Summer, this is a festival we highly recommend attending. Grab your tickets as soon as possible, and we'll see you at Red Rocks.