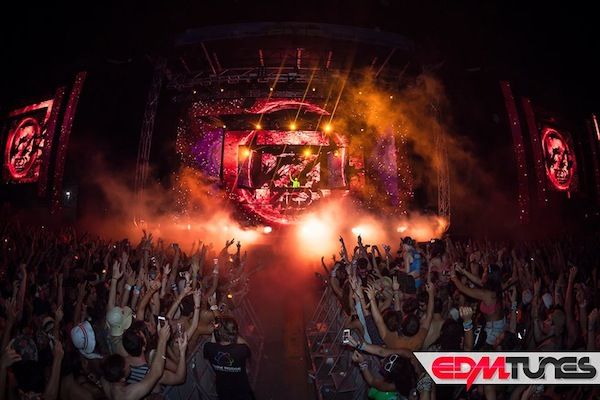 Memorial Day Weekend has quickly become one of the biggest times to celebrate two important things: America and EDM. On one side of the country, EDC New York and Mysteryland USA battled it out for attendees, while the South was home to the two-day event, Sunset Music Festival. Previously only one day, this year we were given double the lineup that Disco Donnie was so gracious to provide. From 2pm to midnight, thousands of young and eager goers showed up ready to rage and ready to let their presence be known, despite the highest temperatures Florida has seen yet this year.
The heat. It was daunting because we all know it's going to get worse as the Summer season progresses. With highs of 95 both days, the only relief came very briefly on Sunday when it rained for an hour.  The water stations were popping and constantly packed. Let this be a reminder that while we party in the sun,  it's very important to keep hydrated, even though the hard-thumping beats can make you forget.

Day one went off with names like Zedd, Benassi, Paul van Dyk, Andrew Rayel, Borgore, Brillz, and more. Three stages were built (the Sunshine, Sunset and Sunrise stages) and were devoted to specific genres each day. Always a pleasure, and among recent scrutiny, The Chainsmokers delivered a very impressive set at the mainstage, including a "#Selfie" remix from Botnek with a lyrics like "….but first let me, STFU!" that got the crowd going and laughing. W&W took a play from Hardwell's Ultra set and mashed up the beat from their "U" remix with "Under Control", a major favorite of mine to hear live. Benny Benassi threw in Skrillex jams, including the famed and beloved "Cinema" remix as well as "Recess."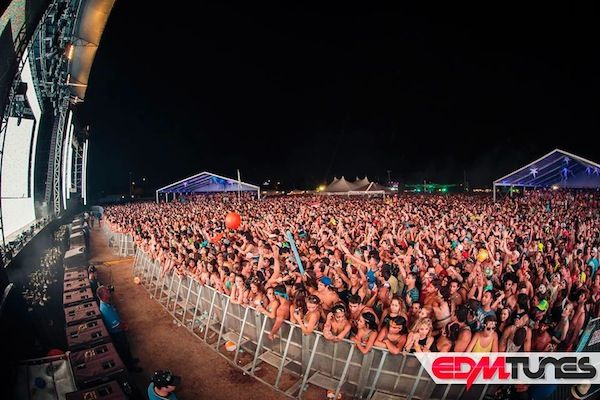 If you were looking for trance, the Sunrise stage made this genre its home on the first day. The stage was incredible as well, with cylinders encompassing every surface, and the Sunshine stage belonged to Adventure Club, Candyland, and Yellow Claw.
But the major WOW of the night from the mainstage came from Zedd and his brilliant VJ, Gabe Damast. For a glorious hour and a half, EDMTunes was able to watch Zedd from the production booth and see the magic. From jaw dropping lasers synched with Knife Party's "Destroy Them With Lazers" to "Clarity" and "Find You," Anton had the crowd in the palm of his hand and he knew just what to do with them. The graphics were out of this world and while galaxies were displayed to "Spectrum", you couldn't help but be amazed that there were techs out there who could create such beauty to go along with the music we hear every single day. Bravo.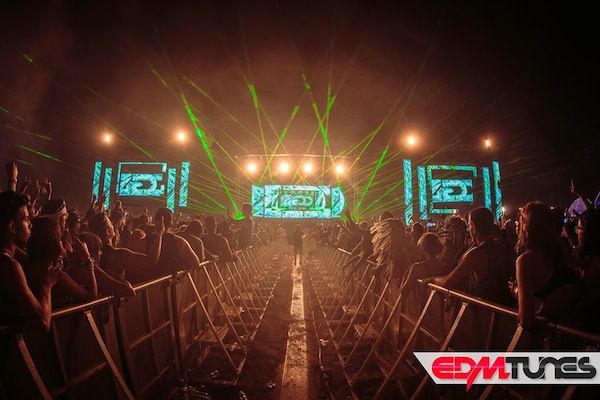 Day 2 was met with a lot of rain. So much that the festival was evacuated (the crowds were ushered into the actual Raymond James Stadium) for about an hour. Once we were back on schedule, set times got pushed back a little but nobody was going to stop the party. Hardwell and Krewella were on the main stage today, Dirtyphonics and Zomboy on the Sunshine stage and then DJ Snake and Alex Metric played on the Sunrise stage.
Always a pleasure to see, Kill Paris played his keyboard live and when he switched to DJing it hung haphazardly off his shoulder. Throughout the crowd, though, you could hear one word: Tchami. Said to have been one of the best sets of the festival, this rising French DJ took to the stage Sunday night, rocking the clerical collar as always, and had the crowd jamming to a powerful funky house set from the get-go. After dropping his 'Old School' Edit of Hannah Wants & Chris Lorenzo's "Rude Boy," he had the whole place bumping, even the security guards in the photo pit busted some moves! Throughout the entire set, there was no escaping the urge to dance. Soon after, DJ Snake closed out the show and even made history by having Lil Jon come on stage to perform "Turn Down For What" for the first time together. Hardwell hadn't been back to Florida since his highly acclaimed Ultra set, so the pressure was high. Of course, he didn't disappoint. Neither did Krewella, who played right before him.
A highlight of the weekend was one of the after parties on Sunday night at Hogan's Beach. Yes, THE Hulk Hogan, who was present with his son, Nick Hogan. Lil Jon and Sidney Samson performed to a gigantic crowd and there were a couple of crashers: Hardwell and Tommy Trash covered the crowd in champagne and DJ Snake joined Lil Jon on stage again. It was the perfect kickoff to the summer festival season and great practice for what to wear and how to stay hydrated for the rest of the events we're about to take on.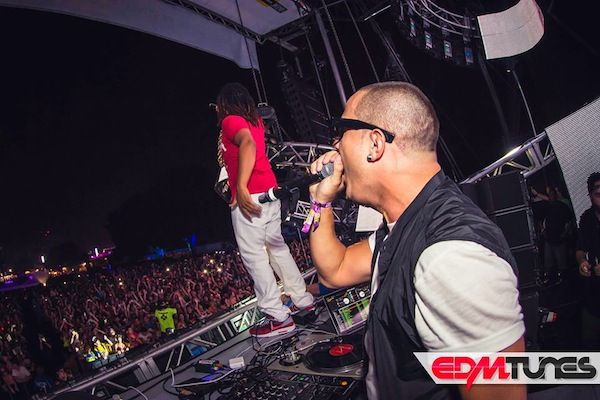 Photo Credit: Brockelbank Photography