The EDM explosion has carried with it many opportunities, and greater than ever consolidation of the market, as mega-events, mega-pricing, hard to attain, and even less likely to find itself in a "city near you."  This explosion met with these other factors means that smaller cities get continually left out of the fray.  Seeing the Double Vision paint, blacklight, and foam party making a stop in little old Pittsburgh, in a venue very popular amongst our local crowd  This location, a converted church named Altar Bar, we decided we had to take a look more closely at the two-year touring event, and the artists that make it what it is.
Double vision was created on the basis of combining some of the craziest theme parties currently in circulation, and combined it all together into one event.  Tasked with a breakneck experience, these events are stacking up multiple nights in a row with hundreds of miles between.  Setup isn't just a matter of the gear, as these individuals have to also set up the barricades, plasic, paint, which adds an additional 2-3 hours on the front and back end of each night.  In addition, the VIP experience they're offering is a unique one, where instead of being whisked away to some secluded area, they're given paint guns to unleash on their friends and other crowd-goers.  Thumbs up for paint, glowy stuff, and foam?  This guy thinks so.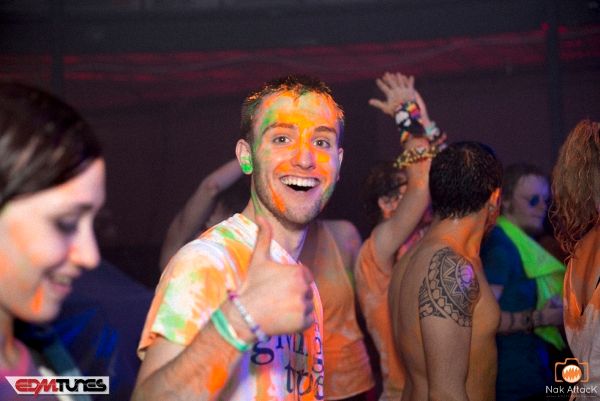 As part of this tour feature, we had the opportunity to sit down with all of the artists, Hyper Crush, Splitbreed, and JayEfKay, and speak about their experiences thus far
JayEfKay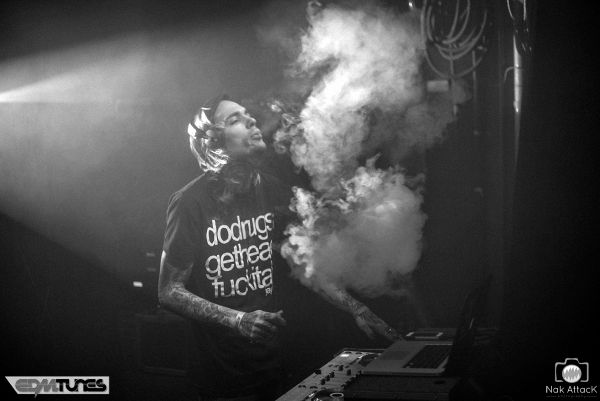 How are you feeling about Double Vision, after being a few dates in?
"The tour's been really great to me, Hyper Crush was willing to take a chance on me, I'm really fairly new to the scene, and it's been amazing.  They were friends of mine, and have kept an eye on me, and about 3/4ths of the way through their last tour, I've been able to go to cities, eat the best food in all of these locations, and as far as touring is concerned, this is my first, and I couldn't have asked for a better group to get into the scene with."
On his history with music and how he found his way into electronica.
"I used to be in a rock and roll band.  I did the rock and roll tour thing, and I started to veer towards electronic once our tour crossed paths with Sonny Moore's first music tours while I was helping to sell merch for Halifax, when he sang for "From First to Last."  It was unreal watching him mix these melodic dubstep tracks into classic 90's R&B."

"If I had to pick one thing to do for the rest of my life, working a turntable, or working in the studio producing, without a doubt, I think that my talents lie in the studio.  It's really tough to be successful in only one arena or another, which is why you see so many ghost producers out there.  It takes years for people to master working the turntables, or the CDJs, and there really is an art to playing on stage, whether or not people believe it.  I'm comfortable with both, and DJing is fun, but Producing is what I can see myself doing for a much longer time."
Splitbreed
Meet Kalani and Kyle (aka BGenius), 2/3rds of the DJ trio known more commonly as Splitbreed.  Recently signed to Circle Talent and calling of one of the electronic meccas otherwise known as Las Vegas home, they've already started booking events months in advance, a great marker of talent emerging.  The trio have two different types of shows, a live set featuring Kalani's brother Tau'i leading on the vocals with the other two, and more with of a DJ set Kyle/BGenius working the decks solo.  This variance keeps the group fresh, and helps give them mass appeal.  Their backgrounds as diverse as the music they put forwards, BGenius shares roots with freestyle battle rappers out West.  Kalani and Tau'i are a multiple generation Polynesian musical family with firm roots in Hawaii.  This group, some of the up-and-comers on the Monstercat label are just now getting going, and their ceiling continues to grow.
How'd you get started with Double Vision?
Kalani – "Actually they showed interest in us from before, through a company called Rave Heavy, the first guys who brought us to the East Coast, and who brought Pegboard Nerds to the US.  We gig pretty heavily, we're the kind of dudes who make our money off gigs, and they asked us to come up, and it was amazing."

Kyle – "We were actually only slated to start on the West Coast, but after a massive showing from our Vegas show, 1300 kids, they extended it beyond that."
For the paint and foam – does that affect your playing style?
Kalani – "No no no, it's really just an added dimension of production, for the most part we keep ourselves the same kind of gigs as what we'd typically play in Vegas without this."  We try to keep the paint away from the equipment…not successfully very often.  You know we'll have every once in awhile you go out and high five people and spread some paint around, but we want to make sure we're focusing on giving everyone a good time."
What you looking forwards to the rest of the year besides Double Vision?
Kalani – "It's pretty exciting, and now we're even considering a fall tour, where they're considering expanding Double Vision to 30 dates, college venues, and more of what we've been doing well.  We're really pretty new to the game, only being here 5-6 years, and haven't been putting out originals for very long, so this has been great.  We're booked for the Circle Showcase EDC week.  We definitely feel like we're on the right track."

BGenius– "A lot of people know us for our vocals, but we're really active producing beats for electronic acts, hip-hop, not so many of them are under our name…if you know what we mean (laughs)."  While DJing is becoming bigger for us, we were doing just Hip-Hop beats from 2002-2012."

Kalani – "But then we fell in love with EDM.  We love trap, electro, shuffling, twerk music, but who knows what we could feature.  You see a lot more blending of genres these days."
Musically, if you could classify the kinds of people you draw in to your shows, who would it be?
BGenius – "We are really living our name with Splitbreed, we draw a really diverse crowd, mainly because we do so many different things, trap to electro, to super techno, to sampling some Taylor Swift.  We've seen people with do-rags standing right next to a guy in a business suit.  We have absolutely no genre allegiance (laughs), and it shows with who we bring in."
How about your new material coming out?
Kalani – "We got a track with revolver with some really awesome vocals, called unstoppable, falling into the classification of glitch hop.  We've got a collaboration with Pegboard Nerds coming in, and another EP called "Mile High Club," more of a vocal heavy trap-twerk EP.  A lot of our songs are really vocal heavy, and that's where we really draw a line between electronic and the other genres, with how many vocals we include."

BGenius – "Oh and the music videos we're working on.  That's really what we want to do, and all of our music videos, and now we've gotten access to a Red Cam, and that's been awesome for what we're going to be able to do."
Hyper Crush

Last but not least, were the headliners of this event, the trio of Donny, Holly, and Preston, also known as the Electro-pop-hip-hop group called Hyper Crush.  This group has been carving out a significant niche over the past few years, having their roots dating back to 2007, with an epic 31 track double EP.  Donny and Holly are the group's two lead vocalists, with Preston carrying the heavy weight with respect to putting out tracks.  Culminating with their most recent album "Vertigo," they've signed on to lead Double Vision throughout the entire touring season.

Talk to us about your experience with Double Vision.
Donny – "It's been really fun, the paint thing…has been interesting."

Holly – "The tour has been awesome, this is our second with Double Vision.  So many fans, and really though, the paint is crazy, people are like "just hit me right in the face."  Some of the people it happens to, it was crazy, and then they're very clearly living for the moment.  Don't care about paint in the car on the way home, no worries at all.  They're wild and we love it."

Preston – "Oh this has been great though, we've been involved from the start, and really helping to set the image for this tour moving forwards, no big corporations, just us, the music, and our style."
Speaking of your style, how do you think your style fits with Double Vision.

Donny – "Oh it fits great, because if you look at our history, we were all super loud, lots of colors, neons, glowing stuff.  That's probably a big reason why they were driven to us in the first place."
What's the wildest thing to have happened to you while on tour?
Holly – "Denver was amazing, the fans came out in full force, singing every word."

Donny – "Joliet though, we were mid performance and we noticed people were starting to shift in the crowd.  A water main blew on the second floor, and we look to the area where people were clearing, and there was literally a river of water running down the stairs, the floors got flooded almost immediately.  Fire department got called, we got shut down, but we were playing every second until they cut the power.  Lots of electricity running through our setups (laughs)."
How have you felt your music has grown since you've come together originally?
Donny – "When we started, we just…sucked.  (laughs), but over the years, we've just developed our sound together, our production, the equipment we're using to put this music together, collaborating with other great artists and producers."

Preston – "Musical evolution is pretty natural, I mean even if you listen to Prodigy's early vs. later stuff, it's like night and day."

Holly – "We've overall done the best we could, and there's no way you won't improve."

Donny – "We're actually about to start on our next set of music as well.  We really want to continue to put out good content, complete with videos."

Holly – "We're also throwing around the idea of a workout video, because of all things, our music has gotten quite a bit larger in the workout music realm.  That's definitely a new direction, and really exciting for us."
Also of note, Preston and Donny are working on an EP as part of a side project they've titled MVTH.  This side project is slated to release in the coming months, with their style being driven towards the mainstream Big Room/Electro house.