If you haven't heard of LED yet, then you probably should get familiar with this huge group that's making their mark in California. Their event consists of everything you can imagine and want at an event. From stage production to artists selections to overall vibe, the people of LED want to make sure you're having a good time at every event they host. This past Memorial Day Weekend, they brought their 2nd installment of their patriotic themed event, My Life Everyday USA, back to their humble hometown of San Diego, California. This year's festivities featured a grip load of big names and up-and-comers, and the stage production was intricate enough to keep the crowd going.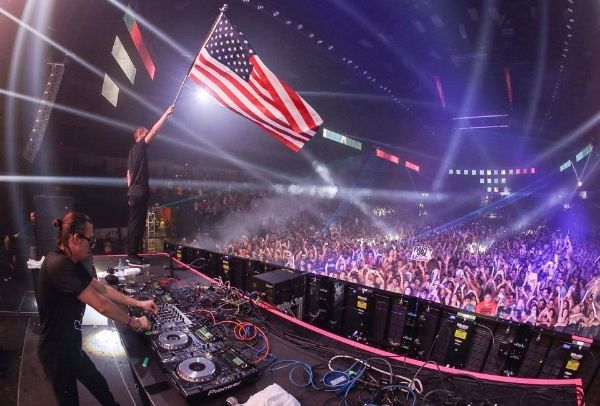 Day one kicked off without a hitch, and the lineup that day was ready to give all attendees an unforgettable start to the weekend. The first act up was Bixel Boys who brought what they call their "Big Room Underground" sound to the Valley View Sports Arena playing tracks like 'Bring It On' and their TLC remix of 'Waterfalls'. The next artist up was an LED regular that sets speaks for themselves. Brazzabelle put on a set that was filled with thumping mash ups like TJR's 'Paper Planes vs. Thunder' and her remix of 'Forevery Young' with La'Reda. The next artist up was the special guests of the evening, Flosstradamus. The HDYBYZ brought their A-Game with an energy filled set that included their new Wocka Flocka track 'Too Turnt Up' and their collaboration with DJ Sliink 'Crowd Ctrl'. The next act brought the crowd in to a more mellow yet harder ambience with the frenchmen Tchami. He brought an unexpected set to the night filled with mostly big-room sounds with some great tracks like Skrillex's remix of Duck Sauce's 'NRG' and his deeply synthed up remix of AlunaGeorge's 'You Know You Like It'. Dutch duo Vicetone was up next, and they too brought their best to the already fun-filled night. Their set was filled with new tracks like 'Ensemble' and some familiar tracks like Oliver Helden's bootleg of 'Under Control'. The night took a turn for another familiar LED artist who also played at last year's MDW event, Clockwork. Crowds were roaring for a intense set brought by the young producer that included his remix of Kaskade's 'Last Chance' and his remix of Sebastian Ingrosso and Tommy Trash's 'Reload'. Last but definitely not least, was the European giants Dimitri Vegas  & Like Mike. These heavy weights played an epic closing set with Martin Garrix's 'Tremor' in their set with Bodybangers remix of their track 'Ocarina'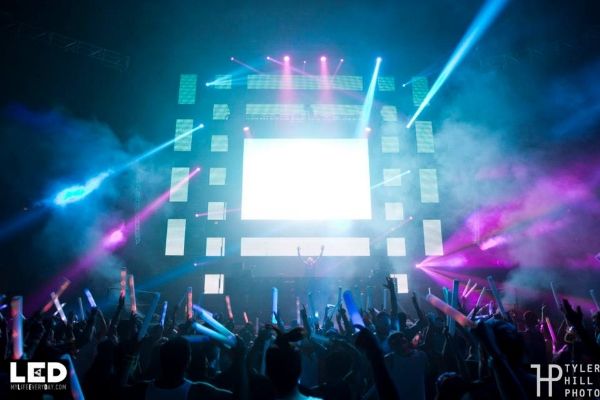 Day 2 made sure it lived up to Day 1 and more with a sold-out crowd that was prepared to celebrate the holiday in a  big way. This time, the night started off with Tony Junior. The Spinnin and Dim Mak label supported producer played tracks like 'Wake Up' and his collaboration with DVBBS titled 'Immortal'. Next artist of Day 2 was Don Diablo, and he made a an impression with the crowd playing his track 'Origins' and Matt Nash collaboration 'Starlight'. Then, Mercer came up next to bring a powerful electro-house set, which included his new BARE collaboration 'Bangla' and his remix of Dada Life's 'Born to Rage'. Caked Up was next, and was met with positive response from the crowd. They returned that positive response with a set that would make any crowd jump for hours. They played a barrage of songs that included some unreleased tracks and their brand new remix of Chainsmoker's 'Selfie' as well. The next artist up on the list was the mixmaster 3lau. He bought a set mixed with different genres that blended, making the night much more interesting. The next artist up was Morgan Page and he brought a refreshingly different set in to the night. An arrangement of tracks that included his track with Nadia Ali titled 'Carry Me' and his Michael S. track 'Against The World'. The second to last act was none other than the resident LED producer, TJR. With a primetime set, he made sure he put an imprint on the night with his tracks 'Ode to Oi' and his new track with VINAI 'Bounce Generation'. The last set of the night was a special one due to the producer's near end to his DJ career, Panda Funk head honcho Deorro. Deorro tore the Valley View Sports Arena in to a barrage of progressive and hard hitting electro tracks such as 'Yee' and his remix with R3hab 'Flashlight'. 'Flashlight was met with a special moment for the crowd, as the whole stadium was filled with lights from all over the stadium.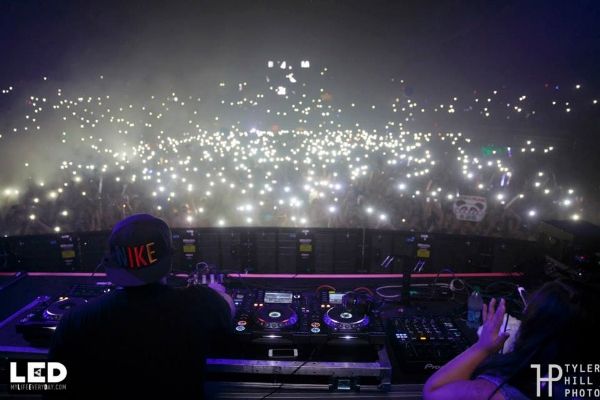 What makes LED so special is the fact that moments like the one up above, as well as so many other wonderful moments between friends and family, makes these events so memorable. The overall pouring love and embrace from the community, also LED, brings a unique experience for all attendees that are unforgettable. The next event up for LED comes during Labor Day Weekend and is titled Tramps Like Us, and if you're in town, you should definitely make the visit.