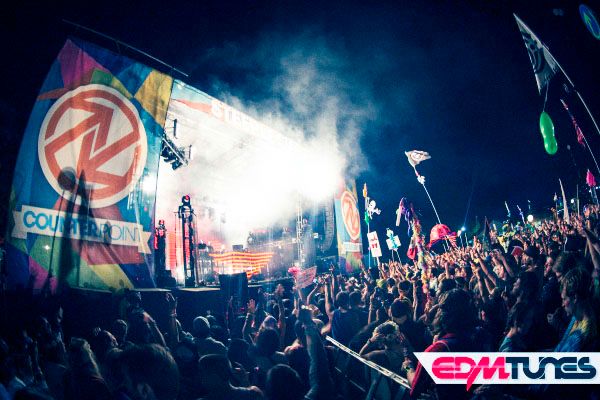 noun \ˈkau̇n-tər-ˌpȯint\
The combination of two or more independent melodies into a single harmonic texture in which each retains its linear character.
The beautiful rolling hills of Kingston Downs, Georgia were transformed into an oasis of music and art truly living up to its name as all independent factors combined into a harmonious weekend. The Counterpoint experience was intimate in size and attendance touting an eclectic lineup that mirrored the feel of a Coachella or Lollapalooza. So, attendees were given the festival experience without all the usual festival headaches such as never ending traffic, snaking lines, and long hikes between stages. With four stages, there was enough to provide everyone with different textures but not overload.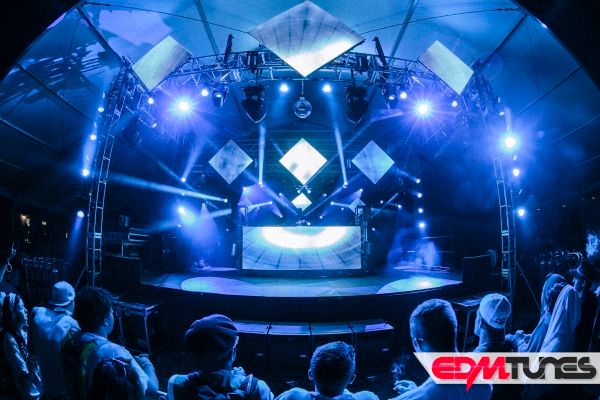 The Underground
Tucked away in the lower corner of the grounds, The Underground stage was the backdrop for a wide variety spanning the sound board from ambient rock to future trap to deep house to experimental electronica. Southeastern favorites such as Papadosio and Shpongle rocked front and center whereas acts like Tycho and Tourist provided a chill atmosphere.
A highlight of the festival was Boys Noize's closing of The Underground Friday night with his set switching back and forth from dark to disco. At times, it felt like angry gothic robots were taking me down the pits of a fiery Boys Noize hell, but it was a welcomed hell in which all heathens happily danced away. Then, he would slowly bring you back above ground with tracks like "Yeah/Swoon", a mash-up of his own production with classic Chemical Brothers.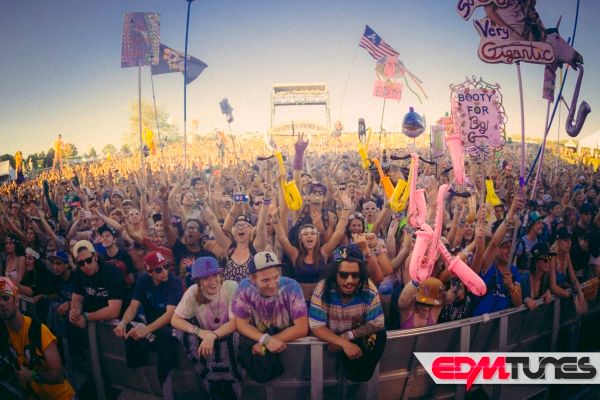 Another highlight was certainly Cashmere Cat's performance, which was one of the first to restart the weather disrupted Sunday. Completely engaged in his mixer, the rising Norwegian producer put on arguably one of the sexiest sets of the whole weekend. He pleased the crowd with the popular "Mirror Maru" and different cut of his remix of "Do You" by Miguel. He also squeezed in his new track with Ludacris, Wiz Khalifa, and Jeremih entitled "Party Girls" which I couldn't help but chuckle because of the rip from "Barbie Girl" by Aqua.
An absolute gem amidst all the heavy bass music was the burgeoning Swede on French Express, Jonas Rathsman. Supported by the likes of Jody Wisternoff and Pete Tong, this was not a set to be missed. Rathsman took his hour and fifteen minute slot and created a captivating deep house journey; the kind that cuts you right to the core of your being. Standing still was not an option as Rathsman showered the crowd with "Bringing You Down" and "Feel What I Feel" keeping the tension at a bubbling yet sustainable pace. You know it's quality when you have to pause and interject "Holy shit, this is just too good" to your neighbor with elated disbelief.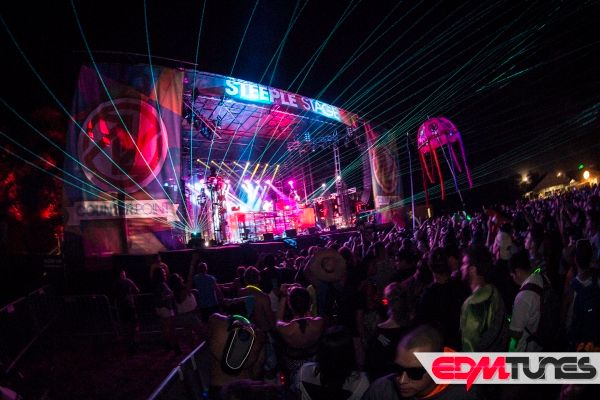 The Steeple
The Steeple Stage was the unofficial home of EDM as the majority of the EDM influenced acts played on this stage. Hundreds flocked to the expansive and flat area in front of Steeple as it was a shuffler/dancer friendly plot of land. Familiar faces inhabited Steeple over the weekend listening to acts like Krewella, Pegboard Nerds, Wolfgang Gartner, and Congorock. The sweaty sax man, Griz, threw down a funkified set, and Mat Zo went into genre defying beast mode. Kill Paris rolled in the LoL's paying homage to Bill Nye the Science Guy and closed it out with live guitar shreds.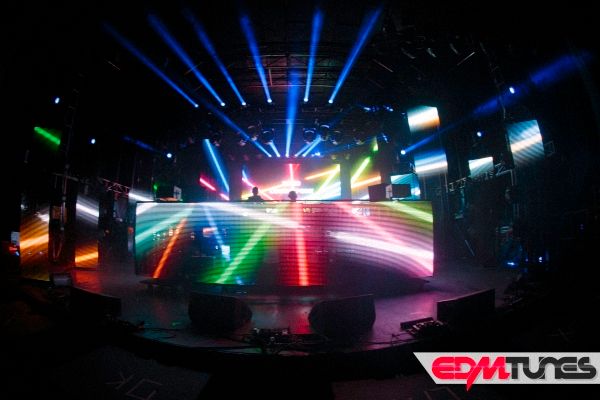 Without a doubt, Above and Beyond was a personal favorite Steeple Stage memory as Jono and Tony still have their "sticky fingers" all in this little dreamer's head. They did what they always do best; weaving a story, track by track, that takes you through the whole spectrum of human emotion while occasionally hitting you with ground shattering bass. I stomped the ground as if it pissed in my Cheerios when tracks like "Spheres" by Ilan Bluestone and Above and Beyond's monstrous edit of New Order's "Blue Monday" played over the booming speaker system. Then, I reverted to spirit fingers and entered into the karaoke competition during "Blue Sky Action" and the Arty vs. Above and Beyond mash-up "You Got To Believe". By the time Above and Beyond closed their magical set with the acoustic version of "Sun and Moon", I was drenched in sweat, emotional, and fervently agreeing with fellow EDMT colleagues in attendance that A&B are masters at their craft.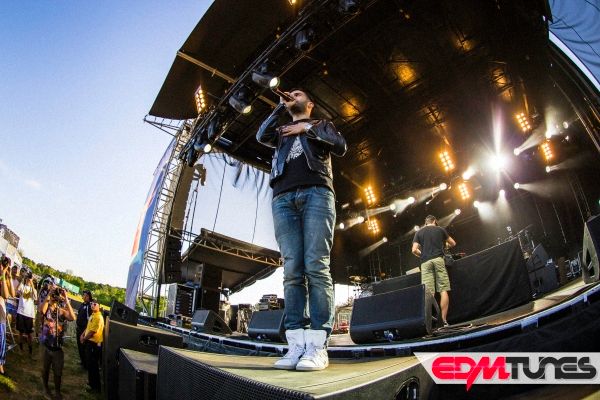 Hillside Stage
Hillside was parallel and close to the Blu Freedom main stage so as one was in between acts setting up, the other would be jamming and in Hillside's case, with artists like JMSN, Dan Croll, The Sleigh Bells, and STS9. A-Trak brought his technical prowess to Hillside and had everyone howling "Foooool's Gold" at the beginning of his set. What was a thin crowd in the beginning, bodies began to quickly fill Hillside as A-Trak continued to capture the ears of those passing by and entertaining the crowd in front with his stage presence.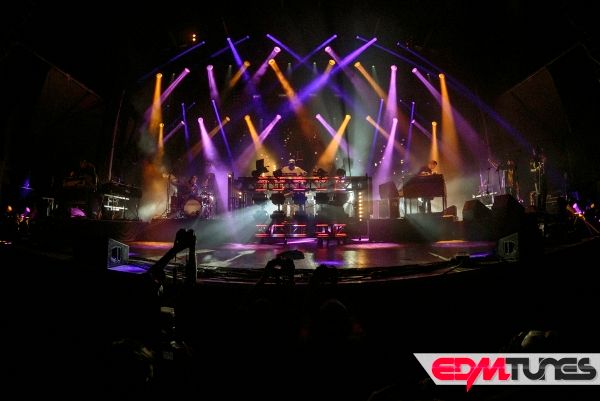 Blu Freedom
Blu Freedom was the main stage boasting some of the more popular acts of the weekend. The bowl like landscape at Blu Freedom was reminiscent of the TomorrowWorld main stage which complemented the acoustics as well as giving those on top of the hill a spectacular view. Performers like Big Gigantic with its dedicated following drew a fun crowd with their brand of jamtronica filling the rolling hill in front of the stage. Pretty Lights wow'ed with their…well… pretty lights, and acts such as Wild Cub and Foster the People added to the diversity of the lineup with their live band performance.
Major Lazer was one of the only "DJ" sets to be scheduled on Blu Freedom and with good reason as the trio drew a massive crowd. The entire hill was teeming with bodies frantically jumping and dancing to the sounds of Major Lazer. The excitement was intensified as the lucky few in the crowd were invited to dance on stage, and a singular lucky man got the twerk show of his life from one of the official Mad Decent dancers. Major Lazer certainly did their best at prepping the crowd for one of the most anticipated performances scheduled that weekend on Blu Freedom…
Outkast. There were stories upon stories calling their first return to the stage at Coachella a "flop". But, with audio issues and a crowd not privy to the genius that is Outkast, who could blame them for an under par performance? The duo provided a similar set list to that of their Coachella performance, but they were noticeably more comfortable on this stage in front of a crowd more knowledgeable of their history and music. So, that chemistry and flow Outkast is so well known for was displayed in full force for the Counterpoint crowd that braved the thunderstorms earlier that day.
They opened with "B.O.B." from Stankonia with the backdrop of the black and white American Flag from the album cover projected on the cube. Dropping classics from their debut album Southernplayalisticadillacmuzik such as "Hootie Hoo" and "Ain't No Thang", "Rosa Parks" and title track from Aquemini, and the popular "Ms. Jackson" from Stankonia, Big Boi and Andre 3000 smoothly rhymed their storied history as a pair and how one of the greatest hip hop groups came to be. Folks with a more urban taste were dancing alongside kandied out ragers and farmers in cowboy hats, and to quote one onlooker, "Outkast brought the whole world together tonight".
The Extras
Complementing the weekend were all of the amenities provided by Counterpoint. Food options were better in quality and variety compared to most festivals with fare ranging from Cajun Jambalaya to grass fed beef burgers. The organizers ensured attendees were well hydrated by providing two free filtered water stations where some larger festivals haven't even implemented this crucial practice. Attendees could also put their feet up for rest in the many ENO hammocks that were set up in ENO sponsored areas.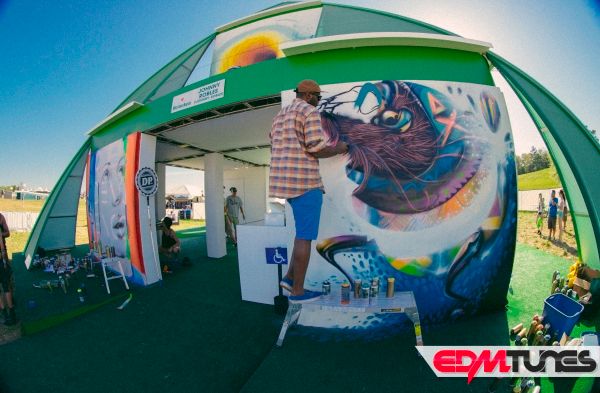 Art was also featured for all to enjoy in the Heineken House as graffiti artists turned the structure into a trippy gallery throughout the course of the weekend. All of these factors were welcomed details that added to the festivities and racked up brownie points for the festival.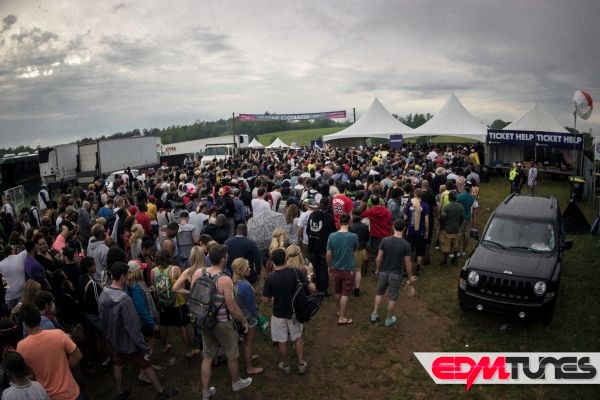 "You can plan a pretty picnic, but you can't predict the weather." – Outkast
The weather was serene and near perfect the first two days with benign, picturesque clouds and spring time breeze. But, the fun came to a halt as a menacing storm cell approached the area, and the Counterpoint organizers shut down the festival for a couple hours to ensure safety of all attendees. During the weather delay, parking attendants did a great job directing traffic and helping cars to avoid getting stuck in the mud. ATV's were also rushing with bales of hay to cover the muddy areas. When the storm and lightning finally passed, lines back into the festival were expedited, time slots pushed back, and a revised schedule was posted immediately on all social networks. Kudos to the organizers for being prepared and handling the setback efficiently.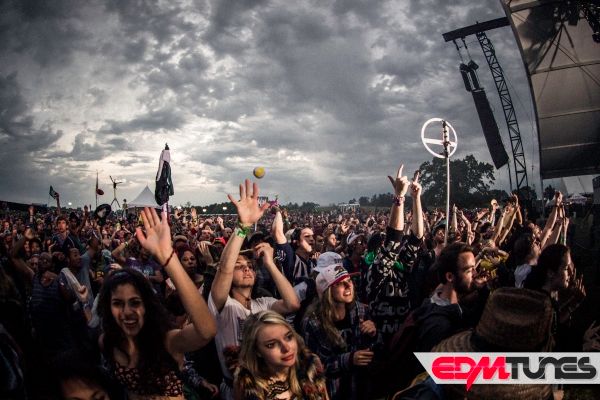 Equally as important as the music itself, the crowd is always the final puzzle piece that completes any festival experience. The Counterpoint crowd was a diverse one with hippies, kandi kids, and hip hop enthusiasts intermingling and experiencing each other's tastes in music. With the majority of attendees coming from surrounding areas, travelers from the Northeast were shown the true meaning of Southern hospitality as the entire weekend was nothing but good vibes.
Counterpoint made a proper return in 2014 after its hiatus in 2013. Only in its second year, we are excited to see how Counterpoint grows in the coming years and continues to boost Georgia's profile as a prime destination for premiere music festivals.
Photo Credits: Elliott Brockelbank