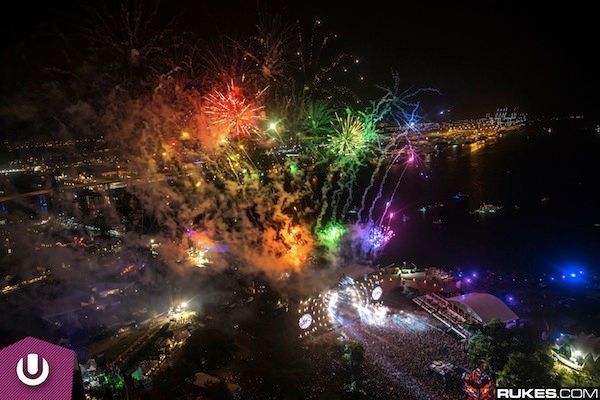 Another year, another UMF in the books. The ever present presence of social media and an always plugged in audience  made this year's rendition as transparent and entertaining as ever, with countless surprises -both good and bad- taking place at Bayside. As we all recover from our Ultra stupors, it's always pleasant to take a look back at some of the more memorable moments from festival season's opening event, and acknowledge its ripple effect on the rest of the year. If you were there and want to relive the experiences, or if you missed it and want to make your FOMO even worse, let's take a stroll down memory lane and highlight UMF 2014:
Last Minute Artist Fill Ins

On Friday night, we all heard the news that Avicii was unable to play his highly anticipated Ultra set. Regardless of if you like the man, he has a penchant of at the very least doing something new at Ultra.  He tweeted that due to pain he had been experiencing for awhile, doctors decided to remove his gallbladder. Clearly, a surgery of this magnitude would knock him out of his duties. This begged the question: who was big enough to take over an Avicii closing slot
that wasn't already playing the festival?
deadmau5, that's who. Joel Zimmerman became the new headliner, and as we would expect, the Tweeting began. What would he play? Did he care? What was that about Martin Garrix? Staying true to his style, that dead mouse guy played an Ultra set that could only be described as vintage deadmau5. "Levels" and "
Animals
" and his own classics and progressions, it was without a doubt a highlight of the weekend.
Even though the deadmau5 -Avicii switch robbed the headlines, the fill in trend really began on day one. Laidback Luke tweeted that his wife's water broke and he had to fly out to be there for the birth of his new daughter. His time slot was at 5 p.m. at the mainstage and the incredibly popular duo, The Chainsmokers, were set to close out Stage 7 that night. Instead, the pair were given the opportunity to open Ultra's main stage while Showtek's set was moved back an hour. "#Selfie" was rightfully played and the festival was kicked off perfectly. The takeaway from this was the opportunity given. The Chainsmokers have gained fans and momentum at an astounding rate since "#Selfie," and for good reason, too. Viral song aside, the duo is incredibly talented and have put out some of our favorite remixes in the past six months. They deserved to be there, and we at EDMTunes couldn't be more excited for them!
About to open mainstage @ultra …. This is one of those pinch yourselves you're dreaming moments!

— The Chainsmokers (@TheChainsmokers) March 28, 2014
The Side Stages

If you were feigning for a certain genre, Ultra had you covered like no other. From the Underground Story and Ultra Ibiza stage that featured Jamie Jones, Tale of Us, The Martinez Brothers, Dusky, Damian Lazarus, Cajmere, etc , to the UMF Radio stage with Don Diablo, RAC and 12th Planet and to the trap gods on Saturday's Worldwide stage, no one should have been disappointed. ASOT 650 made Carl Cox's megastructure its home on the last day and the host himself premiered Gaia, which was quite interesting to say the least.
The Main Stage

Ultra truly outdid itself. The Main Stage was absolutely incredible and topped its predecessor in 2013. Equipped with a full on vortex, fire that could be felt from the opposite end of the crowd and enough LED screens to blind anybody, DJs took full advantage and their visuals were on point. From Tiesto to Zedd to Diplo and Krewella, every main star made this stage their home and the results were truly breathtaking. We don't know how Ultra could ever top this stage, but rest assured they will try.
New Songs and Guest Appearances at Sets

Ultra is known for track premiers and DJs constantly tweet about how long they have been working on their set. The crowd is here to listen to new music and this year didn't disappoint. What's even better is that when an artist was ready to debut, he or she brought up the collaborative partner to the stage to share the moment. For example, Dillon Francis made a guest appearance at TJR's set, Dimitri Vegas and Like Mike showed up with Martin Garrix, and Afrojack debuted essentially his whole album. Above & Beyond played their rarely heard "Blue Sky Action" and a plethora of new Anjunabeats releases.  This year more than ever has left the dance music journalist community scrambling to identify everything and find every new track out there.
A Little Rain Doesn't Stop ALL the Fun and Certainly Doesn't Stop Above & Beyond

So, Ultra promised free water, and unfortunately we got a lot of it: enough to shut down most of the seven stages for at least a few minutes. RL Grime was just getting started when he was told he had to stop his set, which cued the mad dash from the worldwide stage to the mega structure where Dubfire was still going strong. The Ultra phone app was letting attendees know which stages were shut down and the UMF Radio stage, Stage 7 and the Live Stage were put on hold, but nothing stopped Above and Beyond. Instead of canceling their performance, they simply moved to a DJ booth on the reserve decks and played with their backs to the audience. A truly magical performance, as there are few DJs one would rather experience in the midst of a rainstorm than the mighty Above & Beyond.
With the UMF Radio Stage being one of the first to shut down because of the rain, when things picked back up again, the crowd was treated to a surprise B2B with Dyro, Dannic and Hardwell! Gotta love these Ultra moments.
"Turn Down For What?!"

There were many anthems for Ultra this year but no song got as much play time like DJ Snake and Lil Jon's "Turn Down for What". UMF is really one giant party with your friends from all over the world and there's no current rage anthem like this one. Whether you stayed at the worldwide stage or ventured over to the live stage, nobody was stopping anytime soon, and the ever-popular Lil Jon growl could be heard in all corners of the park.
Jack U

History was made this year at UMF 2014. The world premier of Jack U was broadcasted live to millions of viewers and hundreds and thousands of attendees and we got what we wanted: an insane Diplo and Skrillex set. Mixing hits from both individual artists and their respective side projects, there was no disappointment. One of the signature staples of a Skrillex set is a shout out to our fallen Bingo Player, Paul, and "Cry (Just a Little)" was rightfully played on the main stage exactly a year after the duo graced the main stage for their own set in 2013. Assaulting the crowd with a wide arrangement of new releases and old favorites(the "Devil's Den" play was on point for Sonny fans), Jack U was perhaps the highlight of Ultra, regardless of genre. You can read our full review of the performance here.
Flosstradamus Turns the Whole Crowd Into a Moshpit

To close off their wildly talked about set, Floss cut the music and told the audience at the Worldwide stage that they had promised to turn the whole crowd into a moshpit…and they wanted to make that a reality. Cue their famous song and boom….the crowd opened up and it was nothing but straight thrashing around to prep everyone for Dillon Francis' closing set. After the rain that closed down this stage only an hour before, we needed some hype and fun and Floss knew how to give it to us.
UMF TV

The UMF TV live stream reached insane numbers this year. With the constant tweets reminding viewers watching at home who was coming up next, making sure they tuned in and giving out stats about who was currently logged on, it was clear that everybody was watching Ultra. According to the official Twitter account, millions of viewers tuned and even so much as 200,000 at once for sets. It was also as well done this year as ever before, and boy are we grateful for that. Going back and watching and listening to sets is a rarity post-festival these days, and Ultra's blanketing coverage is a unique and very much appreciated aspect of the event.
Thank you all for partying all weekend with us! Millions of viewers from all over the world tuned into to #ULTRALIVE. We made history again!

— UMF TV (@UMFTV) March 31, 2014
Photo Cred: Rukes