Ultra Music Festival opened festival season with a bang this past weekend, and as myself and the EDMTunes team slowly but surely rise and recover from our MMW-induced hangover, we felt like it was our duty to put words on paper detailing our depraved, yet successful time, under the Miami sun. Assuredly one of the biggest weeks in the dance music scene, Miami Music Week proved to be an exciting time to see what the rest of our peers were getting into for 2014, and of course, listen to some amazing new music from an absurdly vast collective of talent. The latter half of that statement is what you, our FOMO-prone readers, are most likely interested in hearing about so let's get down to business: what did we get ourselves into during Miami Music Week.

Plane rides suck. Plane rides coming into Miami on the eve of MMW are a double edged sword of suck and euphoria. On one hand, it's game time: you're about to embark on a week long binge of the best dance music has to offer in a place known for its extravagant (a little too extravagant) clubs and venues. The excitement is real and the staggering lineup of nightly events MMW has to offer is even more real: a far more coherent (and shorter) list for the week would be one entitled "Who Isn't Playing".  On the other hand, you probably woke up at 4:30am that day trying to catch a cross-country plane ride, whilst knowing you won't sleep for at least the next twenty four hours. I'm not saying this is based on true events, but it could be. Anyways, a half glazed mantra is a necessity when checking into your hotel, and while beadily eyeing your view of the beach from your hotel room. What's the chance you actually going to the beach if you're actively participating in MMW, WMC, and company events? Pretty much zero.
The Party Starts and Ends at Mansion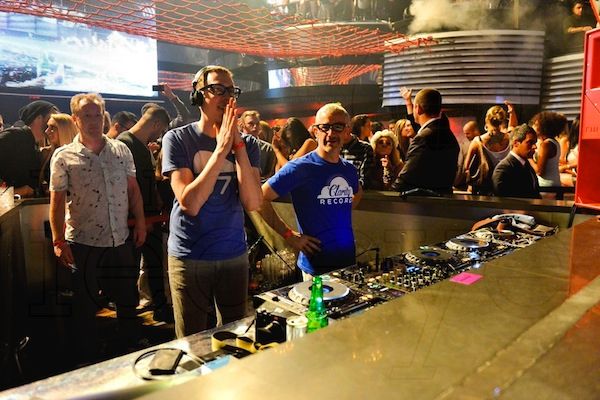 The setting Sun on Tuesday over the musky yet serene tones of South Beach officially marked the beginning of a hellacious week. There was only one good way to ease oneself into this depraved war zone of a week, and that was to walk (Miami translation: you took a cab and took out a mortgage for it and you liked it. Seriously, can we get an Uber or Lyft up in this town) yourself over to Mansion for Above & Beyond, Beckwith, and Norin & Rad. The ever-present darlings of the dance music world, Tony, Paavo, and Jono sure know how to get a party going after all these years (even though Jono was absent for this particular show -a fairly common theme for the group these days, with only two playing a show at any given time) and they were on their A game for opening night. Throwing down for over two hours and chugging through a plethora of new Anjunabeats releases, while of course, intermixing with their own beloved catalogue, Tony and Paavo set the bar about as high as it could go, and this was just day one. And no venue could have suited T and P more than Mansion. A haughty establishment regardless, however, there's something about its suede walls, dark lighting, and light aroma of candle and wax that make Mansion club a delightful vessel for a dance club. Its 360 degree arrangement from the booth (when including the VIP areas) is as gorgeous as the mostly naked dancers that twirl around the club's high-vaulted ceilings and nets.
The above reason is why Mansion played host to some of the best parties of the week. Thursday's Zedd performance was a dizzying big room affair that at one point had not just Zedd, but Afrojack and Steve Aoki in the booth for a quick back to back. On top of that, Hardwell stopped by early on to simply say hello. An interesting night indeed, and a fine addition to the already murky and long-winded list of events and appearances on day three of MMW.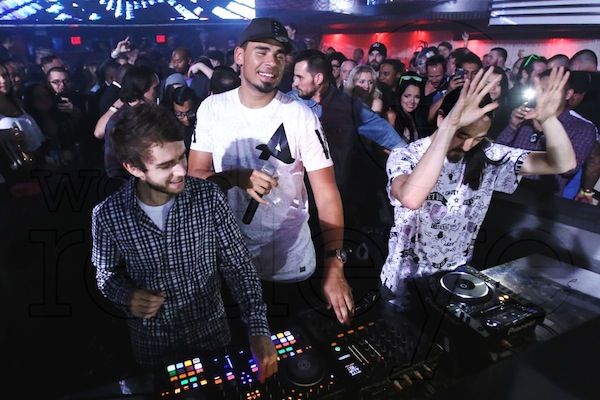 Of course, the nightclub saved the best for last (in my schedule, anyways), and Skrillex' Friday affair was the highlight of the week. Generally wading in the deeper, tech and future end of the house music spectrum, Skrillex has rarely been my cup of tea, so I wasn't going into his Mansion set with a particularly high level of excitement. Well, let me tell you: Sonny Moore is a genius and a master of his craft, and if you don't respect him as an artist, regardless of your stance on American dance music or the deep house revival or whatever, you're flat out wrong and probably not so bright. The club was ablaze with energy from start to finish, withstanding an all out assault through its Funktion Ones by a man seemingly out for vengeance via  dubbed-out, trapped stylings, all veiled in a Skrillexian drape of wobbles and melodic tears. Ripping through tracks off his new album, OWSLA releases, some Diplo (duh), and a walk down memory lane via "Promises," and "Cinema," the set was a masterful lesson in DJing and progression. Yes, that's right folks. A-Trak is smiling somewhere right now.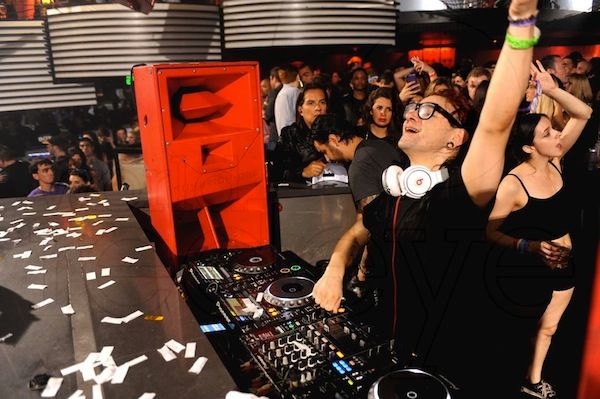 Another Day, Another Dollar
Not everything is fun and games during Miami Music Week, and this proved to be just the case for us. We actually had work to do, believe it or not, and that came in the form of our very own pop-up shop. In partnership with iHeartRaves, eMazingLights, and IntotheAM, EDMTunes took over the  gorgeous Olympia Theatre in downtown Miami for the week and turned it into a mini-dance music store, chalk full of anything and everything dance music enthusiasts and ravers could possibly want in preparation for Ultra. We took it a step further and even had meet and greets with the likes of Armada's Andrew Rayel, Orjan Nilsen, and Circus Record's Flux Pavilion, just to name a few. It was a wildly successful event, and one we were quite proud of after it was all said and done. Working alongside the amazing folks at Emazing Lights, I Heart Raves, and Into The Am was an absolute pleasure, and the end result was a successful business venture for those involved, on top of a splendid time for all those who attended the shop and the meet and greets.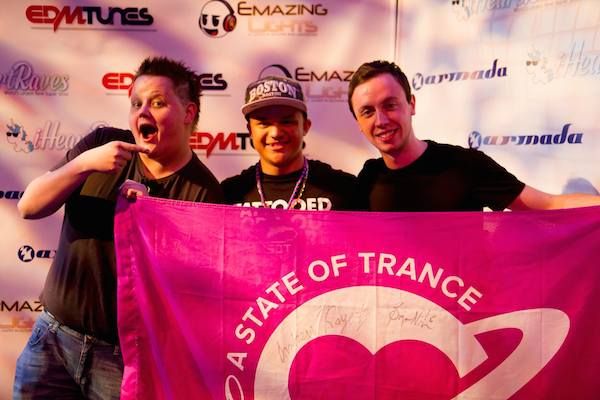 Pool Parties and Panels Everywhere
The muggy and overcast Miami weather only adds to the blur of something as extensive as Miami Music Week. Everyone is always on the move, quickly traversing one pool party to the next, trying to meet and reconnect with as many people as possible,  all while making at times futile attempts at catching a panel or two at the Winter Music Conference in South Beach.  Dazed and confused indeed, however, that's not an excuse, but rather the state of mind by mid afternoon Friday. And Ultra hasn't even started yet! I had a panel to attend on this particular Friday afternoon, and I couldn't be more full of this odd mix of excitement, shock, and a headache. After all, the two Mansion events, Spinnin pool party, Kaskade Redux, Deadmau5 vs Prydz, and the pop-up shop had all finally caught up to me mentally and physically.  Nonetheless, the mantra of the week is that it goes on, and on it went. I was joined on the panel by Danni Deahl, Ma-Less of Do Android Dance, Dan Carter from Dancing Astronaut, Josh Bennett of Kid Alien/ Less Than 3, and Laini Copicotto of ClubPlanet. We had a fantastic two hour chat about the ins and outs, highs and lows, do's and don'ts of dance music blogging, in front of a fairly robust audience for a 12:00pm panel the Friday of Ultra (seriously, shout out to anyone who actually made it to that).  A topic close to the hearts of all speaking, as it is what we do with our lives on a day to day basis, it was a fantastic learning experience and a remarkably transparent conversation about what it is that we all do in running our respective web sites. It's no easy task, and considering the extremely saturated market of internet blogging and the at times cut throat and cruel world of dance music, I came away feeling quite lucky to even be sitting with the likes of my fellow panelists. It was a moment that brought real perspective to what we do as a music website: bring the music to the fans and pump up the artists that we now hold so dear. At the end of the day, that's all we do. We all love our trade and ply away at it regardless of all the pitfalls and hurdles it throws at us on a daily basis.
The Sun Sets Over Miami
Ultra came and went, as it does every year. The sun has set on another successful journey to the south of Florida, and a new path has been lit for the remainder of the year for our thriving industry. We have observed, learned, discussed, and acknowledged all that will make up dance music in 2014 this past week, and I know we can't wait to bring all of it to you in the coming months. From new projects and ideas from not just EDMTunes, but all of our fellow affiliates and peers, and of course, from the DJs and artists we so wholeheartedly support, it's going to be an amazing year.
 Photos courtesy of World Red Eye