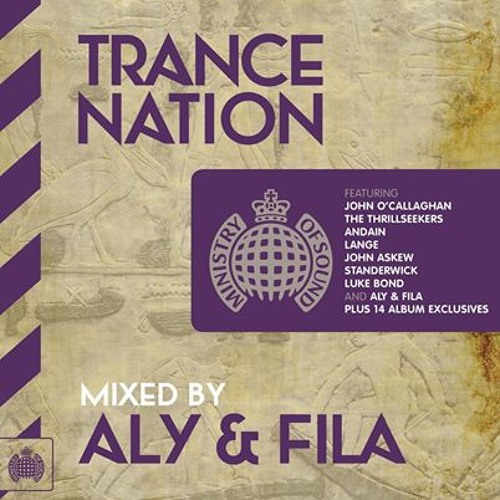 Trance Nation: Mixed By Aly & Fila
Label: Ministry Of Sound | Release Date: May 26, 2014
Pre-Order on iTunes
Upcoming on May 26th, Ministry Of Sound's quintessential trance collection Trance Nation is hitting the release shelves, mixed for the first time by none other than Future Sound Of Egypt head honchos and masters of the uplifting Aly & Fila. Joining the ranks of prior mixdowns by industry heavyweights like Above & Beyond, Lange, Andy Moor, Ferry Corsten, Rank 1 and Cosmic Gate, Aly & Fadi are poised to bring a little mid-Eastern flair to the prior majorly-European roster. The compilation consists of a massive 14 previously unreleased tracks and other tracks from quite a few industry favorites including John O'Callaghan, Ronski Speed, Lange, Thrillseekers, John Askew, Bryan Kearney and James Dymond, to name a few, on top of a solid showing from your hosts Aly & Fila (naturally).
EDMTunes' is pleased to present you with a 24-hour exclusive mini mix and clip previews from  from the forthcoming compilation, Mohamed Rageb & Double V's "Erathia" and A&Z's "Invocation" (after the break):
"Erathia" is  an atmospheric cut with pangs of beachy vibes, ushered in by a softer piano background and built up into a sonic shockwave of explosive melodies and a driving bassline. "Invocation" is more of a symphonic-leaning effort, with ethereal and angelic vocal samplings overlaid on gradually-climbing synth layers coalescing into a fervor of emotive release.


Check out the full tracklist below, and stay tuned for more exclusive content forthcoming on this release, including a full-length album review as well as an interview with our tour guides for this journey, Aly & Fila.
Tracklist:
CD1:
01. Mohamed Ragab & DoubleV – Erathia (Original Intro Mix)
02. James Dymond – Solidus (Original Mix) [Armada Music] 03. Amine Maxwell – Olusia (Original Music) [Alter Ego] 04. Kheiro & Medi Feat. Ameera – Hayati (Original Mix)
05. John Askew – Mechanism (Original Mix) [Mental Asylum] 06. Luke Bond feat Roxanne Emery – On Fire (Aly & Fila Remix) [Garuda] 07. UDM – Recollection (Original Mix) [Silent Shore Records] 08. Neptune Project – Lost All My Tears (The Noble Six Remix)
09. Andain – Beautiful Things (Fady & Mina 2014 Remix) [Blackhole] 10. Sneijder Vs Bryan Kearney – Next Level (Original Mix) [Subculture] 11. Aly & Fila feat. Sue McLaren – Quiet Storm (Aly & Fila Club Mix) [Armada] 12. Abstract Vision – Rocket (Photographer Remix) [Unique Sense Rexcords] 13. Aly & Fila Vs John O Callaghan – Your Heart Is Mine (Fady & Mina Remix) [Armada] 14. Ronski Speed – Fiero (Chris Metcalfe Remix) [Euphonic] 15. The Thrillseekers Vs Standerwick – Like They Used To (Original Mix) [WAO138] 16. Lostly – Never Forget (Dub Mix) [Discover] 17. Nick Callaghan & Craig Meicha – Rectify (Original Mix) [Kearnage] 18. John O'Callaghan – One Special Particle (Original Mix) [Subculture]
CD2:
01 .Liam Wilson – Adventures In Stereo (Original Mix) [Discover] 02. Andres Sanchez VS Omar Sherif – Until Amnesia (Original Mix)
03. A & Z vs. Allen & Envy – Osiris (Original Mix)
04. Aly & Fila feat. Karim Youssef – Laily (Photographer Remix) [Armada] 05. Temple One – Unbreakable (Original Mix)
06. The Noble Six – Tapestry (Original Mix)
07. Neptune Project Feat. Polly Strange – In Your Mind (Original Mix)
08. Ferrin & Morris – Amatoria (Original Mix) [Transistic] 09. ReOrder & Ian Standerwick pres. SkyPatrol – Sailing Airwaves [In Memory Of Matt Trigle] (Original Mix)
10. Will Atkinson – Eternally (Original Mix)
11. A & Z – Invocation (Original Mix)
12. Cold Blue – Black Rock (Original Mix) [Monster Tunes] 13. Lange feat. Hysteria! – Unfamiliar Truth (John O'Callaghan Remix) [Lange Recordings] 14. Aly & Fila feat Sue McLaren – Where To Now (Will Atkinson Gold Mix) [Armada] 15. Aly & Fila feat. Rafif – Mother Nature (Bryan Kearney Remix) [Armada] 16. Indecent Noise – Daybreak (Original Mix) [Mental Asylum] 17. Standerwick – Valyrian (Original Mix)