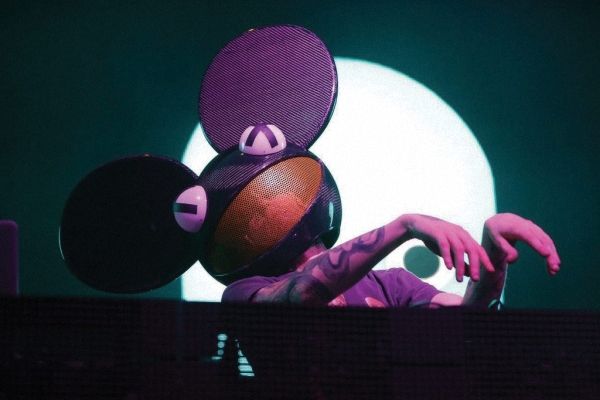 Deadmau5 took his daily troll through the Twitter park on Wednesday when he blasted Arcade Fire after multiple EDM disses at Coachella.
Indie rock band, Arcade Fire, was the closing act on the Coachella Stage of Weekend 2, Sunday, April 20th. Frontman, Win Butler used his time in the spotlight to make a very bold statement about his feelings towards electronic music. During Arcade Fire's headlining set at Coachella Weekend 1, Butler gave a shout out to "all the bands still playing actual instruments at this fest." A subtle stab at electronic music, but nothing compared to the show he put on during Weekend 2.

At around 10:20 PM on Sunday, Coachella was coming to a close. Motorhead was on one stage, Disclosure on another. Arcade Fire was on the Coachella Stage about to shut it down on the final day of this two-weekend affair, when they announced a special guest. Two men in robot masks appeared on stage and a slow jam version of Daft Punk's "Get Lucky" ensued. Attendees swarmed the stage. Fans were literally jumping up and down with joy.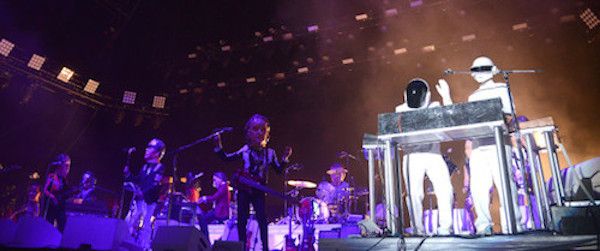 "Get Lucky" was cut short when Butler got on the mic and said, "What the fuck is happening? What is this? What is this? Seriously, come on." He then invited the robots to stay and Arcade Fire transitioned in to their usual alternative sound with, "Normal Person." A clip of this performance can be seen here on YouTube:
If you are going to ruffle feathers in the EDM community, you best believe the first dude you are going to hear from is Deadmau5 aka Joel Zimmerman, an artist that is never afraid to speak his mind.
Deadmau5 began his rebuttal against Arcade Fire with, "Shit to remember: A computer is a tool, not an instrument." And continued with, "arcade fire needs to settle down. some dudes devote their lives to instruments, others to electronic composition by cpu, dafuqs yer problem?"
He pointed out the difference between EDM and rock, stating that he would attend a Daft Punk show to "listen to some decent music, n see cool robots," and that you wouldn't see Daft Punk impersonating Steve Vai, an acclaimed American guitarist.
Deadmau5 gave a final bash to Arcade Fire, stating that he would rather watch real artists perform at the opera before wasting a minute of his life on them and concluded with, "but since some EDM is enjoyable to me, ill go watch them fake it, and enjoy it more than you hate the fact that they cant play guitar."
Arcade Fire has yet to respond to Deadmau5's tweets. Will we see a mau5head in Win Butler's future? Deadmau5's complete Arcade Fire Twitter rant can be seen below:
shit to remember: A computer is a tool, not an instrument.

— deadmau5 (@deadmau5) April 23, 2014
arcade fire needs to settle down. some dudes devote their lives to instruments, others to electronic composition by cpu, dafuqs yer problem? — deadmau5 (@deadmau5) April 23, 2014
i dont expect to see daft punk pull a steve vai on stage…i expect to listen to some decent music, n see cool robots. no problem.

— deadmau5 (@deadmau5) April 23, 2014
if i wanna watch real artists perform, id pick the opera before wasting a fucking minute of my life with arcade fire. #do youevenscorebro? — deadmau5 (@deadmau5) April 23, 2014
but since some EDM is enjoyable to me, ill go watch them fake it, and enjoy it more than you hate the fact that they cant play guitar.

— deadmau5 (@deadmau5) April 23, 2014
inb4 some fucking hipster throws a hackeysack at me. — deadmau5 (@deadmau5) April 23, 2014
… yes, op can now inb4. new rule.

— deadmau5 (@deadmau5) April 23, 2014
… but seriously, im just sayin… you should get out to the opera if you ever get a chance, the orchestra pit is a cespool of pure skill. — deadmau5 (@deadmau5) April 23, 2014
anyways… the whole point im tryihng to make is…. i need more SID station in my life .. i think ill hop on that. brb

— deadmau5 (@deadmau5) April 23, 2014