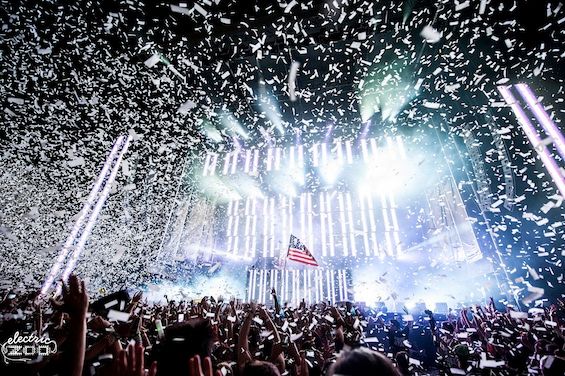 They say a festival a day month keeps the FOMO away…
Festivals come in their own shapes and sizes, with each of their own distinct tastes.  As our festival options expand, we are being presented with more and more opportunities to satisfy our musical urges with fewer gaps between them.  Artist lineups may vary, but the experiences remain unique.  As we begin to enter yet another festival season, we asked ourselves if the concept of a "festival season," truly existed, or if we really wanted to, could we actually spread our festivals out over the course of an entire year. To some degree of surprise, we found that we a have a lot of options available to us outside the traditionally perceived window, and have pulled together some interesting options for those looking to broaden those horizons.
As far as how these selections made our list, the requirements were simple: offer a unique experience or be doing something drastically different this year, have a great reputation from those who have attended (many of them our writers having attended personally), and be a relatively attainable experience for those interested.

January – BPM Festival – Playa Del Carmen, Mexico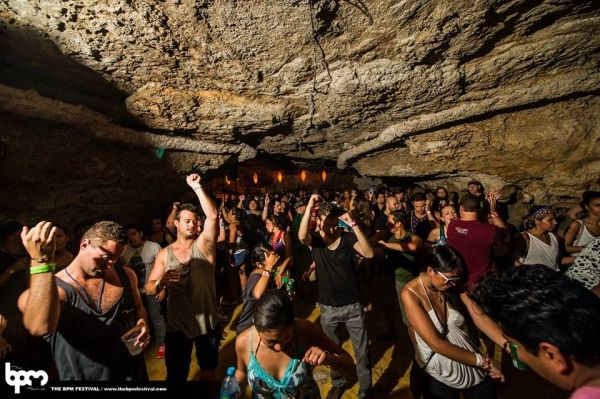 Leading off the list with one of the more interesting, and likely the least talked about event on this list, BPM, is a dream festival for pure house enthusiasts (and the only festival on this list none of the EDMTunes writers have actually attended yet).  Boasting a traditionally huge lineup of 250+ house DJs, the event is usually split into daytime and nighttime events.  Every single party is its own beach party, as the Playa Del Carmen beach clubs open themselves up for these events.  At night, the event descends into the inner parts of the clubs, and the event truly shines, as these vacationer club mainstays have an opportunity to add to the ambience with their exotically designed venues.  An amazing opportunity, and one of the longest running festivals out there, BPM clocks in as a 10-day affair.  Understandably, the full ticket can be a bit pricey, but shorter options are a bit more attainable, as vacationers looking for a more "standard" 3-4 day affair should find it to be rather reasonable.  While the rest of the Northern Hemisphere is freezing, the sun is shining on BPM, as a Western comparator to Ibiza offers a vacation getaway for those looking to do more than spend their time laying on the beach.
February – The Groove Cruise – Miami, FL/Cozumel, MX (Matt Fritsch)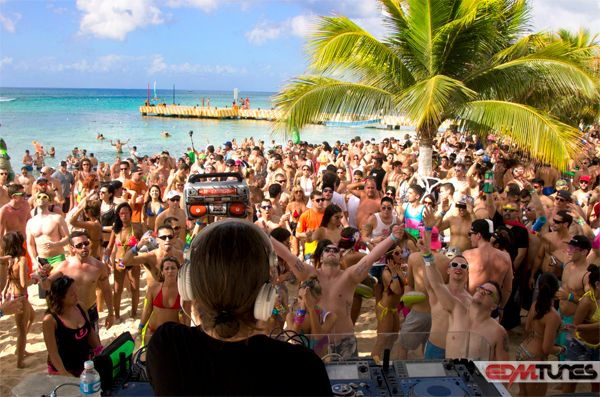 When the majority of the EDM population ponder a festival environment, their minds tend to envision multiple day events held at large singular venues (on land) with possibly the addition of a camping atmosphere or some after-parties after the actual event ends each day. The Groove Cruise takes this concept to the next level, both literally and figuratively. An event with so many boons it's impossible to touch on all of them in this small review, I will just mention highlights and let your personal research fill in the rest of the blanks. Firstly, it's a cruise from Miami to a tropical locale…in the middle of winter. Offering an ideal opportunity for escape from the winter tundra the majority of the continental US is experiencing these days; a chance to rage on a massive boat for 4 days with 2,750 like-minded chilled out party people with 70+ DJ's for 96 consecutive hours (yeah, the party never stops, literally…thus no need to hit up after parties when you have an already-established after-hours stage running from 3am-11am) is one not to pass up!
Comprised of at least 5 on-ship stages, ongoing and changing theme parties (that attendees take seriously…some amazing creativity on board) on top of world class DJ and genre selection (from deep House/Cocodrills to trance/Gabriel & Dresden and Markus Schulz to house with Cedric Gervais/Michael Woods to up-and-comers like Pierce Fulton and classics like Darude) everyone is sure to get a piece of their preferred variety of genre pie. Where other "destination" festivals cater to the "EDM" crowd line-up wise, Groove Cruise takes pride in pleasing their matured long-term attendees (aka GCFamily) with their lineup responses to the prior years' attendee surveys, in order to land the highest rated DJ's for subsequent years' voyages. Wouldn't it be nice if certain other festivals took that kind of fan input into their booking schedules?
March – ULTRA Music Festival – Miami, FL (Peter Byun)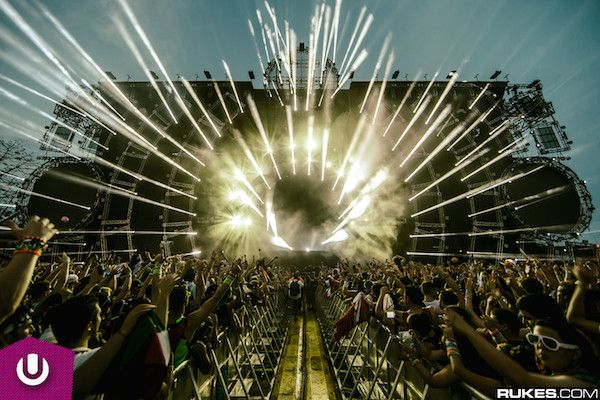 We all know about it. Three glorious days in March spent dancing around in the warm Miami sun to nothing but unadulterated electronic dance music. I am of course talking about one of North America's biggest electronic music gatherings, Ultra Music Festival. Each year thousands of people from the United States and countries from all of over the world migrate to South Florida for Miami's annual Winter Music Conference held in March. The week is packed with parties, shows, and acts to watch, capped off with the three days of madness that is Ultra.  While yes, $500 for tickets is by no means cheap, the organizers behind the festival will not fail to deliver. As more and more festivals are popping up around the world, few rival the diverse line-up that Ultra continually has year after year.  Into the current mainstream EDM that's dominating the scene today? The main stage is there for you dance at for hours. Are you a huge fan of trance? Armin's "A State of Trance" tent will be the place to be on Sunday. What about trap and dubstep? Ultra has a stage for that too. Not only is there a genre for any listener's taste, but the festival goers get the opportunity to explore and listen to sounds they have never heard.
On top of that, the massive main stage, Carl Cox and Friends/ A State of Trance Tent and worldwide stage are all testaments to the amount of work they put into their production. When they say you're going in for an experience, you most certainly are. When they say you're missing out, you definitely are. When they say you're going to be making unforgettable memories, the events that occur during those three days are going to be engraved in your head forever. While it may be a bit costly, the trip continues to offer some of the biggest bang for your buck, and it is a trek that every fan should make at least once in their life.
April – Counterpoint – Kingston Downs, GA (Ally Greco)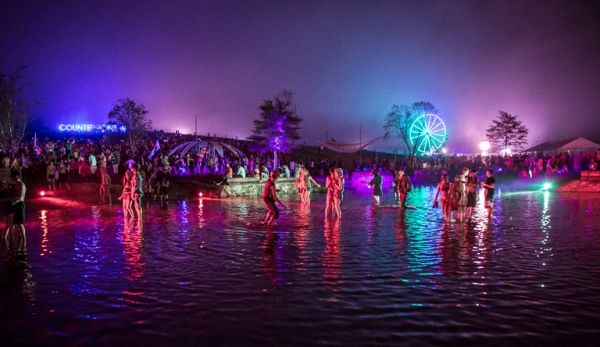 In music theory, counterpoint is the art of combining melodies so that they sound harmonic, yet sound good independently on their own. In other words, separate elements mesh and contrast with each other to produce a pleasant result. This idea perfectly describes the promised vibe of the upcoming CounterPoint Music Festival, held right outside Atlanta, GA from April 25-27. The dynamic lineup and unique springtime festival feel are sure to be harmonious.  CounterPoint is a young festival, only in its second year in Georgia, but 2012's excellent performances and beautiful locale had fans clamoring for more. The medium-sized festival is the brainchild of two event management companies: C3 Presents, who have done large-scale showcases like Lollapalooza and Austin City Limits, and MCP Presents, who have captured chill EDM vibes through festivals like Camp Bisco, TomorrowWorld, Buku, and Lights All Night.
So why is this year's CounterPoint the festival to go to in April? For one thing, it's a camping festival held among the grassy, rolling hills of Georgia, and this year moves to the new location of Kingston Downs, the same venue where the Steeplechase horse race is held every year. April weather in Atlanta is lovely, and getting a weekend break in some southern sunshine will be the perfect way to let spring fade into summer.
However, the most obvious selling point of CP is its lineup. Outkast is making it a pit-stop on their 40 festival comeback tour, but the other headliners guarantee  a diverse mainstage collection: STS9, Foster the People, and Pretty Lights top the bill. A little trio called Above & Beyond will be providing their beloved trance to the masses. And energetic acts like Major Lazer, Flux Pavilion, and Pegboard Nerds will be balanced out by more chill, jammin' artists like Big Gigantic, Griz, and Cashmere Cat. There are just too many awesome names to list, and a visit to the festival would likely lead to some new discoveries as well.  For those who live close, it's an obvious contender. For those who live a little further, it's the perfect excuse for a road trip. Either way, there's no better way to spend the last weekend in April than at CounterPoint.
May – Sasquatch – George, Washington (William Vance)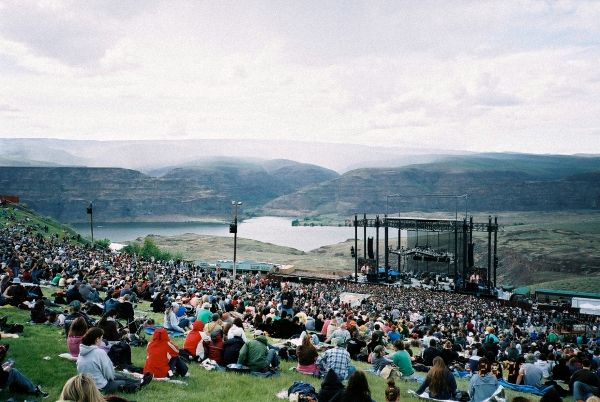 Sasquatch. If any music festival would encompass the vibe of the Pacific Northwest, it would have to be Sasquatch. While the EDM presence is minimal compared to other Northwest Festivals such as Paradiso, Sasquatch's unique blend of Dance, Indie, Rock, and everything else under the sun is what makes this festival a mainstay in any festival goers yearly music budget. While the electronic acts are saved primarily for the evening, that opens up an entire weekend of afternoons to sit with your friends drinking Pabst Blue Ribbon while looking out over the beautiful Columbia River.
Sasquatch offers a camping-style arrangement for overnight festival goers. But it is the communal aspect of Sasquatch's camping experience that most people will brag about. Running around and getting into mischief with complete strangers all throughout this small city-of-tents is not only common, but quite encouraged. What starts on Friday as a Washington road trip to your favorite festival with a handful of good friends, turns into fifty new friends and social media followers, three hangovers, and enough stories to last you until the following spring. And now that the festival is being held on two separate weekends, it's impossible to miss.  It's even got an official endorsement from Wolfgang Gartner as the #1 festival he would like to play at.
June – Electric Daisy Carnival – Las Vegas, NV (J Leo)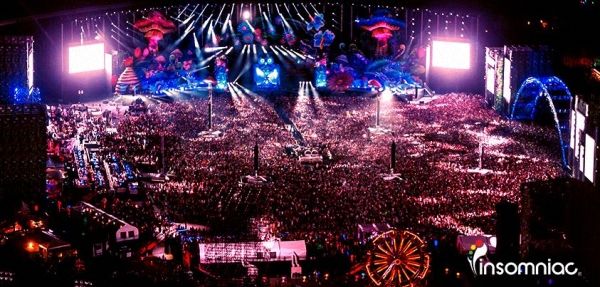 How can you put into words to accurately depict something like Electric Daisy Carnival, this beast of a festival that has become an annual raver pilgrimage?  The answer is: you can't, but we can try.  At the surface, EDC Las Vegas is a three day music festival in the Nevada desert offering a lineup full of industry heavyweights and rising talent.  Below that surface are all of the unique tales and stories bursting with music, life, and love that have resulted in the thousands of lives that have changed through the EDC experience.  Much of that is owed to the setting and Insomniac's freedom to go beyond what restricts other music festivals.  Las Vegas + motor speedway + desert = Dusk till dawn and a fireworks show that rivals any 4th of July fireworks in this country…ever…three nights in a row.  Every minute of the night is utilized to create a playground illuminated by lasers, LEDs, and fire.  It is such a spectacle of eye and ear candy that there is never a dull or lost moment.
Walking through the dark tunnel, seeing glimmers of light at the end, and finally hitting the open air and gawking over the entire festival grounds before you… that's a feeling you can't describe.  Watching the sunrise over the surrounding mountain chains on the last morning in the grandstands with your rave/festival family is not a moment that can be captured in a photograph.  The reasoning for why it's HOME for thousands cannot be explained.  All one can say is that it's worth every dollar spent, every moment lost waiting in a line or traffic, and every pain felt from raging in the desert for three days.  Because what you get back are friendships and moments that make life worth living.
July – Electric Forest – Rothbury, MI (Gideon Miller)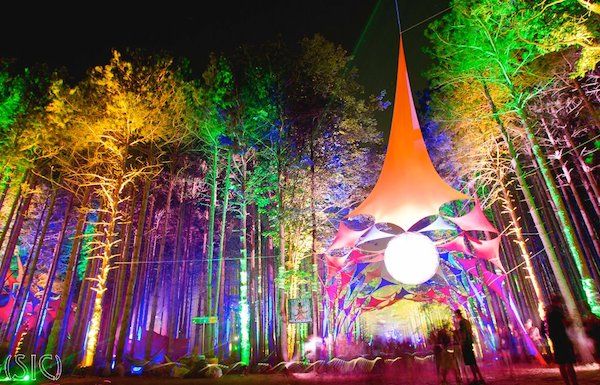 If I could think of one word to describe Electric Forest, it would be Woodstock.  If your parents or grandparents ever brag about their "once in a lifetime experience at Woodstock," go to Forest and prove them wrong.  This will appeal to the inner hippie in all of us.  Forest's signature style is that it splits its lineups right down the middle, devoting half of the lineup to electronic music, and the other half for jam bands and hybrids of the two.  The lineups won't destroy you with their "wow" factor, but in return, you get a much more intimate environment, fewer tickets, and the forest that gives EF it's inspiration.  Walking through those gates after dark should be on every festival-goer's bucket list.  It's this forest that shows you that music isn't the only art form on display on the festival.
This festival straddles June/July, so we're going to call this one July.  It's a 4-day camping event set in Michigan (a day longer than most), and you'll find mornings are spent relaxing around the makeshift camps set directly behind each row of parked cars in near perfect weather.  Easy in, easy out.  It was my first festival ever in 2012, and in my opinion a perfect starter festival for anyone who wants to get the full experience, in a safe and welcoming environment without an overwhelmingly large crowd.  The only setback is that this event is the weekend after EDC Vegas, and traditionally runs the same weekend as what is often classified as the west-coast comparator, Paradiso.  Back-to-back festival weekends are possible, but the struggle will be very real.
August – Veld – Toronto, Ontario (Peter Byun)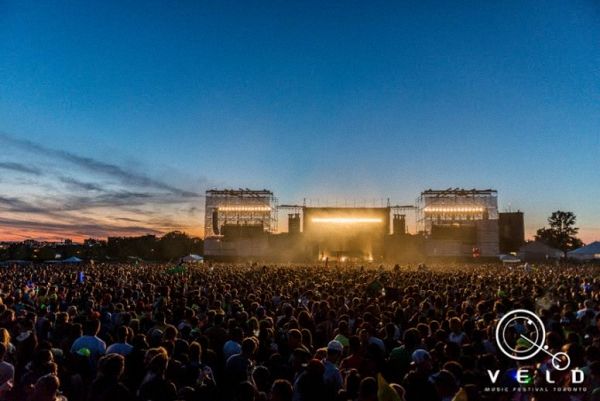 The thought of crossing international borders for a music festival never really appealed to me unless that festival happened to be Tomorrowland. However, seeing as though that opportunity seemed years away from me, traveling to another country for a music festival just didn't seem likely to happen. With this being the mindset that I had, you can imagine what my immediate thought was when a friend offered me the chance to travel to Toronto for its second ever Veld Music Festival. What better reason than to road trip to a music festival with your friends to end the summer?  Held in Toronto's Downsview Park on the first weekend of August, Veld traditionally has a small but STACKED lineup, including the likes of Aoki, Dirty South and Toronto's own Deadmau5.
Even with its small lineup, Veld had a vast array of acts that was able to cater to any listeners' musical preference.  Another reason why Veld was such an unforgettable experience was because of the people there. Coming from the perspective of an American, I can attest to the truth behind the statement that Canadians are the nicest people around. Even in a packed crowd where festival goers were sure to bump into each other, I received nothing but a plethora of "sorry's" even when they did no wrong. The way that the ravers constantly looked after each other only added to make the experience that much better. However, the icing on the cake for Veld was when headliner Deadmau5 closed out the 2013 show. Playing for nearly 2 and half hours, the Toronto native played a killer closing set, showing nothing but love for his hometown.  With Toronto being fairly close to borders of the U.S, and being the first festival I've ever traveled to outside of the U.S, Veld couldn't have been any more unforgettable.
September – TomorrowWorld – Chattahoochee Hills, GA (Gideon Miller)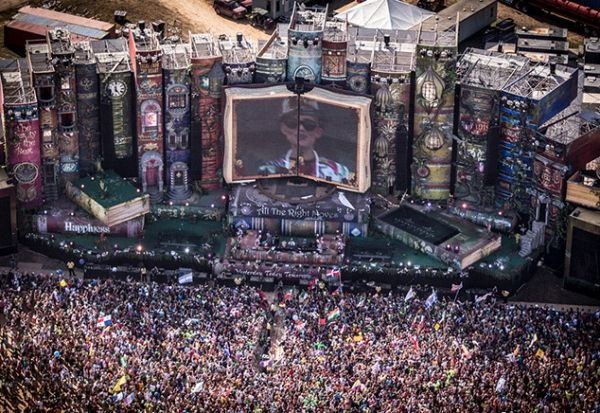 This one was a daunting event to attend for me.  Built after its Belgian counterpart, I knew what I was getting myself into, but at the same time I didn't.  Less than 15 minutes after arriving, I collided with Monty, a lost member of our TomorrowLand camp two months earlier.  I have never experienced such a WTF moment in my life.  Over 100,000 people at both events, and we reunited in the craziest moment possible.  THAT is what you can expect at TomorrowWorld – family.  Something about the grounds that host TomorrowWorld, or perhaps it was the people, that make this event really magical.  The lineup, backed by mega-money SFX, carried a massive group of A-list talent, playing to stage production that truly stands side-by-side with the original EDC.  The layout, albeit spread across two miles, offers infinite room for expansion, a superior landscape, and plenty of room for camping.  If somehow they were able to make this event all night, it could, in my opinion, just end up having a legitimate claim for festival of the year.  Plenty of space, room to grow, amazing campgrounds, and the money to put together whatever they want, this one will be interesting to see in the future.
October – Escape from Wonderland – San Berdadino, CA (Michelle Chu)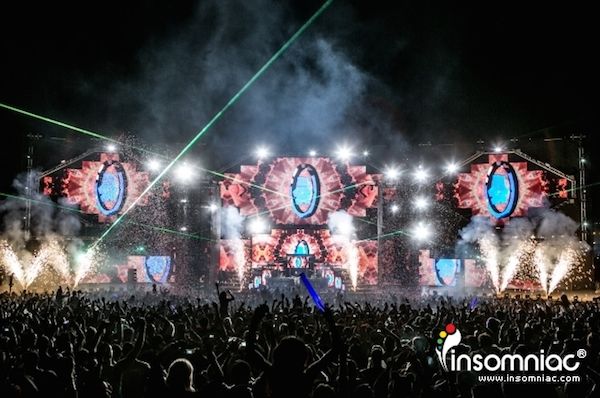 For those wanting the whimsical theatrics and passionate communal essence of a major EDM festival, but are wary of being thrown full-throttle into the surreal havoc of one, the Wonderland events – Insomnia, Beyond, and Escape – create the idyllic experience. That being said, while the Wonderland franchise provides great, 'non-festival season' events for veteran festivalgoers, I must disclaim from personal experience, that they are formidable gateway shows with the potential to induce full-throttle, festival addition insanity for EDM rookies. Attend with caution! Though significantly cheaper and less overwhelming than the behemoth that is EDC, The Wonderland events still deliver big names. Proof: the sets of 2010 Nocturnal headliners Armin van Buuren and Above & Beyond welcomed me at my first festival events; I inevitably became an addict, thanks to Nocturnal.
The mother of the three Wonderland events, Nocturnal (initially Nocturnal Festival) set an influential EDM precedent by turning a music event into a 360-musical conjuring of illuminated art, idiosyncratic theatrics, and fanciful festival grounds when premiered by 1995. Naturally, Insomniac – the name now synonymous with grandiose EDM events – leveraged the popularization of EDM to expand Nocturnal into a franchise including Beyond and Escape. And as the names suggest, the events play on various aspects of an Alice in Wonderland-esque enigmatic intrigue, such as Escape being a bit more grotesque and eerie than the others. As I said before, for those teetering on the edge of EDM interest, the Wonderlands are great to test the festival waters; just beware, the gateway danger is real.
November – HARD Day of the Dead – Los Angeles, CA (Kevin Pham)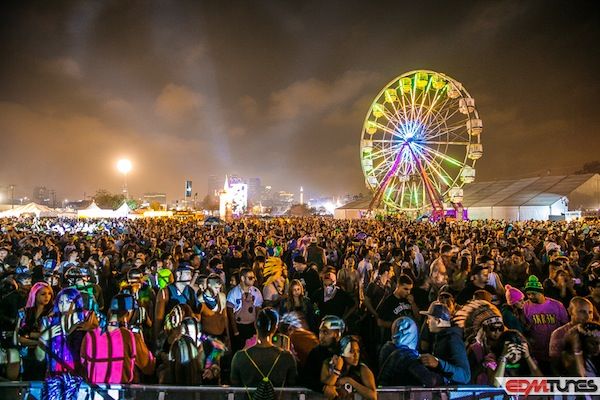 HARD has built the reputation as one of the most diverse festival line ups around the US. Founded by Gary Richards AKA Destructo, HARD events host stages and events all over the world. HARD Arena brings a unique line up to the most premier festivals they participate in, from Australia's Stereosonic to Las Vegas' EDC. Their presence in the current festival circuit is especially highlighted by a huge group of the world's most revered producers that grace their HARD Arena like The Bloody Beetroots, Boys Noize, and Dog Blood. But where are they on top of their game? Their festivals have gained star-status reputation with two incredible festivals held in the heart of the City of Angels. HARD Summer is their oldest festival and usually ends the Californian sizzling summer with a bang.
Most recently, the festival has been catering to a massive public of die-hard fans from various genres. Deep house, electro, and trap lovers alike can find themselves immersed in a solid set from the top producers of the game. This year's HARD summer line up was decorated with Knife Party, Bassnectar, Dillon Francis, and Disclosure to name a few. Day of The Dead is Hard's Halloween-themed event and although it's only been around for 2 years, it held HARD's spotlight at the pinnacle of California events with a variety of artists. GTA, Cut Copy, Skrillex, and deadmau5 were there to participate in the ghoulish madness this year. The festival is being relocated for this new year as it's original home The Los Angeles Historic Park goes under a year renovation so the environment may be a new and exciting experience for HARD fans. If you have not yet checked up on these stellar festivals, this year poses the perfect opportunity as it will be a new experience for all attendees, but with the same caliber of insane raging.
December (Outdoors) – SnowGlobe – Lake Tahoe, NV (Gideon Miller)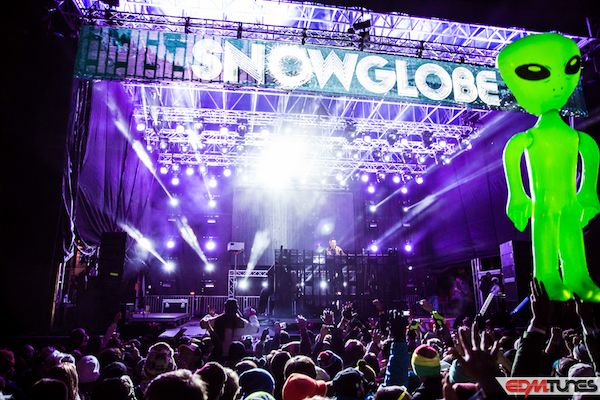 The most charming aspect of Snowglobe is that of this list, it has gone far and above trying to offer a totally unique experience, and was one of the few festivals bold enough to host the NYE celebrations on New Year's.  It's a snow rave.  This event captures the artsy feel and offers a similar electro/jam band balance as Forest, held amidst the winter wonderland of Lake Tahoe.  The constants will be the same – an outdoor wintery party, and the world's highest rave elevation.  It is to date, one of the most unique and charming events I've ever attended, and it is definitely one of the festivals to watch in the coming years.  The up-side for this event is astronomical, and it could spawn a whole new list of newly innovative styles for events in the future.
This said, many people have grown quite fond of "warm-weather" events.  If you don't believe it, imagine "traditional" rave attire in cold weather.  Not exactly temperature friendly, and therefore we're offering another option for New Years/December, to balance out this concern.
December (Indoors) – OMFG LED San Diego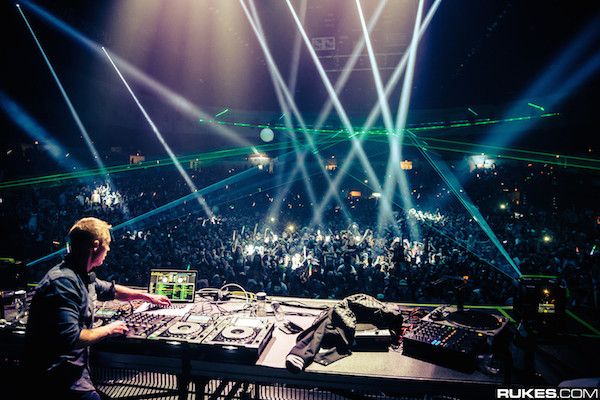 New Year's Eve has quickly become the mecca for EDM events across the United States.  It's hard to say at which point the booming attempts to book a DJ for 2013 and into 2014 will eventually snuff NYE festivals, but OMFG has been on the NYE festival game for a few years now.  Amidst all of this competition, OMFG has managed to year after year build a rather impressive lineup.  Looking back a bit to 2012, it's clear the ear for talent is huge in their booking group as they caught all of these DJs in one event: Dillon Francis, Calvin Harris, Laidback Luke, Hardwell, Nervo, Zedd, Nero, Walden, and TJR.  It was a one stage arena event, and LED is one of the pre-eminent promoters in the SoCal area, so while the production "flavor" may vary, the artists are certain to be some of the best in the region.  The true kicker though, is that while other events are likely being held in questionable weather conditions, this is held in San Diego, the oasis of "always perfect weather."
BONUS: Tomorrowland – Boom, Belgium (Gideon Miller) – July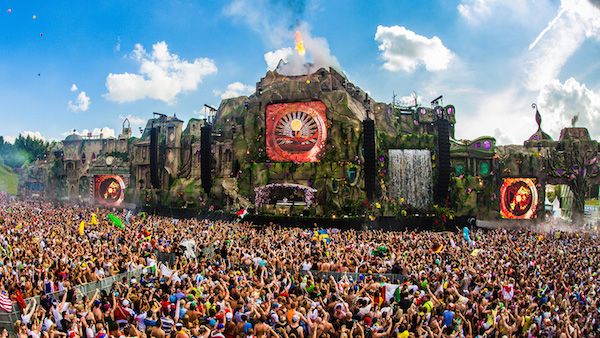 Ok so this definitely defiles one of the major criteria for the article: attainable.  Not only are tickets for this event terribly hard to buy through normal means, but it's also half a world away for many of the people reading this.  It's an expensive and difficult trip, but it has to be mentioned.  Part of what makes Tomorrowland the magical experience is its destination, in a small city you may never see under normal circumstances.  If you are absolutely convinced you have to go, get a Global Journey ticket package.  They will still sell out within the hour, but your chances are astronomically higher.
At Tomorrowland you'll find two kinds of people.  The first, HARDCORE electronic music fans, who have traveled thousands of miles to see what will likely be one of the year's best lineups, screaming every song they've heard 100 times over.  The second group is what made the experience so charming.  Because nearly half of the tickets are cleared for Belgian residents, you get this decidedly "town fair" feel to it.  Local people young and old sipping amazing Belgian beer totally in awe that their home country could be home to such an event.  On the last day, after hearing I hailed from the US, one excited and hammered 40-something exclaimed "This is so amazing, do you love Belgium?"  "You're damn right I do!" Tomorrowland is meant to be a bucket list event.  If you're a festival junkie, its worth the price of admission.  It's not likely a twice in a lifetime experience, as 3-4k goes a long way elsewhere, but its an opportunity that give those who attend some pretty hardcore bragging rights.