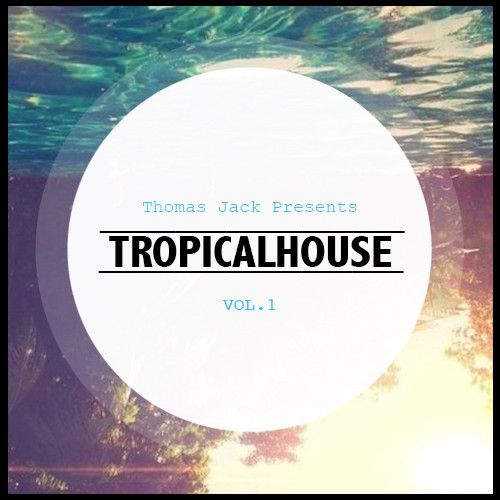 Thomas Jack Presents: Tropical House Vol.1
Genre: Tropical House | Release Date: March 18th, 2014
Thomas Jack has long held our attention with his unique good-times Tropical House sound; it is nearly impossible to listen to one of his originals or remixes without mentally transporting to your happy place. Whether due to the mid-week blues or our longing for summer, there couldn't have been a better time for the Australian producer to debut the first volume of his new mixtape series.
Appropriately titled "Tropical House," the first mix is a beautiful fusion of upbeat rhythms and melodies from a diverse roster of artists, including several of Jack's own personal tracks. Blended all together, it's 90-minutes of pure, euphoric vibes. Much like the distinctiveness of his own sound, it's hard to think of another mixtape out there that sounds very similar, which is exciting when thinking about all of the mixes still to come. If there was ever any debate about the power of great music over mood, take a listen to this mix and see how you're feeling.
Thomas Jack Presents: Tropical House Vol.1 | Download


TRACKLIST:
1) Crussen – Sun walking edit
2) Vario Volinski – Falling In Love (Original Mix)
3) Super Flu – Fibi Maybe (Original Mix)
4) Adrian Lux – Teenage Crime (Thomas Jack Remix)
5) Johnossi – Man Must Dance (Julius Abel Edit)
6) Tinush – Tinnitush (Original)
7) Alec Troniq – Pimpernuckel (Original Mix)
8) Haim – Falling ( Stil & Bense Edit )
9) TDCC – Sun (RicD Remix)
10) Lou Reed – Walk On The Wild Side (Thomas Jack remix)
11) Kaldera – You Want It Ride (Original Mix)
12) The O'jays – For the love of money (The Tailors remix)
13) David Keno – Mamas Mamas (Original Mix)
14) Umami – Seven Days (Original Mix)
15) Be Good to Me (Original Mix)- Croatia Squad
16) Izzy Bizu – White tiger (FlicFlac Remix)
17) Lane 8 – How I Feel (Original Mix)
18) Route 94 ft. Jess Glynne – My Love (Original Mix)
19) White Noise (Hotel Garuda Edition)- Disclosure
20) Waifs & Strays – Yeah Yeah (Original Mix)
21) Thomas Jack – Hey Hey Hey (Original Mix)
22) Clean Bandit feat. Jess Glynne – Rather Be (The Magician Remix)
23) Tapesh & Dayne S – Leadbelly (Original Mix)
24) Lauren Lane – Cool Kids (Original Mix)
25) Kolombo – Whatever U Like (Original Mix)
26) Booka Shade ft. Fritz Kalkbrenner – Crossing Borders (Pleasurekraft Remix)
27) Chroph – Absence of Gravity (Original Mix)
28) TÂCHES – Paris
29) Duke Dumont feat. Jax Jones – I Got U (Kav Verhouzer Resouled Mix)