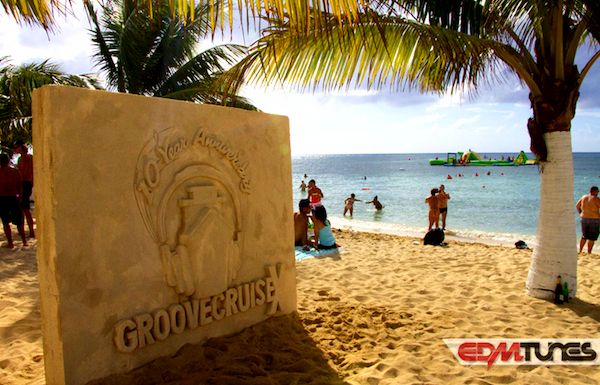 Hi my name is Gideon, and I am was a Groove Cruise Virgin.
Like any (GC) Virgin, I surely hoped their my time would be magical, not-awkward, maybe a little bit painful.  Leading up to the event, it was funny to hear everyone divide the attendees in the official Facebook group into "veterans" and "virgins," as if the experience was akin to losing some great deal of innocence.  Well… the comparison was completely and totally appropriate, because the moment we stepped onto the floating beats factory, the comparison suddenly made sense.  This wasn't any average festival, and walking away from the Groove Cruise Miami, no longer a Virgin and one step closer to a savvy GC Veteran, well it taught me a lot of important lessons.  The next time I hear the fearless Groove Cruise leader, Jason, and his 10am intercom wake up call, I'll be ready.

So here you go fellow and former Groove Cruise Virgins, here are 8 life lessons from my first ever Groove Cruise.
1) Getting Lost is Easier than Getting Found – A cruise ship is a monster of a venue.  The Norwegian Pearl, the host of this year's Groove Cruise, had 13 decks, half of them devoted to rooms alone.  Walking the hallways is a swaying labyrinth, and even more difficult during the "late hours."  A wrong turn, or forgetting an exact room number could mean lots of wandering.  One very well-known person (who will remain nameless) stopped me at 6:15 in the morning with this quote: "I know you, where the hell am I, can you take me back to my room?"  If nothing else, write your room number down, preferably on your hand, in marker, and let fate take care of the rest.  As long as you don't end up in the ocean, you'll survive.
2) Don't Leave a Set Too Early – In a traditional festival, DJs are often restricted to 60 minute sets.  Most of the attendees on the Groove Cruise had the luxury of not one, but two separate 2-hour sets, and more than a few artists went outside of the traditional status quo.  Pure house music found it's way into a number of sets, as DJs had ample time to warm up the attendees before they hit us with their most popular tracks.  Overly judging a few sets early, and abandoning them before getting to the "meat," left me with more than a few "you missed it" moments.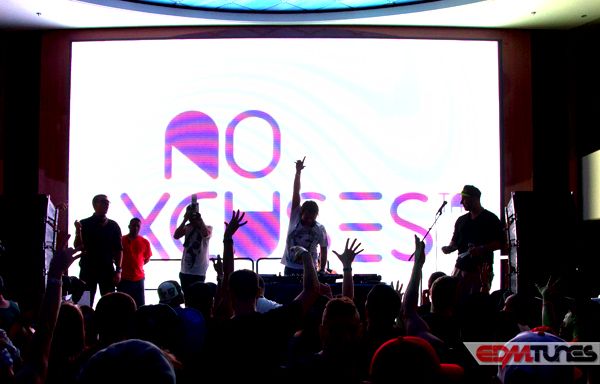 3) Sleep is Not Optional – It was worth a shot, the idea of staying awake raging for 96 hours is a bucket list check-mark up there with the likes of Tomorrowland.  But really…The one person I knew who tried it, missed the entire final day because they were out cold.  It is undoubtedly the biggest struggle of the entire trip is trying to decide when to sleep and for how long, fully knowing that doing so will cause you to miss at least one set.  But it's sleep, and you will not win.  Research shows that less than 20 minutes, and in 90 minute intervals are the most efficient types of sleep.  Using those wisely are complete game changers, and are what made the ultimate difference in Groove Cruise perseverance.
4) It's Ok to Get a Little Weird – Groove Cruise gets a lot of its madness from its theme parties, which are in themselves collective gatherings of weirdness.  A GC Virgin may feel compelled to take a conservative approach when seeing the daily list of themes, but they should NOT.  If you think the costume you "might" wear is odd, outlandish or even *gasp* skanky, take this example: during one daytime set, one woman opted to make her own theme and go completely naked.  Yes, naked, and she was left to rage her heart out.  Furries, duct tape, glowy things, who cares?!  Get creative, rock that fetish night, because however weird you may decide to be, you will be in great company.
5) Its Not Just for 20-Somethings – Rave age is very commonly debated in the social media forums, with many agreeing that although raving is 30+ friendly, people above that age are a minority.  Groove Cruise carried a passenger list of all ages, and there's truly something amazing about partying poolside with people 10, 20, or 30 years your senior.  This is a huge testament to the cult-like following of people who are self-proclaimed Groove Cruise "lifers," which subsequently makes it one of the very few festivals I could see myself still feeling welcome in 5-10 years.
6) Clusterf***, Population – Your Room – Cruise rooms teach lessons in efficiency.  Many standard rooms will have room for beds, a bathroom, and not much else, especially if there are 4 of you (imagine this with two upper bunks). Sure the room looks like this now, but once your stuff is in there…there won't be much room for anything else.  With a limited ability to unpack, we found ourselves living out of our suitcases.  It was all fine and good during the mornings, but those late night changeovers made it impossible to find essential party attire.  If I could do it again, I'd definitely recommend large plastic bags to divide everything into their own appropriate groups.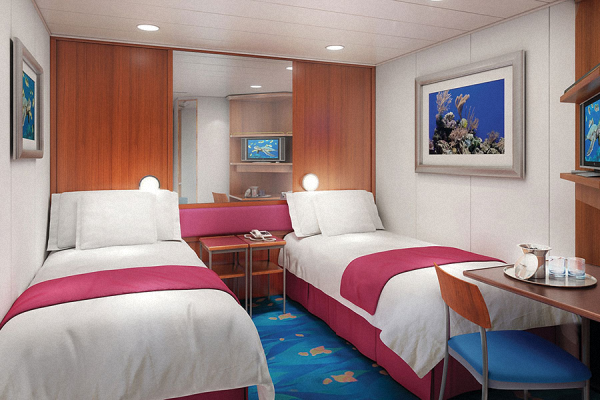 7) You WILL See That Person Again – Groove Cruise 10 had a passenger list of approximately 2,700 people.  Especially for those of you who got extra…friendly with your "new friend(s)" (nudge nudge), if you think they are just going to disappear the next morning; to quote South Park…. "You're gonna have a bad time."  You are locked on a boat with everyone for 4 days, and you WILL see them again.  Do yourself a favor and write their name down, embrace whatever did or didn't happen, and high five them at the next set tomorrow morning.
8) Seeing a Sunrise set is Lifechanging – Groove Cruise delivered a massive slam dunk by putting Deep House on their top-level sun deck.  These sets ran from 4-10am, and gave an amazing opportunity to "groove" after the theatre set headliners wrapped up.  The push from 5-6:30 is notably a struggle, but as they say "it's always darkest before dawn."  Being able to watch the sun come up over the horizon with absolutely nothing but water and beautiful music made it no surprise that the most talked about sets were hosted by Anthony Attalla and the Incorrect After Hours and DSK CHK's cruise finale.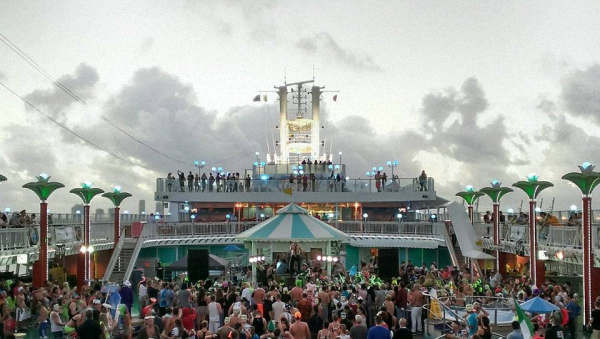 Thank you to Jason, Dana, Tom and all of the staff at the Groove Cruise.  Big shoutouts to Whet Travel and Norwegian Cruise Lines for an absolutely amazing experience and an addictive one at that….  Groove Cruise LA anyone?