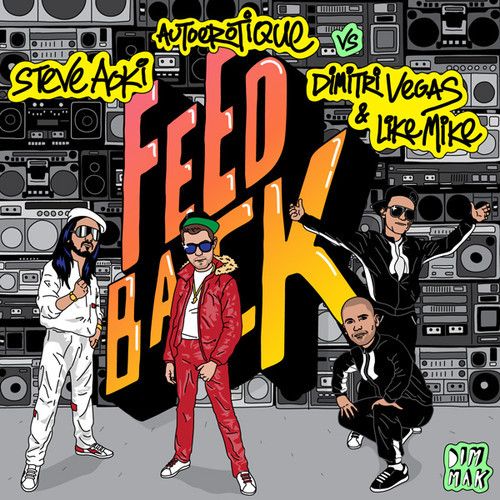 Steve Aoki & Autoerotique vs. Dimitri Vegas & Like Mike – Feedback
Label: Dim Mak Records | Release Date: February 7th, 2014
If you are one of the 45 million people who watched the Tomorrowland 2013 aftermovie, you may have paused it around the 25 minute and 30 second mark to scroll down the page and find out what song is making you want to get off your butt and put your dancing shoes on. If you haven't figured it out by now, the song is "Feedback" and it is definitely a track that is going to dominate the charts. The Dim Mak chief, Steve Aoki, joins forces with label-mate Autoerotique and everyone's favorite Belgian brothers, Dimitri Vegas & Like Mike, to deliver an electro banger filled with a catchy melodic buildup and a drop that will get everyone in the room jumping. "Feedback" will be the final song from Aoki's '3OKI' promotion where he has had three releases in three weeks (the other two being "Can't Stop The Swag" and the "A Light That Never Comes" remixes). As for Autoerotique and Dimitri Vegas & Like Mike, this tune shows that they have no intention of slowing things down in 2014, as this appears to be another hit for them. Make sure you give us some 'Feedback' about the song below and grab it when it drops on February 7th!