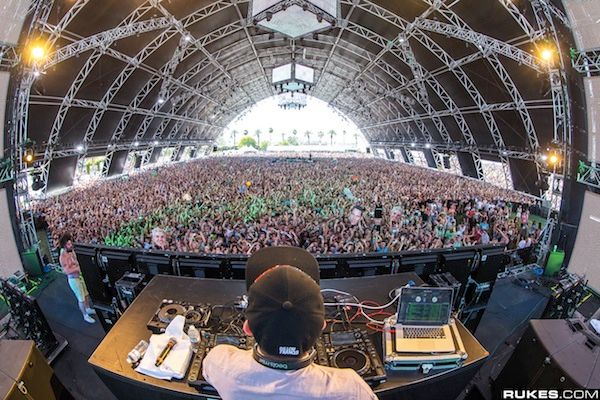 If you were around last night to see the Coachella lineup drop, then you witnessed the immense amount of feedback that dominated the Internet: Outkast is back! So much EDM! Dillon Francis!
A few moments later, Twitter began to buzz with congratulations to Francis. His feat? He was booked to play Coachella, a year after he first graced the festival. But why is this so special and worthy of thousands of tweets, you ask? Because it's hardly ever been done.

"Wait… Dillon Francis? I thought he just performed last year? YOU CAN'T PERFORM AT COACHELLA 2 YEARS IN A ROW!"
Most of us are festival pros by now. I mean, how could we not be? There's an event almost every single weekend these days. That being said, for the major annual shows like EDC Vegas, Ultra, Bonnaroo and TomorrowLand, artists are going to be booked again, it's just a given. But Coachella doesn't do that. It is a well-known fact that the festival is against having the same artist perform two years in a row. Why? VARIETY. Tickets need to sell and if the same names are going to be performing at every single festival throughout the year over and over each year, where's the fun in that. There are many message board feeds urging Coachella to back away from repeat headliners. According to sources, there have been 5 repeat headliners in its history and they are: Red Hot Chili Peppers, Rage Against the Machine, The Cure, Tool and Radiohead. (Disclosure will also be making a back-to-back appearance this year (yay!))
But Dillon Francis: the babysitter, the cookie maker and the man self-diagnosed with dissociative identity disorder, is coming back. This Instagram post by famed DJ photographer, Rukes, says it all:
Yeah, pretty much everyone at #coachella seems to be at @dillonfrancis
According to on-site reports during the 2013 show by Entertainment Weekly, nothing could match the Sahara tent, which served the purpose for all things EDM. Coachella is going to capitalize on what the audience really wants, hence why there were so many electronic acts this year.
But if there's a unifying theme that's emerged from the last few festivals, it's that electronic music has supplanted rock as the primary locus. That's not to say that there weren't bravura sets from America and England's most celebrated rock bands, but none could match the hordes that congregated in the Sahara Tent, the festival's dedicated airplane hanger for electronic dance music.

Its main stars clotted the Sahara tent on Friday: the LA moombahton maestro Dillon Francis, Bassnectar, Wolfgang Garner, and Dog Blood. Comprised of EDM superstars Skrillex and Boys Noize, Coachella was one of their [Dog Blood] first performances together and anticipation was feverish. Judging from the pandemonium of the crowd and the adulatory response on social media networks, Dog Blood was a festival highlight for thousands of concertgoers.
This is quite a different take than the usual festival players who always book Armin, Hardwell and Tiesto as the main headliners. We can be honest here, we know those guys are going to show up, we love it, but let's give our ears a new sound to dance to and that is what Coachella strives for.
Even the Ultra lineup this year garnered mixed reviews. "Where are more mainstream artists?!" The public cried without realizing that the live performers are just as good, all it takes is some research. Let's make 2014 the year of expanding our musical horizons. We survived "Animals" the first time we all heard it…and we even made it out alive after the 934325th time it dropped in a set. It's time to embrace everything this industry has to offer.
THATS FUCKING RIGHT IM PLAYING @COACHELLA AGAIN!! THATS 2 YEARS IN A ROW WHICH IS VERY FUCKING RARE!! MOM WE FUCKING DID IT! HEY @LANADELREY

— DILLON FRANCIS (@DILLONFRANCIS) January 9, 2014