Here's an interesting prediction for 2014. EDM mega-festivals may be gone in 2-3 years, and it may happen in a way nobody saw coming.
Ask yourself this: if someone offered you 5 dollars an hour to do something, and someone else offered you 20 dollars to do the same thing somewhere else, what do you choose?  Now multiply that by 10,000, and you have what festivals traditionally offer artists vs. what a Vegas club has been known to offer its residents.

It won't be drugs that takes them down, it won't be what people have called the "EDM bubble," it won't be a lack of DJ talent.  Vegas clubs are playing a risky bidding war with the world's most popular DJs, offering absolutely insane booking fees , and while the DJs are "winning," our mega-event promoters are starting to lose, and lose big.
Deadmau5 is earning 200k for one song, Afrojack has so much money, that "he doesn't know what to do with it all."  To little surprise, the highest grossing DJs of 2013 all have had recent Vegas DJ residencies.  Even DJ Mag's #1, Hardwell was recently quoted as saying:
"People always say 'DJs are the new pop stars' but when Rihanna, Jay-Z or Lady Gaga is selling out an arena and get a ridiculous amount of money, everyone is handling that ok. If a DJ like Tiësto or Calvin Harris does it, everybody is like, 'Wow, can they take that amount of money?' But they are doing the same thing."
Vegas Pool Season put together this infographic recently, with their research on several of the top residents, and these numbers are staggering.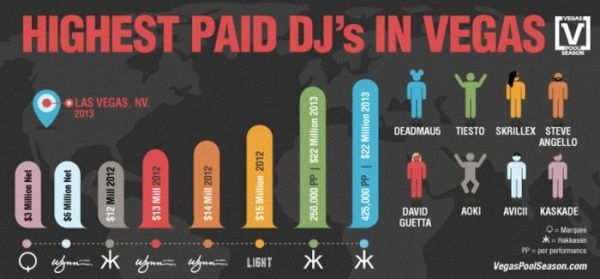 Forbes has even picked up on this press, and had this gem from a recent article:
"…Golden Age of DJing" as a modern age battle for talent, as venues raise the offering price for a 90 minute set.  Calvin Harris (Forbes #1 grossing DJ this year) makes nearly 300,000 per Vegas show."
As festivals continue to try to pack lineups with bigger and better talent, DJs are going to get paid more for their sets.  Something is going to give.  This only leaves a few options:
1. Raise prices (in progress): 2014 festival prices are already rising and complaints have been mounting against festival prices ULTRA, especially.
2. Sign fewer headliners (also in progress): People came after Pasquale Rotella this year after many were disappointed with this year's "Escape from Wonderland lineup," calling it "weak," and looking for opportunities to sell their tickets.  Feedback was so glaringly negative, that Pasquale wrote a public response.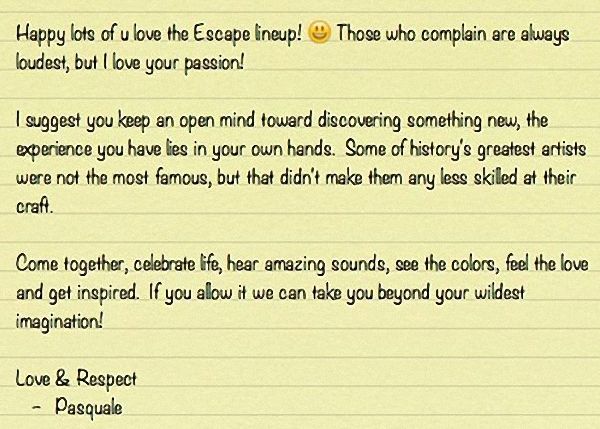 3. Offer the same average of 50-100k and hope the DJs will "make the right choice".:  Here is a list of DJs/Groups who have had Vegas residencies in 2013: Tiesto, Sander Van Doorn, NERVO, Skrillex, Steve Aoki, Afrojack, Zedd, Krewella, Calvin Harris, Above & Beyond, Cazzette, Eric Prydz, Fedde LeGrand, Porter Robinson, Cedric Gervais, David Guetta, and Hardwell.  More than 75% on this list are registered to Wynn Las Vegas alone.  Part of being a resident comes with a booking contract, complete with set dates.  Tough call, to take a residency for an entire year vs. hoping you'll be offered a reasonable booking fee for a festival.  Easy if you're planning for EDC Las Vegas, tough if you're a festival anywhere else.
It's difficult to envision what this landscape will mean for us long-term.  Does this spell doom and gloom for the world of EDM? Absolutely not.  This is NOT a hipster rant about keeping EDM underground.  Many DJs like Kaskade have slaved for years to get to this point.  Vegas has even been called the "Unlikely hero of EDM."
It could give rise to an entire new wave of superstar DJs.
It could mean that festivals become the EDM equivalent of "bottle service," where only the wealthy attend.
It could continue to bring new fans to EDM, as Vegas innovates new ways to deliver music as said by DJ Stellar, house DJ at Light Nightclub in Vegas.
These festivals aren't going to die, but they will be forced to evolve, and prices will either continue to go up, or lineups will have more "exploratory" artists.  The moral of the story here: book a festival, or two, or three, in 2014.  These shows are at their peak, and even if they are a bit pricey right now, the "Golden Age" is truly right now.