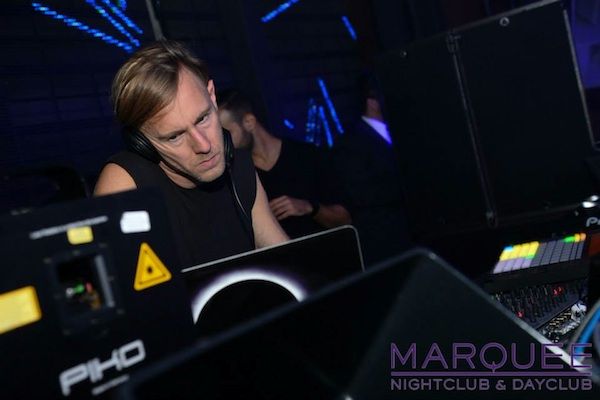 Ed.: It is common knowledge these days that in America, genres such as techno, deep house, tech house, UK Garage, minimal have clearly taken a backseat to more party and mainstream-friendly music such as new age progressive house, electro house, and brostep/trap, to an extent. These genres are what dominate the EDM landscape and therefore, they are the genres that dominate the EDM capital of America, Las Vegas. Earlier this year on October 26th, Marquee Las Vegas decided to step out of the comforting shadow of the Calvin Harris' or Tiestos or Hardwells of the world, and instead, embrace the slowly but surely growing market of techno and minimal house by inviting the legendary Richie Hawtin to its decks. It's no secret that these genres are coming alive in the states. With acts such as Disclosure, Dusky, and Claude Von Stroke, and labels such as Anjunadeep, Crosstown Rebels, and Bedrock working their way into the spotlight of American dance music, Marquee couldn't have timed such an event any better. Richie Hawtin is a bona fide legend in the industry; a master DJ, with skills that outstrip just about anyone, he was the perfect choice for such an endeavor.  The following is an account of that fantastic evening, and further insight about the importance of such an event taking place in the dance music capital of the U.S.
Richie Hawtin at Marquee Las Vegas, October 26, 2013
By Deanna Rilling
@deannarilling
The sound of the Las Vegas landscape might be changing, despite the prevailing all commercial EDM all the time format. The evidence? A special late night set from Richie Hawtin at Marquee Nightclub on October 26.
When the show was announced, there were resounding cheers across social media–as well as a fair share of jeers. Would vegas finally be getting something other than the stale rotation of superstar DJs? Is Hawtin selling out? Only the set at 3:00 a.m. would reveal the truth–and the packed Marquee proved people were there to find out for themselves.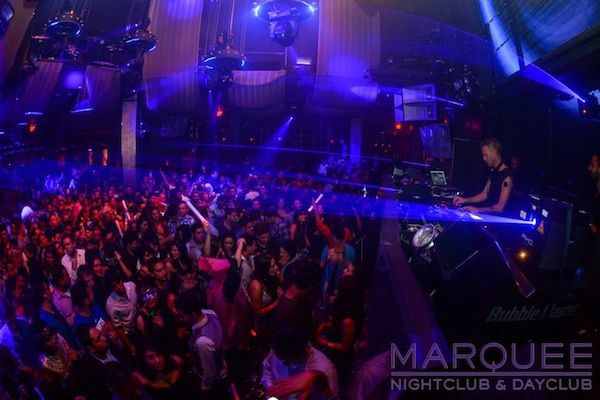 Expertly transitioning the room from an earlier set by Benny Benassi, Brett Rubin held the dancefloor and eased the crowd into some more underground territory.
The room transformed from bright flashing lights and high energy custom visuals to a more minimal production to compliment Hawtin's music, complete with a glowing ENTER. orb glowing on the 40-foot LED wall. As hoped for, the techno Titan didn't disappoint. Hawtin did what Hawtin does best: himself. Not compromising for a minute, the crowd was probably more energetic than any I've seen at a Hawtin gig, but that shows how much they loved it and truly needed this much welcome change to the Sin City soundscape. Bottles continued to sail by to tables filled with gorgeous women dancing on banquettes. An adorable gay couple revered every transition. And yes, the dancefloor remained at maximum capacity. Hawtin had a hypnotic hold on all of us. The synergy in the room was so amazing that Hawtin even played an extra hour and a half.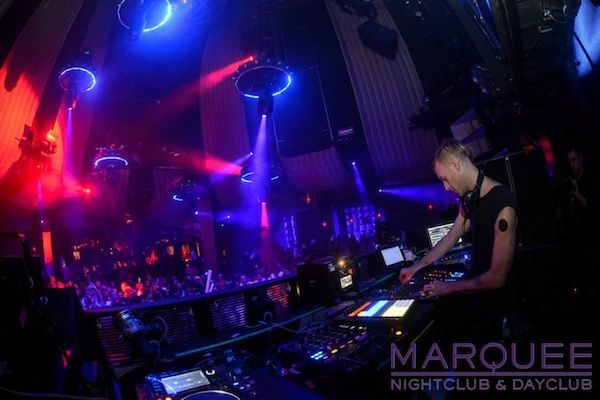 Any naysayers that think Vegas isn't ready to dig deeper would change their opinion if they felt the unrivaled vibe present in that room as Hawtin took them on a much-needed journey. Here's hoping another one is on the horizon… and soon.