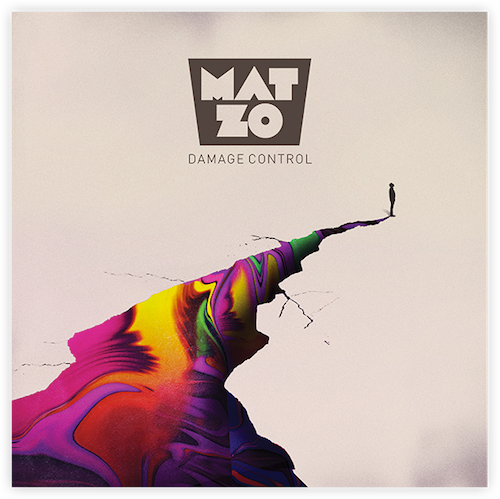 Mat Zo – Damage Control
Buy On Itunes
Another Anjunabeats artist album release, another astounding achievement in electronic music. So seems to be the status quo for Above & Beyond and Co and what a fine status quo it is. With the release of his debut artist album, Mat Zo can rest easy knowing he has produced an already critically acclaimed production, so much so that
Damage Control
has already risen to the top of the Itunes dance music charts. Matan Zohar, the London born Anjunabeats boy wonder more commonly known as Mat Zo, is without a doubt one of the most under-rated artists in the scene today (however ridiculed and lame it may be, it is still a travesty that Mat Zo grades out at only a 93/100 on DJ Mag's top 100 list) however, Damage Control will surely eat away at that characteristic.
Following in the footsteps of his Anjunabeats contemporary, Andrew Bayer, and his 2013 album release titled If It Were You, We'd Never Leave, Mat Zo has crafted a magnificent piece of art that will take the listener on a unique and masterfully presented journey. Far from a collection of tracks tailor made for a dance floor (though some certainly are), Damage Control is a unique blend of style and quality that explores a vast range of sub genres, without making it seem like that is its ultimate purpose. Instead, it crafts an almost free-flowing exploration of one man's attempt at building a perfectly cohesive structure out of a vast assortment of differing pieces. And boy does Mat Zo succeed.
Eerie, slow vibes of Superman Lost perfectly set up the sudden rush of belated energy of Only For You.  Looking at the tracklist as one progresses through Damage Control, it is obvious that "Only For You" is going to be a sneakily solid track, yet not so solid as to detract from one of the lead singles of the album, Easy, which pops up as the third track on the album. And sneakily good it is, softly utilizing vocals and sunny, soul-esque vibes to set up for the euphoric and thick chord progressions of "Easy". Caller ID through Pyramid Scheme make up roughly 9 minutes of music that is noticeably darker in its delivery – a distinct switch in style is apparent here in comparison to the first three offerings. "Caller ID" and "Little Damage" both show off a middle eastern vibe intermixed with Matan's hip-hop influenced drum rack and darker synth play. The huge summer hit, "Pyramid Scheme",  wraps up this mini-section with its now familiar vocals and club ready, peak time appropriate release.
One of the older tracks on the album, and one of Mat Zo's most famous, The Sky employs a haunting vocal performance from Linea Schossow, and leads into the first interlude of the album, Like It Used To Be. Borrowing from a common format found in rap albums, the one minute long track is dominated by a bouncy melody reminiscent of the 90s hip-hop angles Matan employs throughout Damage Control. Time On Your Side continues the trend of combining genre elements, melding together soulful vocals with a low frequency, growling bass lines. At this point in the album, it is apparent the pure range Mat Zo is working with here. UK garage, dubstep, house, and trance elements have reared their heads so far, and the album is just getting warmed up. Every track utilizes a different approach to sound combinations and progression than any track before it, which only assists with the album's ability to hold your attention with an iron fist. There are slow, perhaps bogged down, points in even the best of albums, and yet, it is quite difficult to pin point that spot on Damage Control.
The second interlude, Moderate Stimulation, drops the listener right into another absolute bomb of a single, Lucid Dreams, once more failing to let up on a string of quality tracks that have now extended through eleven slots. Perhaps with EZ, we find a track that takes its foot off the gas, as it is simply the original version of "Easy", sans Porter Robinson. However, that sentence is insulting to the track as a standalone. While it may not possess the euphoric nature of "Easy",  its elongated wobble bass is without a doubt an interesting juxtaposition with the bubbly vocal sample (it serves as a fantastic exploration of how a track evolves over time, and how its many layers can be transformed and molded into something entirely different). Tinges of French House, obviously inserted into a Mat Zo mindset, weave in and out of Hurricane, another apt offering near the end of the album. Perhaps one of the most moving tracks is actually the final interlude, the 1:29 Fall Into Dreams. One can't help but wish that this was a full length track. Pete Josef's vocals are eerily enticing as they envelope a dry guitar riff, and the track begs for another four minutes.
Indeed, it does not take much of a journalistic or even critical acumen to reach the conclusion that Damage Control is special. Rarely does an album feel this…solid from start to finish. Every tune is worth individual re-plays, and the album is obviously chalk full of already successful hits (The Sky, Pyramid Scheme, Easy, Lucid Dreams, Hurricane). As mentioned in the very first sentence of this review, this is simply the status quo for Anjunabeats. The label runs rings around its competition because it employs talent such as Mat Zo. As many of our peers have already agreed, Damage Control most definitely possesses Album of the Year-worthy credentials. If you for some reason haven't yet, we implore you to listen to this album immediately. It is a special effort by a special artist who has poured his soul into this body of work. Furthermore, stop sleeping on Mat Zo. Go to his tour, aptly titled Damage Control, which is currently in full swing around the country. Tickets can be purchased here.