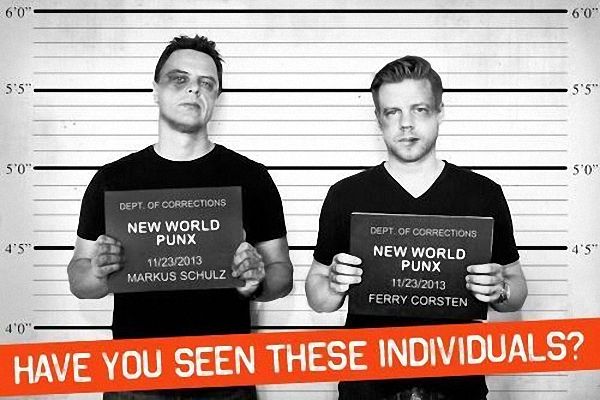 Side projects between industry heavyweights have been on the rise equaling a major win for music fans everywhere. One side project of epic proportions is New World Punx which consists of trance legends Markus Schulz and Ferry Corsten. A name derived from two of their biggest individuals tracks ("New World" for Markus and "Punk" for Ferry), the official collaboration was birthed from the shared enthusiasm for production and impromptu back to back sets. Production wise, the two had collaborated to bring fans their rendition of the classic "Loops and Tings" by Jens and "Stella" by Jam and Spoon. The successful collaboration in the studio combined with the still raved about back to backs, such as the 7 hour B2B at Echostage in DC, set a freight train of talent synergy in motion that led to this match made in dance music heaven.
EDMTunes had the honor of interviewing both as New World Punx right before their headlining set at Lunar Massive in Atlanta, Georgia.

EDMTunes: You both play here a lot in Atlanta. How do you think the scene has grown specifically in this city?
Markus – Well, I think not just Atlanta, but, everywhere here in the US, the scene is just going off. It doesn't matter whether you're in Atlanta, Gainesville, Florida, or North Carolina. It's like everywhere we go, the scene is amazing. Atlanta is definitely not any different.
Ferry – Even the smallest villages right now. If you go through, you get a good crowd and a knowledgeable crowd. It's not like we're just going to stand there and fist pump all day. Everybody knows the tracks, knows the music way more than before, which is great.
EDMTunes: So, how did New World Punx come about? How did you guys get together?
Markus – It just came about one day when we were on an airplane together talking about how we should work together in the studio. We worked in the studio and had a great time. Then we had a gig together where we went back to back. We had so much fun, and we tweeted about it. Next thing you know everybody wanted to book us together so we figured "I guess we better come up with a project name for it".
Ferry – Might as well give it a cool name tag and the New World (points at Markus) VS. Punx (gestures to himself). The New World Punx. Two of our biggest tracks.
Markus – And, then it grew into where now the show is very orchestrated, very thought out, but it started off as him and I going back to back. But, now, we still do that, but the festivals sets are really tight, really orchestrated. And it's a lot of fun
Ferry – Tomorrow in DC we have a four hour set. That's where we probably only know the first record and after that, we just go, "we'll see".
EDMTunes: So, the set you guys are talking about as far as going back to back was Tao Beach during EDC 2012?
Ferry – Yea Tao, but that wasn't New World Punx, yet.
Markus– That was just like him and I having fun together. From those shows is where the New World Punx came from. When we do a back to back like that, it's a little different than a New World Punx show. Us going back to back like that, we're just challenging each other, playing tracks for each other, and the fans just happen to be there. But, when we do New World Punx, it's like I said, we produce tracks for those sets, we produce special versions of tracks for those sets.
Ferry – And, mashups.
Your chemistry together musically and on stage is absolutely amazing. What attributes to that?
Markus – Love of the music.
Ferry – Yea! You know I guess maybe a bit of sentiment as well. What we try to do is, is to make it a good old school jam session. And what is music? It's fun. It's also what really works is the way we both sort of archive our music. I can really easily see what he's playing, and I may not know the track. But, I know the tempo, the key it's in, and I can look and see what I have the same way and that's how we can just easily fill like 8 hours, if needed.
Markus – When you have two people who know music and produce, it makes it very easy for us to vibe off of each other because we know even though I've never heard some of the tracks that he'll play, it's like I know where the track is going and how to get out of it. Same with him, he knows. You just have to get into that zone and feel it then it's just… who knows what's going to happen, that's what makes it so fun.
EDMTunes: Absolutely, it's the spontaneity of it.
Markus – Yeah! He plays a track, and I'm like, "oh my god!", and he's just laughing. And, then I'll play a track, and he's like, "oh my god" and I'm laughing. So we just have a great time.
Ferry – We have moments in the long sets like "we're here now, but now what?  I don't know what to play right now". Then you just play a track that inspires the other to go "Oh yea let's go this way" right. It's real cool.
EDMTunes: On the production side, you guys have done "Loops and Tings", "Stella", and "Romper". Anything else in the works, maybe an album?
Markus – You know what, we've been asked about the album thing before, but I'll be honest with you. Making an album is tedious, and we're at a point where we're just having fun so I think we're doing singles for now. For now, it's less pressure, more fun. And we'll just go from there.
EDMTunes: Specifically for Ferry, how was Tomorrowworld for you and doing the Full On Ferry stage?
Ferry – It was great. It was a long day though, but it was really good. It's really cool to have your own stage and sort of be the host, having all the DJ's there play and doing back to back with everybody, and close out the festival there, it was great. Sort of like you're in control of your own little area which is amazing.
EDMTunes: And, we missed you (Markus) at Tomorrowworld, we were upset you weren't there.
Markus – Yea I know. I wanted to be there, but, unfortunately, the schedule didn't work that way.
EDMTunes: You (Markus) have Transmission coming up very soon, and you've done Transmission pretty much every year and making the theme song for it. Is this a relationship that's for the long term?
Markus – Oh yea! Transmission for me is almost like my residency. I think people expect me to be at Transmission. I plan every year of being there as well as I plan on making the theme for Transmission. It's just something that I love to be a part of.
With time not on our side, pressing, burning questions such as "Markus, does unicorn blood fuel your 12 hour sets" and "Ferry, what's your secret because you haven't aged a bit?" had to be put on the back burner as to not take up anymore of their preparation time. NWP made a grand entrance with their cartoon selves partaking in space adventures on the giant LED screen on stage. Both appeared from below the decks after the animated sequence to rock the crowd for the next hour and fifteen minutes. Their set was filled with the productions mentioned above and "Digital Dreaming Punks" as well as an ID remix of Metallica's "Enter Sandman". The dark horse tech trance of Markus melds perfectly with Ferry's electro-inspired style resulting in an energetically punky show. Big thanks to New World Punx for taking the time to do the interview, and we are ecstatic for fresh NWP releases!