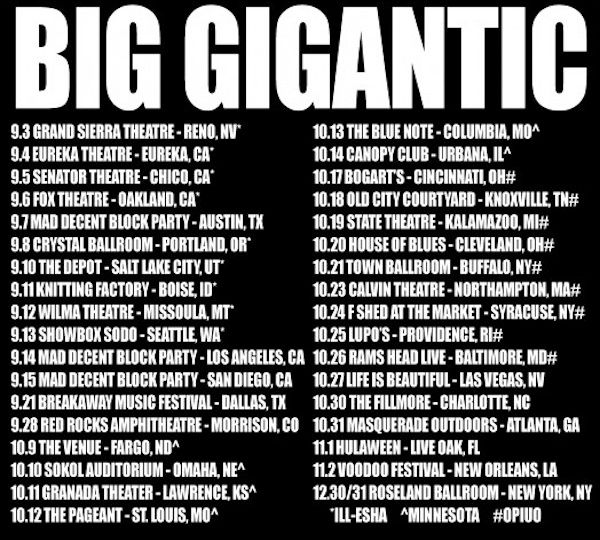 You could feel the warm buzz of energy flowing through the thin Rocky Mountain air. The previous night's near-freezing temperatures and rain had lead to fears that one of the last main events of the season at the famed Red Rocks Amphitheater would be marred by Colorado's infamous and strange weather patterns. However, true to its characteristics, warm, Colorado sunshine steeped the jagged edges of the red-hued rocks on this night, and not a rain cloud was in sight. This was a big night, after all, and everything from the people present to mother nature knew it. Big Gigantic was coming home, and their arrival couldn't have been more timely: devastating flood damage had sent all of Colorado reeling, and Rowdytown 2 was the perfect distraction for a state that desperately needed a pick-me-up.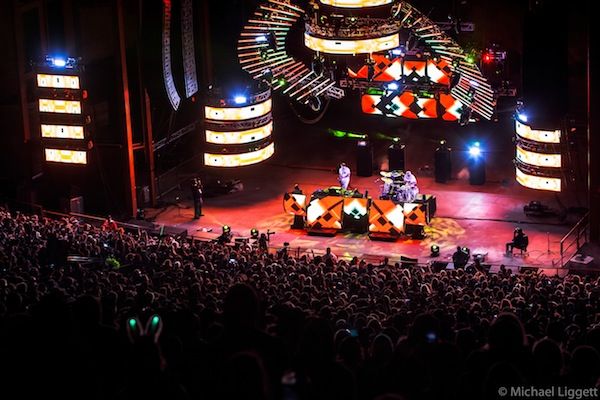 Dom and Jeremy were smack in the middle of their Sky High Tour when news broke out that their home state of Colorado (especially their home town, Boulder) was basically under water. Almost immediately, the pair decided to transform their two Colorado stops into Big Gigantic Flood Relief nights, and donate a portion of the profits to the Conscious Alliance Flood Relief Fund. This gesture only served to raise the excitement level for an already amazing night at the legendary venue. In tow with Dom and Jeremy were Colorado favorites Adventure Club, along with Carnage and Manic Focus. The line up was stacked, and the stage was set for an unforgettable and high energy night. After all, Red Rocks season was drawing to a close. Beside for a Lotus/Boombox show the following week (which was already re-scheduled from earlier in September due to flooding!), Rowdytown 2 was more or less the final night of electronic music on the Rocks. If you're a music enthusiast living in Colorado(which, since you're browsing EDMTunes, is probably a safe assumption), you know that this in itself is a big deal! Red Rocks season is a cherished time in the state, and its electronic grand finale was about to take place.
The parking lot pre-game was particularly rowdy that night. Party buses were stacked rows deep and music could be heard from all corners of the park. The Red Rocks experience is unique in that the show itself is only one part of the event! The Boulder/ Denver pre-games and the party buses all converge onto the sandy parking lots, hours prior to curtain, and engage in what can best be described as a massive party. This is one of our most cherished summer past times and we were going to do the old Rocks proud for one of its closing acts of the season.
To the dismay of my entire crew, much of Manic Focus was unfortunately missed. Taking a party bus with twenty five people generally leads to must-see acts being missed; it comes with the territory of trying to goat-herd college kids into one cohesive direction. As we climbed to row 32 (a respectable and more or less perfect row at the amphitheater), Carnage's booming voice welcomed us to his State of Carnage. Employing his standard combination of festival trap, trance and pure dirtiness, Carnage unleashed his dynamic performance onto the rocks, getting the crowd more than amped for our favorite Canadian duo, Adventure Club. Now, if you haven't seen Adventure Club live, you really need to. The biggest draw of this pair is not necessarily their DJing, but more so their vast library of amazing tunes. Rarely does an artist produce hit after hit after hit, and Adventure Club most definitely fits that bill. "Crave You", "Everything To Me", "Rise & Fall", "Lullabies", "To a Friend", "Gold", "Need Your Heart", "Broken Lungs", "Daisy", I could go on all day. This time around, Leighton and Christian did a fantastic job of running through a vast majority of these, which got the Red Rocks crowd going on a level I have rarely seen. We love Adventure Club here, and we made it known to them in the only way we knew possible: energy and noise!

Adventure Club's exit prompted the usual state of antsy anticipation. People rushed to get drinks, go to the bathroom, grab a snack, what have you, as unremarkable music blared between the rocks during Big Gigantic's setup. No one wanted to be out of their spot for Dominic's and Jeremy's unique live performance. In case you're not familiar with Big G, it is key to note that they utilize so much more than some CDJs and a mixer. In an era of electronic music that sees the overwhelming majority of producers/DJs hide behind turntables, mixers, and laptops, Dom's mastery of the saxophone, combined with Jeremy's impeccable drum play, is a refreshing spectacle. The pair went at it for two hours, absolutely demolishing the palpable atmosphere of energy inside the storied amphitheater. Making the show even more special was the you-gotta-see-it-to-believe-it projection mapping! At Red Rocks, there are two massive rocks along the back of the outdoor theater (Ship Rock and Creation Rock). They're fairly flat along their face, providing a perfect surface for a unique light show! This, coupled together with an astounding set that saw Big G churn through countless hits, lead to night those in attendance will not soon forget. It was a grand goodbye to a season that we all cherish dearly, and there isn't a single act that we as a state would rather see close it out than Big Gigantic.
The boys continue on their Sky High Tour, for which you can purchase tickets here: Big Gigantic Sky High Tour