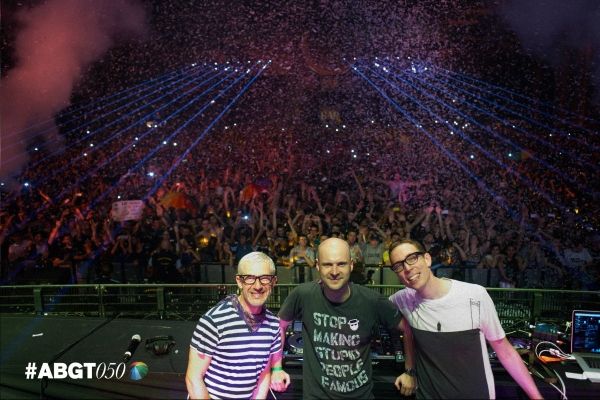 This past Saturday marked one of the biggest events in the trance world this year – Above & Beyond's 50th Group Therapy session in the trio's hometown of London, UK. With special guests Jody Wisternoff, Guy J, Boom Jinx, Andrew Bayer, and Arty, this performance showcased the best of what's happening in trance music right now. 10,000 fans gathered together in London, and countless others tuned into the live broadcast online. Two members of the EDMTunes family, Stan and Ally, were lucky enough to be in attendance. Here's how the night panned out for each of them.

Stan: The approach to the Alexandra Palace was cold, windy and dark. The venue's vast grounds proved a foreboding walk. The anticipation was intense, and began to bite at our skin much worse than the stiff wind. After all, we had come all the way from the states for this show. The feelings about having finally arrived at these hallowed grounds for what would surely be an event of a lifetime had suddenly begun to set in.
Ally: Having been living in London for a few months, I was pretty used to travelling its double-decker buses day in and day out. But the shuttle ride to the "Ally Pally" was packed to the brim, and everyone on board the bus was cheering and singing the chorus to the Above & Beyond anthem, "Sun & Moon". From the top of the North London venue, you could see the illuminated skyline of the central part of the city.
Stan: As we walked in at 7pm sharp, a large Above & Beyond sign engulfed the far wall, welcoming all to Tony, Paavo, and Jono's big night. Jody Wisternoff was already lighting up the decks with his signature deep and sultry tunes, warming everyone up. Two hours later, Guy J entranced the crowd with his hypnotic approach to the deep house genre.
Ally: Looking around, you could see people weren't treating the concert like an ordinary night. Fans had painted their faces with the Group Therapy logo, created homemade t-shirts, and beaded intricate kandi cuffs (an unusual sight to see in the normally kandi-free city of London!) That's because people were bringing their own style to ABGT050 from all over the world. Looking around, you could many flags waving through the crowd – some from as far as India and Australia!
Stan: As the hour continued, Boom Jinx warmed us up with his hit-laden, fired-up set, featuring unforgettable hits such as "Lie To Me" and "Strangers". Next up was Andrew Bayer, who launched through a delectable repertoire of mostly his own music. "Bullet Catch", "Polylith", and "England" served to perfectly build off of Boom Jinx's high energy set. The performance finally reached its high point with Mat Zo's "Lucid Dreams" and Andrew's "Need Your Love" Club Mix. At this point, some of the biggest names in house music had graced us with all-out, everything-you-got sets. But by midnight, it was finally time.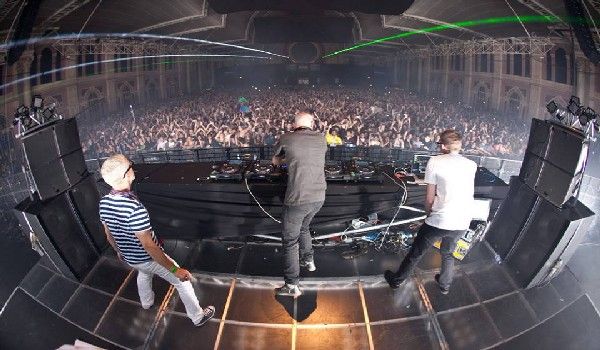 Ally: With an explosion of beautiful lights and colorful screen graphics, Above & Beyond began their set with their signature greetings, typed out for fans to read as they danced. Throughout the night, the messages accompanied the music perfectly. "We are the electronic music generation," they stated. As I looked around at everyone, lost in their own worlds but connected to each other by the music, I felt that truth.
Stan: The experience was pure surrealism. It is hard to put into words exactly what travelling all the way to London for this show embodies; many Londoners were surprised that one would come all the way from across the pond to see a "local" show. Dropping a heavy dose of new tracks from themselves and the rest of the Anjunabeats family (as they hinted via Twitter and Facebook that they would), their two hour performance was a perfect sneak peek in what is to come from the label in the future. Later, hearing "Alchemy", "Alone Tonight", "Thing Called Love", Walter White", and "Mariana Trench" in the city where it all started for this trio was haunting.
Ally: Best of all, at the end of the night, they dropped an acoustic version of "Sun & Moon" featuring Richard Bedford. That's right: an acoustic version, just like the one they played at their acoustic, orchestral performance at LA's Greek Theater a few weeks ago. As white confetti fell from the ceiling, we "woah-oh"ed to a choral bridge instead of an electro-breakdown. "Group Therapy is made of moments together like this," read the sign. As an American living in London, I've truly come to fall in love with this city. Hearing the group say that "this is the city we love" filled my heart with happiness.
But Group Therapy was not yet over! Thanks to a daylight savings clock set-back, permits allowed for another hour of music – and this time, an hour of Arty. Dropping all of his signature originals, as well as some other house favorites, like Mat Zo and Porter Robinson, Arty's energetic set allowed all the fans who weren't ready to stop dancing to go for another hour. There couldn't have been more positive vibes in the crowd.
By the time we filed out of the palace, it was late and cold outside, but it's safe to say we were all kept warm from the love exerted at Group Therapy. Overall, it was a truly unforgettable evening. And knowing that Above & Beyond have got some new tracks in store for us is perfect news. Hopefully fans elsewhere around the world will soon be able to experience something so magical.