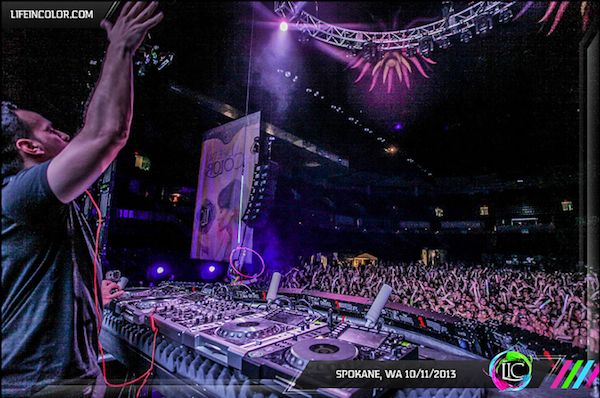 Earlier this week, David Solano released his latest track "Who We Are." The song, featuring the vocals of Angelika Vee, is already getting great reception. And, why not? With a name that Miami knows best, Solano brings quite a bit of competition. Fresh off a show with Borgore in Spokane, Washington, David was nice enough to answer a few questions for me about his new release, tips he has for those attempting to learn the craft, and his plans for the future.

On his latest release, "Who We Are" is something that he says he wants to be "a positive message and something easy for the ear." And that, "Angelika did an incredible job!" That, she did. The songstress adds incredible tone to the anthem.
As for the Life In Color tour, he explains that it is a "a true experience for not only for the crowd but also for the DJs." Touring with, and hosting the podcast for, the Life In Color festival series makes up a great part of David Solano's career. LIC, the World' Largest Paint Party, was founded by the DJ's brother, Sebastian Solano. The two have worked together with the company since it was established in 2006. As well as the tour, Solano hosts the Life In Color Radio podcast. Recently, he suggested that a non "A-List" artist should appear as a guest on the podcast. I had to ask what he encouraged new DJs to focus on for success. His advice? "As an artist overall, I think they need to focus on making music , and practice practice practice!! I spent at least 8hrs a day when I was in college learning how to get the right sound." He adds, "I still learn new things everyday." Learning new things, in new cities. But, as for which cities he prefers? David explains that "the crowd in Miami and NYC have a very special energies. The people there are very well versed in different genres and settings, so they know when the DJ is doing well or not." And that, "It can be intimidating sometimes, but if you rock them, they let you know." The Colombian native is hoping to rock his home country soon on "a Colombia and South American tour in 2014." In addition, future plans for David Solano include "some big collaborations coming up, and a few remixes as well." He also looks to get closer to fans with "more campaigns and contests."
Let us know what you think, after you check out the song below:
Check out our official EDMTunes playlist for the freshest tracks - updated weekly!