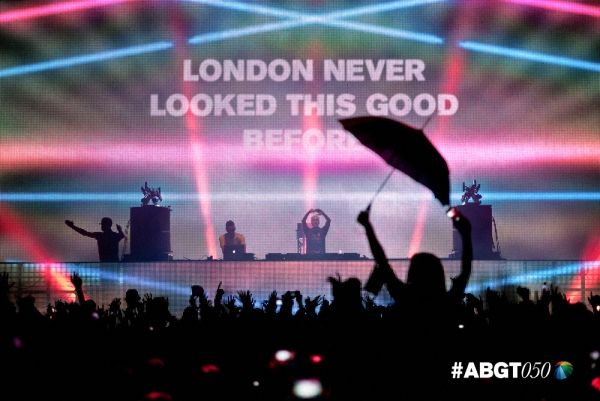 In an age of instant gratification and a twitter happy, A.D.D. youth culture dominating the dance scene, the art of storytelling has been abridged in order to meet the demands of the much sought after bass drop.  The meticulous process of building a complete journey, track by track, is a picture rarely painted on the modern day mainstage. Comprising a vividly precise soundtrack of each listener's story while bridging the gap between all of the individual protagonists in the audience is a feat only few attempt.  The boundless success of three men is owed to their unyielding passion to provide those small moments through their music in order to facilitate that connection and create memories worthy of an epic.  Those three men are Jono Grant, Tony McGuinness, and Paavo Siljamäki, fondly known as Above and Beyond.

The iconic trio have added more chapters to their own storied history in the month of October by transforming the presentation of their art.  Switching the narrative to an acoustic tone, Above and Beyond brought their unplugged show to the legendary Greek Theater in Los Angeles, selling out both nights. Jono, Paavo, and Tony took to their instruments weaving an enchanted tale of songs old and new without a CD-J or USB stick in sight. Accompanied by a 13 piece band and vocalists such as Zoe Johnston, Alex Vargas, and Annie Drury, classics were reborn with the strum of a guitar and the stroke of a piano key.  The show's immaculate timing served as a poignant counter to arguments of EDM being a genre bereft of talented musicianship and further affirmed A&B's diverse ability to uplift and sometimes, heal.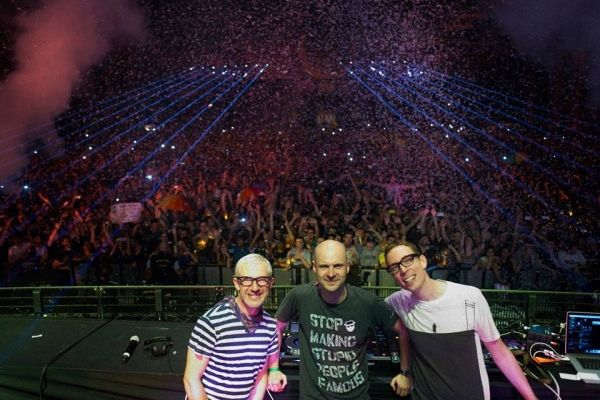 A mere two weeks later, Above and Beyond, with the help of fellow Anjunabeats family members, hit yet another climax celebrating their 500th radio show broadcast and 50th episode of Group Therapy radio at the historical Alexandra Palace in North London which sold out the 10,000 capacity venue.  Not only did the show become the number one global trending topic for the 4th year in a row, the trio and company debuted fresh material for the 10,000 revelers inside of Ally Pally and the millions listening to the live broadcast worldwide.  Just within Above and Beyond's two hour set, 5 new exclusives were unleashed and were met with fervent approval. Opening with the Genix remix of an Above and Beyond essential, "Anjunabeach", the revamped production satiated the current palate of grittier builds yet accentuating the ethereal touch of the original. The plot continued to thicken as listeners were teased with possible tracks for A&B's third artist album which is expected to drop in 2014.  "Sticky Fingers" featuring Alex Vargas with its fierce intro and heart tugging melody could certainly be a strong contender.  Two new instrumentals entitled "Mariana Trench" and "ID", a gut busting A&B remix of New Order's "Blue Monday", and an ID remix of crowd favorite "Alone Tonight" intensified the twists in the night's saga.  As if the above weren't already enough, a new collaboration between label mates, Andrew Bayer and Norin & Rad, called Artificial was introduced to the world with their first track "Prototype".  Fans were constantly kept on their toes as Above and Beyond presented many firsts in their set.  One of our editors traveled all the way to London from the states and was one of the lucky 10,000 present at the landmark event. this is how he described his experience.
It was humbling to be the first to witness new track after new track. The history of the building, in combination with London's home town aura for the trio, proved to be an overwhelming presence for those of us who put so much in to being there.  Seeing Tony,Paavo, and Jono in that setting was a once in a lifetime experience that we will not soon forget. A milestone for Above and Beyond is similarly a milestone for all that witnessed the magic of one of the most beloved groups in electronic music performing what will, without a doubt, go down in history as one of their most powerful performances.
That magic was given a proper closure with the acoustic rendition of "Sun and Moon" which is to be on A&B's highly anticipated acoustic album.  As it always does and always will, the "Sun and Moon" ending prompted the goosebump inducing sing along below.
The "Blitzkrieg Bop" of dirty bass drops is not a sustainable practice. To truly awaken the audial senses of the listener, one must skillfully tease with an ebb and flow of a musical story line that is both fluid and cohesive. Above and Beyond and Anjunabeats artists have found that delicate balance and continue to redefine that art through the evolution of their music. This is not just a party or a weekend rager. It is an unforgettable experience, the happiest of memories, and a light that sets the dark ablaze. This is Group Therapy. Get a healthy dose by listening to Above and Beyond's Group Therapy 50 set from Alexandra Palace.