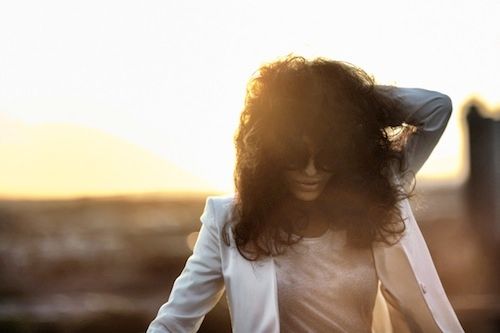 Nicole Moudaber is no stranger in the house and techno scene. Having come up under the wing of Carl Cox and running her label, MOOD Records, Moudaber is certainly a force to be reckoned with. This summer she's played shows all over the world and doesn't seem to be slowing down in the near future considering her packed show schedule. Most recently, Nicole released her new EP, Give Me Body. She sat down with us this week and talked a little about her EP, life, Electric Zoo and what's to come in the future!

Your EP Give Me Body just came out a few weeks ago, what sparked the fire for it all?
Well, I had the backing track ready to go and then I woke up one day just humming a song. So I ran into the studio and laid down the vocals, it's actually me singing on the track just the vocals heavily effected since I'm not a singer. The songs very dirty and very personal and it was inspired by someone I know.
Does Give Me Body have a slightly special meaning to you then seeing as it's you singing and by who inspired it?
Oh absolutely!
What stuck out with Ana Schneider's remix that it made the EP?
Ana and I have worked together before, we put out an EP together. She's a fantastic producer and I love her work.
I've been hearing rumors of late that you and Carl Cox have a new track together?
Yes, Carl and I have finished a track it's all done already. It's going to be released on my label, MOOD Records and that was actually (Cox's) idea. We were in the studio and he said why don't we put this out on MOOD? So the original is done, Carl is going to remix it, I'm going to do a remix and there's a deep house mix and it'll all be packaged and released as an EP hopefully in March for Miami Music Week.
You've been traveling all over the world this summer, what are some of your summer highlights?
Every show is very special to me! This year especially Ibiza has been incredible, I played more than 10 shows there and still have 2 more to go. We had a special beach party for MOOD Records in Ibiza which was a first and it was a huge success. Danny Tenaglia, Ana Schneider, Myself a ton of others all played. I can't pick just one (highlight), there's too many!
I was looking forward to seeing you on the Drumcode Stage at Electric Zoo before the cancellation of the final day. As a fan and a journalist I had one viewpoint but what was it like from an artists perspective to have your show cut short?
I was in the airport in Chicago on my way to New York when I got the news that the final day was cancelled and my first reaction was just disappointment. It felt unreal, I was so psyched to play with my Drumcode family and to see my New York fans. We tried so hard to find another venue and put together another show to make up for it that day but it just didn't work out. We'll make up for it Saturday night at Output thought! It's so sad what happened but I felt with Made Event having been a promoter you know the financial commitment that goes into an event like Electric Zoo so for them to cancel that final day was a big thing.
You've lived an interesting life to say the least, living in Nigeria, Lebanon, London, New York. You brought dance music to Beirut even, ever think of writing a memoir?
Ha! I've done so much it maybe when it's all over. Maybe with a ghost writer it could be a great story!
As someone who pioneered dance music in Beirut, what in you opinion is it that makes dance music so contagious?
I first found dance music in New York City while in school. I felt infected, and after my university studies I decided to go back home to Beirut. I was suppose to have a job in the UN or the House of Commons but I had discovered house music and it had taken me. I partnered with a friend of mine in Beirut and we decided to start building the events and it was a major success. Everyone likes music no matter what race, music is the oldest form of communication. It has the ability to truly reach people and you can talk to them thru it.
Before you go, what're you looking forward to most in the next few months?
I'm going to new territories and making new discoveries. I'll be touring Canada in October which is amazing, I love Toronto and Montreal, and I'll be back in the studio in November working on a new EP to release on Drumcode. I'll also have a new syndicated radio show hopefully starting in January!
Nicole's Give Me Body EP is available now and listen to her performance live in Bulgaria below!