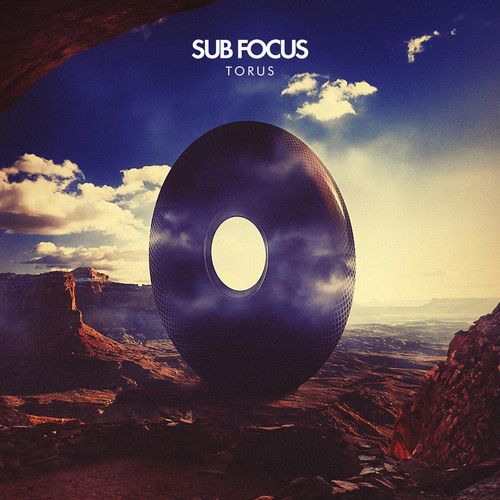 Label: Virgin EMI / Release Date: 30 September 2013
Download on iTunes
British drum 'n bass producer Nick Douwma is no stranger to the whirlwind nature of electronic music, and his moniker Sub Focus is poised to take full advantage of the increased worldwide interest in the genre in the upcoming months; kicking things off with the release of his sophomore artist album "Torus" and following up with a U.K. tour.

Producing and releasing tracks since 2003, Sub Focus has managed to garner quite a solid fan base and carve a distinctive musical niche for himself within the sometimes convoluted world of electronic music. Following up his October 2009 self-titled album debut release, "Torus" illustrates Nick's knack and ability to spur listeners' minds to deftly weave a lush mental landscape via his musicality. Thus allowing the listener to transcend the doldrums of everyday life via a vibrant mental headspace trip of atmospheric proportions…created by the brushstrokes of (in this case) Torus' multitude of layers.
In listening both actively and passively before sitting down to write a review on the release, I found myself falling into my own thoughts and allowing Sub Focus to take me on a journey. It is a (personal) journey that kicks off in spaceship Torus at lower Earth-based altitudes and takes us increasingly higher through the layers of Earth's atmosphere on our way into the great beyond of outer space.
The Surface:
Torus begins with radio communications chatter between apparent air traffic controllers discussing an object they notice flying through the sky, partially eclipsing the sun. Spaceship Torus has taken flight: buckle your harnesses and prepare for the ride.
The album's inaugural track "Torus" features a slow and steady progression of a build up into a driving, glitchy take on DnB in addition to an infusion of dub influences and vocal splits effectively setting the pace for the remainder of our journey into the great above – accompanied by speeding spaceship flyby sound effects.
The transition into the Earth's atmosphere is led by a fittingly smooth, liquid DnB approach with the cut "Safe In Sound". Matching angelic female vocal samples against a more prominent yet chilled out male vocal, the combined feel creates a dreamy atmosphere as Torus begins to rev up its RPMs.
Many will be familiar with the next track "Endorphins", as the banger has made rounds in the EDM sphere in the last few months…for good reason. Alex Clare's soaring vocals and Sub Focus' upbeat musicality makes for one squeaky-clean production, lifting Torus to new heights inside the troposphere.
The Troposphere:
Our entry into the troposphere is ushered in by an almost throwback vibe with "Out The Blue", comprised of funky clean keys and an old school almost 40s-sounding female vocal approach via Alice Gold. Sticking with the liquid DnB feel up to this point, the track complimented by warm bass and climbing synth layers, as I mentally envision zipping through cumulus clouds and in between commercial airliners on our way out of Earth's lowest layer of atmosphere.
The Stratosphere:
Torus is an album with multiple gears, as is to be expected from any vehicle. "Twilight" emanates a more transitional feel, and helps shift the album into a different gear as we break into the stratosphere. The track has a leveled off musical pace, offering listeners a chance to catch their breath a bit. Sultry yet lackadaisical vocals are paired with the increasingly ethereal sounding synths backed by a calmer percussive layer.
Torus' next gear has more personal throwback feels, but of a different persuasion. "Close" features an old-school UK Garage/2-step influence which I absolutely loved. Driven by a mid-tempo groove and MNEK's Craig David-esque vocal delivery, the track creates a chilled energy in the air and transitions nicely into the next cut "Turn It Around". Building off of the energy from the prior track, "Turn It Around" is composed of bouncy and emotive synth layers coupled with a more classic DnB bass line beautifully complimented by Kele's climbing alternative-rock band inspired vocal stylings. Topped off with an increasing BPM, the synergy ushers us into our next height milestone; the mesosphere.
The Mesosphere:
The mesosphere is a heady place in the world of Torus. "Out Of Reach" has a Caribbean-Island inspired laid back energy with its steel drum usage and Jayelldee's soulful vocal delivery. An infusion track that is complete with an 80's reminiscent synth style and new wave inspired drop in which I could faintly recall hearing a possible allusion to one of New Orders' classic tracks.
The transition into the next gear was the harshest of the journey for me. Going from the relaxed island feel of "Out Of Reach" into the harder "Falling Down" was slightly jarring to my listening experience. The track features a dirtier dub-inspired drop profile complete with aggressive bass but sprinkled with more melodic DnB breaks. I would have only suggested that this track would be placed elsewhere in the album to facilitate flow a bit more smoothly, as opposed to putting the most aggressive track after one of the albums most laid-back moments. But on the other hand: I think I saw the windows on the International Space Station rumble at the drop from Torus' windshield.
My only other piece of criticism for the album comes in the form of the next track "Turn Back Time". Kicking off with a really nice crisp-sounding musical start, I was really grooving until the drop that hit appeared out of far left field…and I felt a bit cheated for the only time on our journey. The big room/festival style house-inspired drop. I understand large crowds tend to respond to this style, but I've never understood it personally. The track lacks cohesion to me, but throughout any airborne journey you are bound to hit a patch of turbulence at some point – or maybe that was just a change of pressure as we transition into the thermosphere…with our sights set on the stars.
The Thermosphere:
Sub Focus hit the GAS with "You Make It Better"! Punching full throttle on Torus' accelerator, euphoric layers of twinkling synths and bounce-inducing bass inject your body and mind with the best vibes imaginable, gearing you up for the rest of the fantastical journey that lay ahead of you in your mental headspace. Complimented by uplifting, emotion-infused vocals via Culture Shock & TC littered throughout which helps to propel us into the last stage of Earth's atmosphere: the exosphere.
The Exosphere:
"Tidal Waves" is my absolute favorite cut of the album personally. Led by Alpines' powerful emotive vocals with an uber-uplifting melody coupled with molecule-vibrating deep bass lines, the track really gets us up to cruising speed nicely. I absolutely love Sub Focus' use of crawling keys paired with energetic drum kicks and Alpines' crystal-clear note delivery. Ending our journey with a seamless transition into the final track of the album (if you don't count the bonus tracks), Sub Focus drops the aptly-named "Until The End" on us. Massive spacey feels emanate from this track. Composed of big symphonic key strokes, sweeping and soaring vocals via EDM-favorite Foxes, and empowering percussive beats with steady rumbling plateaus, "Until The End" helps to power our ships' momentum into the great beyond.
As the overall energy is brought to a leveling-off, Sub Focus gets ready for us to hit the cruise control (or maybe the repeat button) as we make our way off into the depths of seldom-explored outer space – with only you, spaceship Torus, and Sub Focus' mature musicality to guide you. Happy travels, fellow astronauts.
…oh, and since I didn't get a chance to discuss the bonus tracks, here is one from the man himself.
"Eclipse"