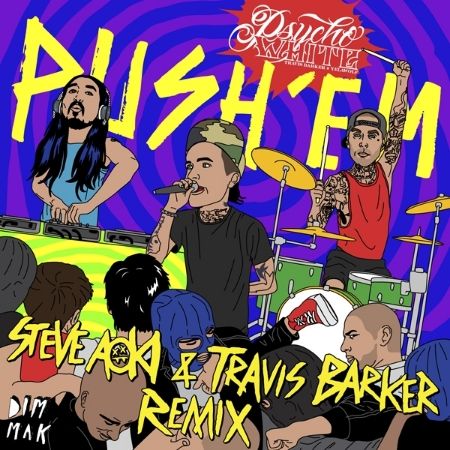 Travis Barker & Yelawolf – Push 'Em (Steve Aoki & Travis Barker Remix)
Genre: Dubstep | Label: Dim Mak Records | Release Date: August 13, 2013
BUY NOW: Beatport | iTunes
Steve Aoki, founder of Dim Mak Records, and world-renowned drummer Travis Barker of blink-182 have just released a bangin' remix of Travis Barker & Yelawolf's "Push 'Em" on Dim Mak Records. This track is a reworked version that highlights Barker's raw and rapid-fire drums while combining Aoki's next-level production skills to create an electro head banger. It's two different worlds combined together that's built equally for EDM and punk shows alike. Personally, I prefer the original but this is different yet still edgy. The original version of"Push 'Em" was featured on the Travis Barker & Yelawolf 2012 collaborative EP Psycho White. Be sure to grab your copy today and check out the music video below!