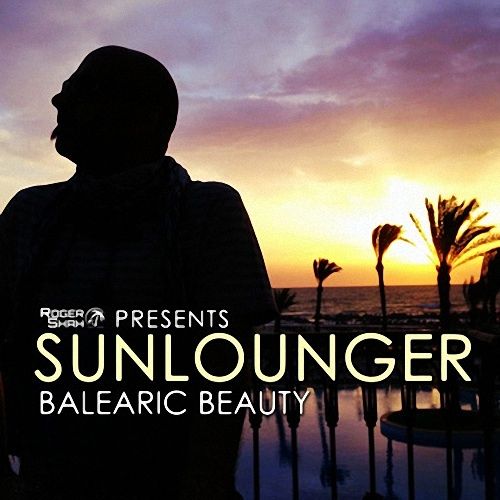 Roger Shah Presents: Sunlounger – Balearic Beauty
Genre: Trance | Label: Magic Island Records | Release Date: 19 Aug, 2013
Purchase On: iTunes / Beatport
All electronic music is not created equal. Some is meant to get you up and moving while others are geared towards a more chilled out atmosphere. Roger Shah knows this distinction very well and is back with a full release under his Sunlounger moniker, one that leans towards the chilled out zone of the spectrum. It has been three years since Sunlounger's last album release, "A Beach Side Of Life".  As the name of the previous album and also this current one, Balearic Beauty, implies, Sunlounger's musicality mentally transports you to the white sand beaches of Ibiza and the Balearic perception of life.  "Balearic Beauty" is stacked with captivating, sun-tipped, and infused audio which is surely geared to take the world's lounges and (more cultured) dance floors by storm.
Crowned as MixMag's "Album Of The Month" for September, "Balearic Beauty's list of strength areas is considerable. It's singing and song-writing work (and the stylistic breadth between each track) is impressive. The pace is beautifully measured and admirably Roger is discernibly making regular use of live instrumentation at every turn." Featuring a 2 CD release of both uptempo album mixes and downtempo edits, there is sure to be a track for every occasion – complete with contributions from vocal talents such as Inger Hansen, Yoav and JES.
Roger has this to say about his flip-side moniker and the differences between his production styles:
"People who follow my studio work will know by now that I'm a fan of many different types of music, both electronic and un-synthesized. There are few I love more than ambient and chillout though. Through Sunlounger I'm able to travel deeper into this area – the 'ying' to my club 'yang'. It's something that will always be fundamental to Sunlounger's musical identity."
With this upcoming long party-weekend on the way, we will all be in need of the occasional unwind at some point. So check out the tracklist for both CD's below and grab the release from Beatport or iTunes.
CD1: Downtempo
01. Sunlounger – Balearic Beauty (Chillout Mix) (2:39)
02. Sunlounger featuring Inger Hansen – Come As You Are (Chillout Mix) (5:45)
03. Sunlounger featuring Kingseyes – I Just Wanna Dance With You (Chillout Mix) (5:01)
04. Sunlounger – Coconuts & Pineapples (Chillout Mix) (4:41)
05. Sunlounger featuring Alexandra Baboi – I'll Be Fine (Chillout Mix) (4:17)
06. Sunlounger – Sunkissed (Chillout Mix) (5:00)
07. Sunlounger featuring Suzie Del Vecchio – If You Where Here (Chillout Mix) (6:03)
08. Sunlounger – Balearic Romance (Chillout Mix) (6:00)
09. Sunlounger featuring Yoav – Today Tonight (Chillout Mix) (5:22)
10. Sunlounger featuring Andre Frauenstein – Mojito (Chillout Mix) (4:24)
11. Sunlounger featuring JES – Glitter And Gold (Chillout Mix) (6:22)
12. Sunlounger featuring Chase – Surrender (Chillout Mix) (5:37)
13. Sunlounger featuring Jörg Stenzel – Relaxation (Chillout Mix) (4:39)
14. Sunlounger with Rocking J featuring Sason Bishope Parry – Find My Way (Chillout Mix) (6:11)
CD2: Uptempo
01. Sunlounger – Balearic Beauty (Album Mix) (7:15)
02. Sunlounger featuring Inger Hansen – Come As You Are (Album Mix) (6:16)
03. Sunlounger featuring Kingseyes – I Just Wanna Dance With You (Album Mix) (5:07)
04. Sunlounger – Coconuts & Pineapples (Album Mix) (5:20)
05. Sunlounger featuring Alexandra Baboi – I'll Be Fine (Album Mix) (5:21)
06. Sunlounger – Sunkissed (Album Mix) (5:26)
07. Sunlounger featuring Suzie Del Vecchio – If You Where Here (Album Mix) (5:48)
08. Sunlounger – Balearic Romance (Album Mix) (4:05)
09. Sunlounger featuring Yoav – Today Tonight (Album Mix) (5:33)
10. Sunlounger featuring Andre Frauenstein – Mojito (Album Mix) (5:31)
11. Sunlounger featuring JES – Glitter And Gold (Album Mix) (5:30)
12. Sunlounger featuring Chase – Surrender (Album Mix) (6:00)
13. Sunlounger featuring Jörg Stenzel – Relaxation (Album Mix) (4:46)
14. Sunlounger with Rocking J featuring Sason Bishope Parry – Find My Way (Album Mix) (6:20)