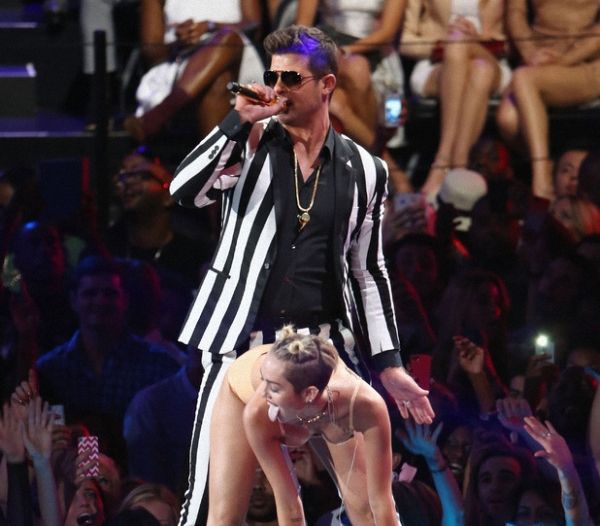 The entire world is talking about Miley Cyrus right now.  Love her or hate her, you've probably either read, participated in, or listened to a conversation about her this week.  For the few who haven't – A brief history of Miley's week: Sunday: Miley took to the MTV VMA stage to perform "We Can't Stop" and then took us for a trip that basically dropped everyone's jaw to the floor.  Cyrus formally brought twerking into the mainstream by grinding on Robin Thicke, while he sang his, wait for it….#1 Top 40 hit "Blurred Lines" (not shy of its own criticism), at the MTV VMAs.
Monday: Miley's performance at the VMAs is the most tweeted topic in the world.  Celebrities like Brooke Shields  – who played her mother on Hannah Montana – fuel the fire through interviews. P.S: Can we just go ahead and say that all this attention, negative or positive, is exactly what Miley's PR team wanted? Her album is coming out soon, and this entire week is going to be a driving force all on its own with regards to sales. 
Tuesday: "Twerking" is added to the Oxford English dictionary.  A crazy coincidence perhaps.
Wednesday: And suddenly, it makes so much more sense.  Behold, an ultra-massive collaboration between Miley Cyrus, Justin Bieber, and Bieber's protégé, Lil Twist.  This song "leak" is titled: Twerk. Somewhere in the world, Diplo is laughing right now. Well, we're all laughing…and crying…for humanity. Did anyone actually hear the news about how Japanese radiation is affecting crops on our own West Coast?? Of course not, Miley is twerking, let's talk about that. Also, the fact that WordPress doesn't recognize "twerking" as a word yet needs to be addressed in an update ASAP.
Wednesday BONUS:
Miley Cyrus is
confirmed
as the featured remix artist on what is Kanye West's most controversial track of Yeezus,
Black Skinhead.
Like we said, Miley's next album, "Bangerz" releases in six weeks.  What was Miley really trying to accomplish this week?
Thursday: Morgan Freeman reads the definition of twerking.
Let's not forget to mention that Diplo will be attempting to set the world record with his '
twerk wall
' this weekend at Electric Zoo in New York.
'murica.