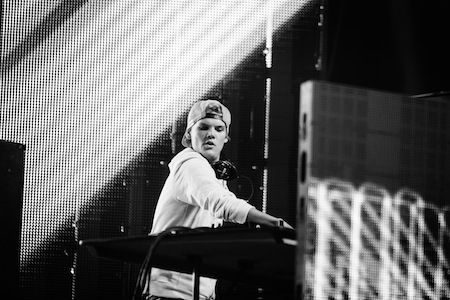 The grumbles, moans, and confused murmurs after Avicii turned his DJ set into a live performance this past March at Ultra Music Festival in Miami seem to have been silenced.  What then was causing EDM fans some stress as to the twangy country-folk sounds he played, Avicii's debut album True has since become one of the more anticipated albums this year with his single Wake Me Up reaching number one in multiple countries. "I expected some reactions, but now I'm really happy," says Avicii in an interview with Forbes Magazine. "It really shook people around and shocked them and grabbed people's attention. And once that initial shock wore off, people stopped thinking, 'Oh, it's country music.'"

Though now synonymous for his shake-up, Avicii is not alone in this shift towards a different style of electronic music. As it is, America is the only country in the world that clings to the term EDM. "I don't see EDM anywhere else," says Avicii. "It's a very American term."  So what brought about such a term? If electronic music has been alive and well overseas for years, what changed to make America amalgamate all of it's genre's into three letters?  "In Europe, we never had the expression 'EDM,'" says Tiësto. "Everyone was in their own little scene: The house heads, the trance heads, the club heads … in America when you play, you can play all that stuff together. And there's a lot of people who like to listen to everything and not just one style." The idea makes sense.  More often than not, it seems as though American electronic fans do listen to and enjoy a variety of EDM stylings.
American radio waves have become jam packed with pop hits either influenced by the EDM shift (i.e. Safe and Sound by Capital Cities) or by an electronic artist themselves (We Found Love by Calvin Harris and Rihanna). Seeing how the EDM craze has influenced pop music, then isn't the natural progression for it then to influence rock, country, folk and all other forms of music?  Zedd has recently started to produce for pop acts such as Justin Bieber and Lady Gaga in an attempt to branch out.  He's on board with Avicii in an attempt to make EDM more of a broad style. "More and more electronic artists will go (avicii's) way and include more real instruments," said Zedd.  "That's kind of what I'm doing … there's going to be a lot more organic elements in electronic music in the next years, same thing goes for pop music."
As for Avicii, after seeing success in his risk he's confident that EDM is more than just a craze. "There's not really any limits whatsoever to what you can do," he says. "As long as there's this kind of constant flow of music, I think it's going to be popular for a long time." I'd agree Tim. Let's hope you're a part of it.