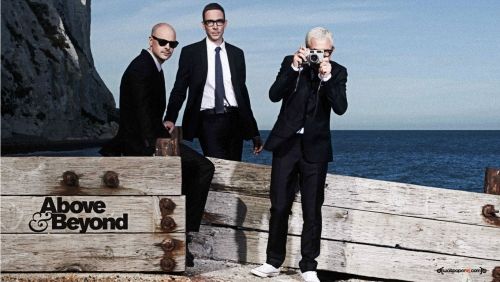 Above & Beyond.  I'm nervous as I sit down to write this.  Above & Beyond. How can one writer tackle a Hall of Fame article about a band that will go down as one of the most beloved, legendary, and respected acts of our time without being completely overwhelmed? How can I possibly translate into words the very core of human emotion that these three have gleaned out of every single person that has ever seen them perform? Perhaps unlike any electronic act in history, Above & Beyond has the dual-ability to get a party started with their fast paced, at times dark and gritty, trance beats, and then have the entire room tearing up with emotion the very next minute. What can I write about a group that has won Essential Mix of the Year twice, performed in front of one million people on a beach in Rio De Janeiro, has produced countless trance and dance anthems that everyone knows every single word to, spearheads one of the largest and most prominent dance music labels in the world, have two critically acclaimed albums under their belts, and who are responsible for nearly five hundred episodes of one of the world's most popular dance music radio shows? Above & Beyond, man, like, what more do I need to say? I could cut this article off right here, and in some twisted way it would be enough, because nothing I can write will be enough. However, due to the demands of the higher order, on I go; however, I will go on with what best represents Jono, Tony, and Paavo: the music and small moments like these.
The video above cuts to the soul of what Above & Beyond means to people much better than anything one can write. In it, you can see the emotion of the crowd, the connection, the elation, the utter disbelief in the experience. The track "Small Moments Like These" is a perfect example of what Above & Beyond try to accomplish.  Small, everyday moments. A laugh. A smile. A wink, a touch. A dreary night in, a cozy night out with a group of close friends. The first time you meet the person you love. Or the last time you say goodbye to that person.  Happiness, then sadness. Excitement. Anger. Frustration. Success.  All of these moments are special.  They may be small. Or large. Whatever they are,  they come together to form the big picture of life. That is what the music of Above & Beyond is: the emotions hidden behind our everyday trials and tribulations.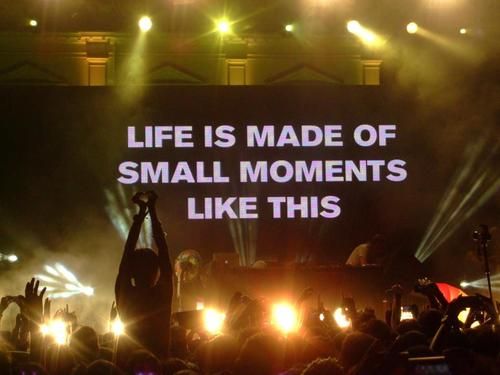 I suppose a brief history is in order, just to set the stage for the remainder of what will no doubt shape up to be a longer than expected monologue. Over a decade ago, Paavo and Jono meet at the University of Westminster in London. After acknowledging their shared interest in electronic music and production, they decided to write music together. On that night, Anjunabeats was officially born, however it was their artist alias at the time rather than a label as it is today. Meanwhile, Tony McGuinness was a marketing director for Warner Music Group, having spearheaded campaigns for big acts such as Madonna and Seal. Tony was truly all over the place in his expeditions, as he was was also a songwriter/ guitar player in the english indie rock band Sad Lovers & Giants and produced electronic music with his brother Liam under the alias Nitromethane. To make a long story short, in 2000, Tony was approached by a colleague from Warner and asked to remix a track titled "Home" by Chakra. He ended up enlisting the assistance of Anjunabeats, Tony and Paavo, and thus, Above & Beyond was born.
"The video for "Love Is Not Enough" follows the thoughts and emotions of two lost lovers in the final moments of their relationship – just as they realize that the relationship really isn't going to work. The whole video is filmed and edited in reverse, reflecting upon the cyclical nature of relationships." – Vicky Simons, Director
There are so many tracks that one can choose in order to form the general top five career-spanning track + one set guideline of our Hall of Fame posts. The five I have chosen here aren't necessarily my favorite five, but the five that I feel embody the career of Above & Beyond in the most complete and best way possible.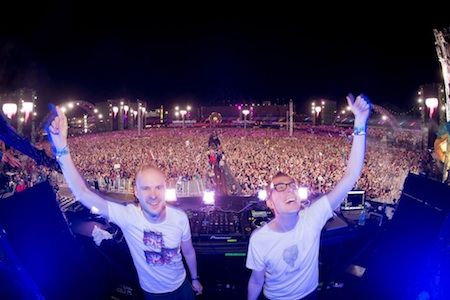 1. Far From In Love
The first official single. While not the band's first ever track, this was the one that really dropped the trio into trance stardom. Featuring the vocals of Katie Cameron, this is classic Above & Beyond. Touching lyrics, and while a bit light and simplistic on the group's signature beautiful melody composition (it's 2002 and their first single, though, considering that it is amazing), it is still a gorgeous tune.  Clocking in at 138 BPM, it is a classic and beloved true trance anthem.
2. Home
Again, it is simply so hard to choose five tracks from Above & Beyond's massive and prestigious discography, however, a track from their first studio album,
Tri State
, obviously had to be on this list. Now is a good a time as any to discuss Tri State. If you haven't listened to it, you should. Unlike Group Therapy, which was more a collection of absurdly good tracks (seriously, every single tune on Group Therapy has an argument for qualifying as a single), Tri State is a piece of music that is meant to be listened to from start to finish. The first single off of the album was "Air For Life", another obvious candidate to be in this list, however, I decided to go with closing track and final official "release" off of the album, "Home".  Once more, the amazing songwriting of Tony McGuinness and co cuts right through you, as it grapples with a topic anyone can relate to. Taking a break from a typical trance beat, Above & Beyond beautifully slow down and wrap up the entire thirteen track experience with a track that seeps emotion from every pore.
Will I wash away – turning like a stone?
I need a place where I belong!
Call a setting sun to throw me down the road
And take me to a place called home
 3. Satellite
Ah, Satellite. Of course this would be on here. Since it would be a little redundant to do a separate Hall of Fame post for Ocean Lab, I decided to devote one of the five tracks to Above & Beyond's most famous and succesful side project (for those unfamiliar, Ocean Lab is simply Above & Beyond and vocalist Justine Suissa). The famous opening lyrics are chilling yet serene. The drum roll buildup. Justine's amazing voice. Finally, the release. And you're floating in a world of trance,  the world of Above & Beyond. Without a doubt one of their most famous tracks, it is also undoubtedly one of their best. Tony wrote the track with Paavo and his wife in mind, who at the time, were spending a lot of time apart due to Above & Beyond's touring responsibilities. It is just another chilling example of the magic in Above & Beyond's ability to relate to anyone and everyone.
4. Sun & Moon
I'm sorry baby. You were the sun & moon to me. I'll never get over you. You'll never get over me. The most iconic lyrics in all of dance music. Everyone knows this song. It is infectious. We were in heaven you and I. The lyrics are hauntingly mesmerizing, and once more, Above & Beyond is pulling at the heartstrings of numerous people with their subject matter. When  I lay with you and close my eyes. Tony McGuinness has proven time and time again that he is a master songwriter, and he has never been in better form than for "Sun & Moon". Our fingers touch the sky.  It is without a doubt the career track of Above & Beyond, in terms of not only quality but also the sheer popularity of this specific tune. Every person at every festival knows every word. Every time. If you've had the privelege of attending an Above & Beyond show, you are well aware that they do not even need to play this track, as the audience will generally do it for them.
5. Alchemy
The fifth track was very difficult to choose. Many tracks can go here. "On My Way To Heaven", "On a Good Day", "A Thing Called Love", "Air For Life", "Love Is Not Enough". So many choices, and they would have all been perfect, making the decision near impossible to make. So I ended up penciling in my personal favorite, "Alchemy". Off of Group Therapy, "Alchemy" is in a similar category to "Sun & Moon" in its subject matter. The tune tells a story of  love gone awry, and the always painful task of acknowledging that realization. As with most of the tracks here, "Alchemy" was made into a music video that weaves this story into the medium of video. Above & Beyond's own description:
A tale of a betrayed love that once burned so bright, the official music video for Above & Beyond's "Alchemy" (feat. Zoë Johnston) begins with a jilted lover (Mackenzie Firgens) coming face-to-face with the painful realisation that the man she loves is cheating with another woman. Tapping into all the complex emotion and intensity of the song's lyrics, the story unfolds dramatically with it becoming painfully clear just who is the "golden one" within this love triangle.
The Set
This is the after movie of Above & Beyond's Bangalore show. It was the official closing of an era with regards to Trance Around the World, and the birth of a new one in the form of Group Therapy. This is also the set I have chosen to share with you. It is a milestone in the trio's career, and also happens to be a beautiful set where all of the power, creativity, and production of the Anjunabeats label is on display. Later this year, Above & Beyond will once more play a Group Therapy set live to celebrate Group Therapy 050, and also their 500th radio show episode in total. Ten years of Trance Around The World and Group Therapy will be heralded at Alexandra Palace on October 26th, 2013. Joining Tony, Jony, and Paavo will be the incredible Andrew Bayer, Arty, Boom Jinx, and Guy J. If you have the opportunity to go, I highly suggest you do. It will be the event of a lifetime, and one no one that attends will ever forget. 
Closing Thoughts
It's 3:00am the night before this piece is due. I've just returned from the first annual HARD festival at Red Rocks Ampitheatre. My ears are ringing from the aggressive beats and bass of Flosstradumus, Diplo, and Knife Party. It was a fun show. However, with this piece and Above & Beyond in mind, I realized how little connection many acts have with the crowd. I start running through my Above & Beyond playlist. I instantly see the juxtaposition between most DJs out there and Above & Beyond. Most just get you amped up in typical EDM style; Above &  Beyond swoops you up, takes you far, far away, and drops you in the middle of their world; their own little session of group therapy.  Yes, all three of the acts are amazing in their own right; they can start a party with almost no effort, and their command of the stage is unparalleled (especially Diplo, that dude just slays it up there). But in terms of a feeling of connectedness, togetherness, or just raw human emotion, no one does it like Tony, Jono, and Paavo. They are the masters of conveying humanity through music, and the journey that they take their audience on with it is unparalleled.  No act in the history of dance music has accomplished what Above & Beyond has, not just in terms of sheer accolades, but in terms of constructing a body of work that goes above & beyond just music, and actually transcends into the pure feeling of what it is to be human and to be alive.