If Armin Van Buuren is the King of Trance, then Andrew Rayel is surely its prince. And why not? The young Moldovan has had the world-shifting support of AVB for more or less every single track that he has produced.  With just twenty years under his built and relative newcomer to the trance scene or electronic music at large, we are making a bold, yet without a doubt easy, prediction that Armin Van Buuren's protege of sorts is very much worthy of a place in our Hall of Fame.  From the very beginning of his still rising career, Andrew has been a staple in Armin's A State of Trance, with a large chunk of his current discography gracing the "Tune of the Week" slot on the legendary radio show.  Perhaps the most notable achievement for this twenty year old has been participating in the ASOT 600 The Expedition world tour festival, on which he was a resident.  With so many accolades and so much recognition from the biggest players in the field by only age twenty, it is incomprehensible to guess how high Andrew Rayel will rise.

Andrew's musical journey began at the young age of thirteen, when he showed an interest in classic, orchestral music. This experience is plastered all over Rayel's music.  His mastery of using classical instruments to build his euphoric riffs and melodies is  almost unparalleled, and is a big reason why almost every tune he has put out is able to evoke such a striking amount of emotion.  The use of classical elements in trance music is far from a new concept, but Andrew's employment of them, especially at such an early stage of his career, is mesmerizing. His "Clarity" remix was the first time I really heard his grasp of melody within a context of a tune he didn't even originate! Listening to the piano underneath the first verse, it's a completely different tune than what Zedd composed, and it works flawlessly. It's a beautiful remix, every bit on par with the original.  This beautiful combination of sound, melody, and song construction is evident in every one of Andrew's tracks. Furthermore, he is not afraid to embrace what he does best, and that is trance music. While many producers in the genre are migrating towards the 128 BPM found in house music, Rayel's tracks always stay at at least 132, and even to 138 and beyond.  Below, you will find five tracks that have defined Andrew Rayel's young and flourishing career, along with a defining set and obviously, that set must be one of his ASOT 600 performances. Enjoy.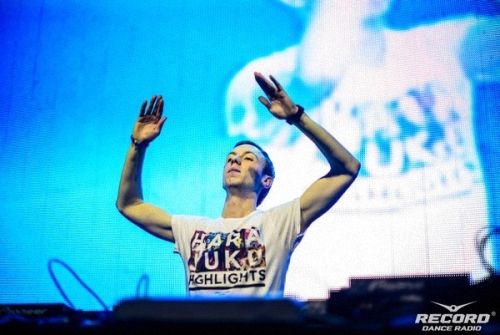 1. 550 Senta
Perhaps the first real breakthrough track by Rayel is 550 Senta.  The tune is named after an asteroid that orbits our Sun, and the tune reflects this perfectly. With it's ethereal human echoes at the start, coupled with powerful and moving piano, one can easily picture in their minds eye an asteroid, floating in the cold depths of outer space, whipping around and around, for all eternity.  The piano is absolutely stunning in this tune, and the transition into an orchestral melody with a booming drum in the background will send shivers down your spine. The track was the tune of the week on ASOT 550; that is the version you will find below.  It is a slightly more upbeat version of the original, but nevertheless still absolutely stunning.

2. Aeon of Revenge
The tune of the week for ASOT 563, "Aeon of Revenge" is pure trance goodness. Clocking in at 134 BPM and employing a long, drawn out buildup that finally disintegrates into another gorgeous piano melody, "Aeon of Revenge" bleeds elated emotion. Echoes of voices build up, until a sudden release into a classic trance synth with a thudding and aggressive drum beat in the background.  It is an ode to a very traditional and familiar trance sound and it is executed with utmost perfection.  These traditional sounds, coupled with Rayel's masterful piano work come together in a perfect blend to create an unforgettable track. I will probably use 'emotional' and 'powerful' to describe every single track on this list.  It's not that I'm unoriginal (well, maybe), but that those are the best words to describe almost every Rayel track. It is incredible how this young producer has mastered the art of storytelling with music. Similar to "550 Senta", which whisks you away to the reaches of space, "Aeon of Revenge" hustles your mind through a ridiculous range of human emotion. Props Andrew.

3. Love Again
Of course this track would be here. Not only is it actually awesome, but it also happens to be Andrew's #1 track on Beatport. It takes Andy Moor's and Betsie Larkin's already great original and improves upon it in every way, who thought that was even possible? Andrew was able to give this track an extra burst of energy and turn it into an absolute masterpiece.

4. Zeus
Featured as ASOT 605's tune of the week, Andrew makes use of the female echoes mixed with the piano to make for a sound that bleeds urgency and buildup. The tantalizing buildup keeps you on edge and anticipating the euphoric drop that is to break. Similar to many other trance tracks, but is able to make a name for itself by keeping pace at 132 bpm with that urgent, yet heavenly, sound.

5. Clarity (Remix)
Andrew's rendition of Zedd's Clarity should have gotten him a platinum as well, considering how mind-bogglingly great the remix turned out. It was an instant favorite amongst the other artists, including Armin Van Buuren, who played it ASOT 600. Andrew switched up the insides and outs of the track, reworking the piano behind the acoustic voice and complementing it with some pounding basslines. With elements of classical composition fused with Foxes' mesmerizing vocals, it is probably the only remix that one could say to be as great, if not better, than Zedd's amazing original.

Let's not forget that Armin considers Andrew his masterpiece and his prodigy. Andrew's rise to fame at such a young age has paved the way for his bright future; standing beside EDMTunes' 4 other hall of fame inductee should be a proud, yet humbling, feeling for the modern day Mozart. Releases after releases, Andrew's tracks are heavily supported by hottest DJs: Tiesto, Markus Schulz, Dash Berlin, Bobina, and the god himself, Armin Van Buuren. But it shouldn't come as a surprise to many that Andrew has made such a great track record for himself; after all, he hasn't even hit his peak yet. DJ Mag ranked him at 77 in 2012, but with the great year he's had thus far including an album set to be released later this year, we should see Andrew solidifying his rankings and easily jumping into the top 30 for 2013.
Editor's Choice Set – Live @ A State of Trance 600 Den Bosch – 06.04.2013
Sharing the stage with Dash Berlin, Armin Van Buuren, Cosmic Gate and Simon Patterson that night, Andrew didn't shy away from the spotlight. What many would consider to be the "defining" set of his young career thus far, Andrew rocked out to the 30,000 souls that were gathered there that night in Brabanthallen of Den Bosch. He picked the right place, the largest Trance event in all of Europe, to deliver his stunning set and had the attendees feeling as if heaven was right at the bottom of their feet. Andrew took each and every one of his listeners on a musical journey that night and ultimately ending the night leaving everybody in a state of trance.