Deadmau5 & Afrojack Feud Over Contrasting Styles
The difference between crowd pleasing and producing music that represents yourself has become a hot-button issue in EDM today. Wolfgang Gartner and Martin Solveig went at each other regarding this topic just over a month ago. Chemical Brothers criticized the mainstream style of Swedish House Mafia. The most recent clash involves two of the most renowned figures in the industry, Deadmau5 and Afrojack. The feud began after Joel Zimmerman (Deadmau5) made a comment at the EDMBiz conference in Vegas during the week preceding EDC in which he stated that many of today's DJs do nothing more than "press play." Joel had to have known this would spark an uproar from other artists, but then again I'm sure he welcomes it, that's always been his personality. Afrojack fielded a separate question at the conference that upon first glance seemed relatively unreleated to Joel's comments. The question was related to the possible EDM bubble people inside and outside the industry think the genre may be experiencing. He answered with, "It's simple, if you make good music, you succeed, if you don't, you won't." The answer seemed to appease most of the other artists in attendance. Deadmau5 was not one of them. He fired back with the following statement…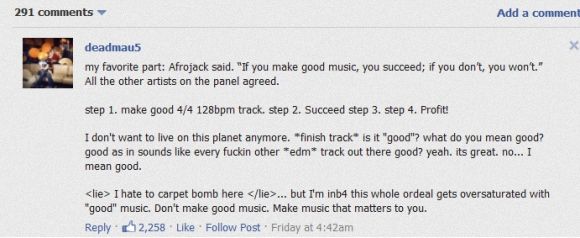 Afrojack didn't lie down. His response was rather vulgar and lacked substance (you can see it below). After taking into account the two artist's thoughts, I think it's important that we take a deeper look at the context. This is much more than a dispute between two popular artists. It comes down to two vastly different styles of performing and producing. On one hand, you have music that caters to igniting a certain reaction from fans. It's fairly predictable. It's easy to sing along to. But, is the DJ playing it really passionate about the track at all? Is it actually what the artist themselves would consider "good music?" Depending on who you ask, you will probably get two very different answers. For those that tell you it is not good music, the opposite style comes into play. This is music that the specific DJ loves and is incredibly passionate about without taking into account how fans will receive it. It often involves experimenting with new ideas that sometimes lead to critical acclaim (Random Access Memories) and other times spark confusion and doubt (Avicii's Ultra Set).
It would be nice to think that we'll always have both options. We can agree to disagree, but we'll all be happy. In my opinion, this may not always exist. We're walking a very tight rope right now. EDM is becoming more and more commercialized. It's hard to attend a festival and not hear a popular song 5+ times often without ever hearing it from the producer responsible. We're losing unique artists and paving the way for  artists with almost identical catalogs of music. It's a problem that us longtime fans could never even imagine existing in years past. Only time will tell what this new wave of popularity will bring us. 

Let us know what you think of the feud and where you think our genre is headed.