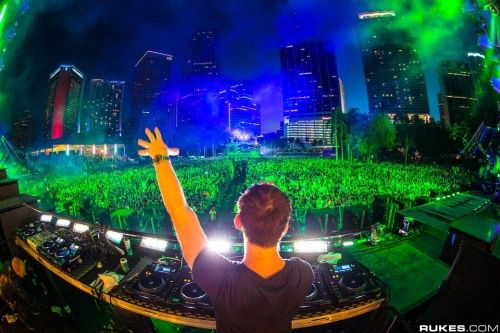 We here at EDMTunes want to always give you, the readers, the most enriching content you could possibly find on the internet. It's very important to us to not only keep it fresh by getting you coverage of the latest tracks and events, but also to analyze the different artists and keep in check with where the scene is heading. Keeping that in mind, we've decided to kick-off an editorial series where every week we will be picking up an artist from the genre and doing a background check on them by breaking down the tracks that earned them their reputation and got them to where they are in the EDM community today. To conclude each editorial, we will also bring to light the one live set that is meaningful and special to us and the artist's career. Tune in each week to check out this series!

HARDWELL
Does Hardwell even need an introduction? Award-winning DJ, Producer, Label Manager and ranked #6 in the DJ Mag Top 100 Dj's poll this Dutchman's music has had a colossal impact on electronic dance music. He is one of the most wanted acts on the stages of every major festival, and rightly so. His ability to make the crowd go into frenzy and tear apart every stage he performs on is awe-inspiring. His weekly Radio show 'Hardwell on Air' has consistently been in the top 10 podcasts in several countries and is featured on some of the biggest dance music radio stations around the globe. His music can clearly be seen as a major influential factor in the big-room-house sub-genre that has blown up beyond imagination. And yet, this seems to be just the beginning for Hardwell.
 THE 3 TRACKS THAT BROUGHT HIM FAME
When you're asked to pick just three songs that were monumental in an artist's career, that too of the calibre of Hardwell, it is an extremely difficult task. But since we must, here are the three tracks that we think got Hardwell to such great heights.

Up until 2011 Hardwell was hardly known as compared to how famous he is today. And then in early 2011 Hardwell collaborated with his mentor, the legendary Tiesto, who incidentally was born in the same city as his. This was that one song that can be attributed to making Hardwell the superstar DJ he is today. The song was the perfect fusion of production styles of the collaborating artists. The energy it channelled from the stage onto the dance floors was unbelievably terrific. This song undoubtedly is very special to both Tiesto and Hardwell, as the title was the area code of Berda, their home-town. Arguably, this was the tune of 2011.

After an enviable 2011, Hardwell continued his banger-spree with one of the most prodigious tracks produced by him till date. Spaceman is a track which would appeal to even people with the most horrible taste in music and enchant even the strongest house music purist. With an eerie tune that effortlessly puts you on a musical high, combined with a super heavy bassline, and the classic Hardwell distortions and bleeps, this track is one that has had a profound impact on Hardwell's image as one of the greatest electronic dance music producers of our time.

This electro/progressive house bomb dropped in November 2012, as a follow-up to Spaceman. Apollo features the sexy and surreal voice of Amba Sheperd. It's one of those songs that you can actually connect to and feel it soothing and mesmerizing your insides. The vocals combined with a grinding punchy bassline and an unforgettable melody makes for a complete festival anthem. The only complaint anyone could have with this track is that your thirst for the celestial vocals is left unquenched.
Hardwell's most memorable live set (Editors' Choice):
Hardwell live at Ultra Music Festival 2013

The significance of this set for Hardwell is evident in his own words- stating that this was the best gig he's done so far. Dj's say it all the time, but we have a hard time in not believing this man on this. Beginning this set with an edit of Spaceman, and effortlessly blending it with the Above & Beyond hit 'Thing called love', and then moving to remixes of Apollo Ft. Amba Shepherd, Hardwell managed to blow up the UMF stage and have the shreds flying all across the festival floor within just 10 minutes. In an hour that he was on stage doing what he does best, Hardwell seamlessly switched in between every possible sub-genre of electronic music, and managed to transform the audience into his dancing puppets with the energy he generated. The mixing and the incredible style of amazing the audience with unexpected drops and sudden transformation of sounds, left both the festival-goers and the fans catching the set Live on the internet flabbergasted. The performance impressed the EDM community such that it has helped him increase his fan base over social media by as much as 300%. This is one set which will be eternally memorable to everyone who was treated to this musical feast.
Be sure to tune in as we present a new DJ every Friday!