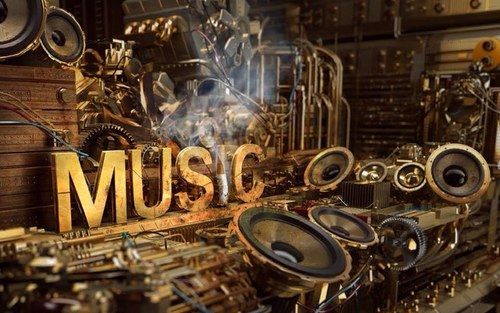 Whenever anything or anyone is at the top, there are always people that love predicting the downfall. Let it be the stock market, a public personality, an organisation, a business tycoon, a movie-star, even the entire god-damned world, and there are 'experts' who claim to know that the end is near. It's a common human tendency, we love to hate. We love to criticize and to actively discuss the future, to speculate.
It's the same story with EDM today. There are articles after articles being published about the imminent doom of EDM, of the music we love, the artists we follow, the culture we've come to associate ourselves with. But is this crazy momentum, this sudden huge craze, this never seen before commercialization, these massive crowds at the hundreds of festivals being organized or freshly starting up even, these organisations running to the party for a piece of the cake, this coverage by the mainstream media ; is this all an indication of the upcoming doom? Does this mean that the music we hold dear is about to worsen? Will this bubble burst now? Well   No, not really.

Firstly, we need to realize that this really is NOT the peak, this is not the limit EDM can go to, we're still away from the top, there's still more to come, more innovations, a slew of modifications and evolutions to come to the music we listen to today. This music will diversify, for the better or worse, we cannot predict, we have no means of knowing it, unless someone has a Delorean that will take you to 2020 when it hits 88Mph.
I won't say that I don't find this staleness setting in, or that I don't find the lack of originality and the unwillingness of producers to deviate from these big-room electro sounds' a bit troublesome. But whenever these thought's creep into my mind, and when I too begin to feel that we're soon going to see the passing of this phase that EDM is in right now, I discover a new song or a new artist, that I instantly connect to, and that totally rids me of these thoughts. We need to understand that repetitions and similarities are bound to enter and they're not signs of dearth of talent. We have a lot of producers that are ridiculously talented, who tend to develop their individual styles and their current work beings to sound similar to their previous work. It has happened to a lot of great artists from all the genres. AC/DC have been criticized tons of times for the similarities in their songs, does that mean they're any less talented or beloved? ; Absolutely not. They developed their own characteristic style which millions of fans connect to even today.
The state EDM is in today is very similar to the state Rock was in the 70's. It was at its best during the 70's and that can be said for EDM today too. Rock as a genre existed much before the 70's, there were The Beatles, The Rolling Stones, The Who, Doors, etc. But Rock music truly reached the top of its game and began to evolve and received mainstream attention in the 70's with bands like Led Zeppelin, Pink Floyd, Black Sabbath, Aerosmith, AC/DC pushing the boundaries of the genre.
Similarly, we had the first wave of protagonists such as The Prodigy, Daft Punk, Armin Van Buuren,  Deepche Mode, Moby, FatBoy Slim, Tiesto, Aphex Twin, The Chemical Brothers, who defined electronic music as a genre and gave it immense meaning, just like bands from the 60's. And in this decade we have artists like, Above & Beyond , Fedde Le Grand, Laidback Luke, Avicii, Deadmau5, Diplo, Steve Aoki, Hardwell, Sander Van Doorn, Paul Van Dyk, Skrillex, Gareth Emery, Carl Cox, who have lead the genre to the mainstream. The trends between these two Genres are very identical.
I believe that just like Rock reached great heights during the 70's we too are at such heights with EDM, and just like Genres such as Metal, Grunge, Punk, Emo, etc essentially evolved from Rock music, we'll see a similar kind of evolution of electronic music, and it actually has already begun in full swing, with sub genres such as Dubstep, Trap, DnB, Hardstyle, all evolving from Trance, Progressive House, Electronica, and other early forms of what we call 'EDM' today.
The commercialization is over-the-top, the monotonousness is upsetting, some producers changing their style and switching genres just to receive mainstream attention is very disappointing to loyalists, but I hope and believe that better things are in store. The bubble will burst there is no doubt about it, all good things come to an end, what's at the top will fall someday, but I don't think that day is close by for this genre. There's a long long way to go, there's a huge amount of talent in the producers, and that's the reason their music is so well appreciated, underground music is great and the talent in there is undeniable, but to actually create fans worldwide and have people dancing and raging to your tunes is no easy job and requires huge amounts of talent too, but these producers need to keep it fresh, they need to give us fans something new, something that excites, and I presume they will.
The road ahead is exciting to say the least, and where we are right now is not as bad as critics claim it to be.  We have legions of great young producers, Dannic, W&W, Zedd, Knife Party, Ralvero, Showtek, Dyro, Alvaro, Vicetone, Arty, Alesso, Krewella, Martin Garrix, Tommy Trash, Bingo Players, Dirty South, all these artists are truly amazing and have massive potential and they all know how to ignite the floor.  As even Forbes stated "Dj's are the new Rockstars'.
Let us stop these speculations, and to try and predict and look out for the end. Instead let's be appreciative of the music we have, lets revel in the present, let's have the greatest time of our lives seeing the artists we love, attending some of the most incredible music festivals in the world, and let our ears be filled with the goodness of some big room electro sounds, some melodic synths, lets sing the vocals out loud together, lets feel the bass make our bodies tremble, lets immerse ourselves in the build-up, raise our hands patiently yet eagerly waiting for the 'drop' with our rage face on, and when it hits, go absolutely berserk.
The Rave Wave has taken over, let's ride with it.
Authors Note: This article contains the opinions and views of the Author; The article is meant to entice active discussion among the readers and the readers are free to agree or disagree with the views expressed in the article.