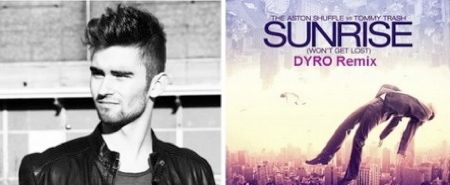 The Aston Shuffle vs. Tommy Trash – Sunrise (Won't Get Lost) (Dyro Remix)
Genre: Electro House / Label: Polydor / Released Date: May 21, 2013
Download on Beatport
Dyro is arguably the hottest up and coming EDM artist of the moment. Heavily endorsed by Hardwell, the young electro artist Dyro has been nailing it with one anthem after another. With the release of  his collaboration track with Hardwell  'Never Say Goodbye' already at the #4 spot on Beatport, Dyro is rising fast into the spotlight.
For the second day in a row, Dyro has done it again with his remix of The Aston Shuffle vs. Tommy Trash track 'Sunrise (Won't Get Lost)' which was official released today. The original track was already a staple, with artists dropping it left in right in their sets, but I predict this remix will get similar attention. It was already featured on W&W's Mainstage podcast Episode 155. At first the two tracks sound similar, but Dyro puts his own signature sound on it with a more urgent driving build and then a massive dance inducing electro drop. You can certainly tell the difference between a Dyro and Tommy Trash track. This remix is definitely more edgy than its original, but still keeps its melodic value, which is to be expected from the great Dyro. Here have a listen.