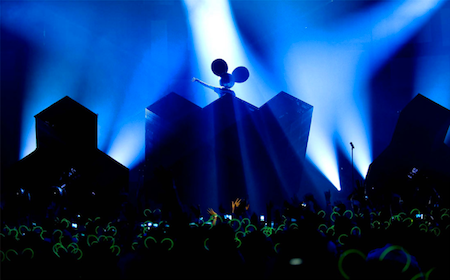 As much of a bandwagon name as there is in the dance music world, recent preview releases from iconic producer Joel Zimmerman, a.k.a. Deadmau5, beg the question of just how anyone would not want to be on that bandwagon. The man in the mask has apparently been quite busy lately as new previews seem to be arriving uncharacteristically fast. About a month ago Deadmau5 created waves amongst dance music enthusiasts everywhere with two previews titled "Assume Control" and "Moog Bass + Modular". These two previews were small samples of new ideas that had classic Deadmau5 atmospheric vibes, well, apart from the Afrojack like bit at the end of "Assume Control" which I found quite comical.

Soon after the Mau5 gave his fans a look at some of the work he is doing with his fiancée Miss Kat Von D, titled "Satellite". This demo featured an ambient piano entry, which was soon met with stunning vocals from Kat. The track becomes an ambient, and upbeat tune with a few electronic elements. It's an exciting preview for quite unique music, and what we might expect to hear from the couple in the near future. 

Then in around the last 24 hours Deadmau5 fans have had reason to rejoice, as three new previews were unleashed on the artist's SoundCloud account. "Suite 03" and "Monophobia" leave audiences with the indication that the Mau5 still has the iconic stylings that brought him up.
Finally, within the last few hours, a Deadmau5 and Kill The Noise collaboration preview named "Killthemau5" was dropped off on the SoundCloud account. An unlikely collaboration, in my opinion, leaves the audience a track that quite frankly I'm at a loss for words to describe. I was, not surprisingly, pleased to hear the fusion of two well-recognized names in the industry and enjoyed it a lot; the result however, is difficult to put into words.
The influential stylings of Deadmau5's works have put him on the radar for producers across the globe. I spoke with Luis Torres, of Dzeko and Torres, who had the utmost respect for Zimmerman's productions, about "Monophobia" and some of his thoughts on some of the previews coming out.
He talked with me about how in his earliest memories of listening to Deadmau5 tracks he noted how the tracks were a comfortable fusion of electro type noises, but still maintained a progressive edge to them, giving them some nice "minimal sounds".
"I like this new track of his. It still has the great Deadmau5 chords and then goes into that old minimal style… This makes me want to dance. This makes me want to be 18 again, and going to see him at Koolhaus in Toronto… no lights, just darkness and loud music," Torres said.
I could not have agreed more. Being a Mau5 fanatic myself I shared Torres' opinions on the preview. I asked Torres if Deadmau5 was an influential producer in his own productions, and in his productions as a part of Dzeko and Torres.
"Yep, of course… like crazy influential when I first started. Then when Dzeko and I started to work together, the first release we had was like this Tech House/Techno EP and one of the tracks was super influenced by 'Soma' (Deadmau5 track)," Torres said.
With previews abundant, and a future that looks promising, Deadmau5 is surely an artist that would recommend to all new dance music listeners, and even long-time dance music listeners who have not yet fallen for his unique styles.
Links to the three most recent previews can be found below. Be sure to check out Dzeko and Torres, and also check out Deadmau5's SoundCloud for streams of the rest of the previews.