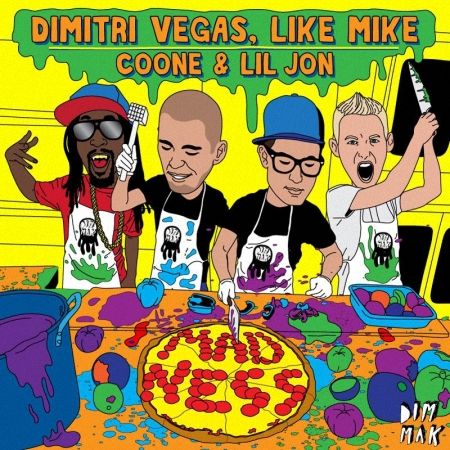 Dimitri Vegas, Like Mike, Coone, & Lil Jon- Madness
Genre: House | Label: Dim Mak Records | Release Date: Jan 29 2013
Download on Beatport
Download on iTunes
The wait is over because the kings of anthems Dimitri Vegas & Like Mike teamed up with Coone and Lil Jon a while back to create their masterpiece, Madness, out today! This brutal force was first unleashed among thousands at EDC Las Vegas and Tomorrowland 2012, and was also featured in the explosive Tomorrowland 2012 after movie, so I'm pretty sure the anticipation for its release has been a long one. It's an amazing follow up release to "Phat Brahms" which was done in collaboration with Angger Dimas and Steve Aoki, just see for yourselves with the previews below!
The Belgian brothers, Dimitri Vegas & Like Mike have worked with other music giants such as Nervo, Afrojack, Robbie Rivera, Dada Life, and a handful of other pop artists. They have a string of hits, and have produced number one singles in their home of Belgium, "Liquid Skies" and "Pump Up the Jam" with Techotronic. They were given the opportunity to create the Tomorrowland theme back in 2010, which proved to be another hit to add to their names, so it came as no surprise when they were asked to produce the theme in 2011. "The Way We See the World" with Afrojack and Nervo exploded in the music scene and stayed at the top of the Beatport charts, and so they were the indisputable choice to create the anthem for Tomorrowland 2012. When they're not in the studio creating or remixing, they are bringing in more productions to their very own Smash the House Records.
Make sure to check out "Madness" which really is just that- MADNESS and so much more craziness, and what more could you expect when Dimitri Vegas & Like Mike enlist the help of one of Hardstyle's leading producers as well as help from the self proclaimed King of Crunk?! We've got the vicious hardstyle touch from Coone combined with raging house synths, and just a bit of Lil Jon's vocals to fuse the piece together. This is the next big anthem; so don't forget to grab your copy today on Beatport and iTunes!
Follow and subscribe to Dimitri Vegas & Like Mike:
www.dimitrivegasandlikemike.com
www.facebook.com/dimitrivegasandlikemike
www.dimitrivegas.com
Follow and subscribe to Coone:
www.coone.be
www.facebook.com/djcoone
Follow and subscribe to Lil Jon:
www.itsmyurls.com/liljon
www.facebook.com/LilJon