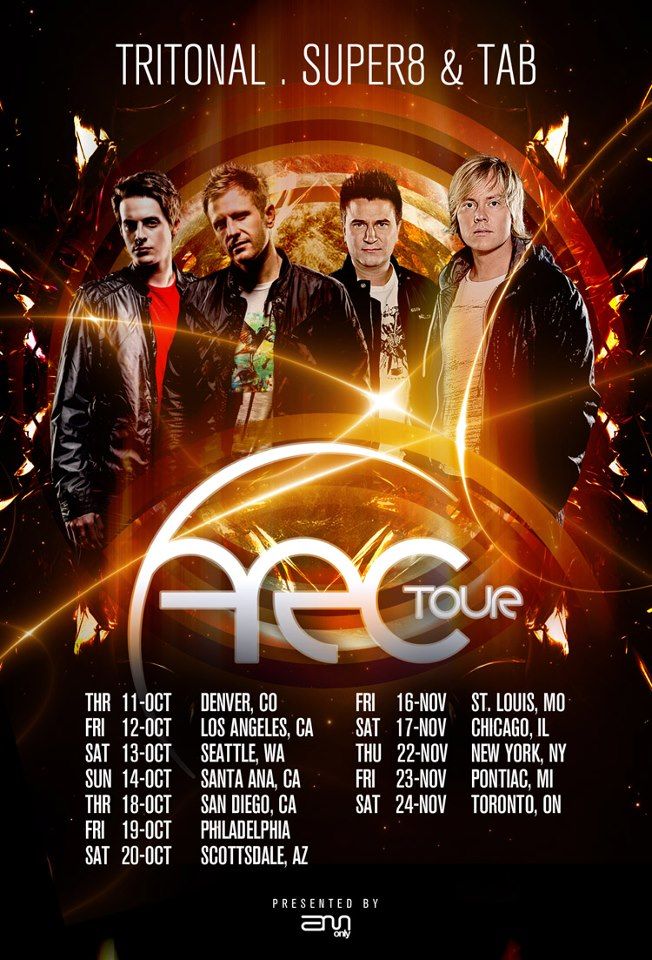 Coming soon to a venue near you… Dave Reed and Chad Cisnero of amazing Trance duo 'Tritonal'. Highly successful in their recent explosion of popularity, Tritonal is finding their way to the top charts on Beatport.com. They recently released album "Piercing The Quiet: Remixed" was very successful, featuring some of the best remixes from their original album "Piercing The Quiet".
Ever hear of trance duo Super8 & Tab? As if seeing Dave and Chad wasn't already enough, Tritonal is proud to announce that they will be touring North America this Fall and Winter of 2012 with Super8 & Tab. The 4 superstars will be part of the "ARC" Tour; comprised of Phase 1, Phase 2, and Phase 3. Their tour is known as the North American "ARC" Tour, because it is an upcoming track that Tritonal has collaborated with Super8 & Tab that they "plan to unleash coast to coast". Phase 1 is comprised of shows in September and October, Phase 2 comprised of shows all the way up to the end of December, and Phase 3 is yet to be announced. Some of the large performances the 4 trance-superstars will be stopping by include 'Exchange' @ Los Angeles, 'Soundgarden' @ Philadelphia, and 'The Guvernment' @ Toronto so be sure to get your tickets before they sell out! Here at EDMtunes, we work hard to bring you the most up to date list of the locations and dates they will be performing at for their "ARC" tour. Here they are!
Upcoming Tritonal + Super8 & Tab Tour Dates
10/11 – Denver @ Beta Nightclub
10/12 – Los Angeles @ Exchange
10/13 – Seattle @ Foundation
10/14 – OC @ Yost Theater
10/18 – San Diego, CA @ FLUXX
10/19 – Philadelphia @ Soundgarden
10/20 – Scottsdale, AZ @ Axis Radius
11/16 – Europe Nightclub @ St. Louis, MO
11/17 – Aragon Ballroom @ Chicago, IL
11/22 – Pacha NYC @ New York, NY
11/23 – Elektricity @ Pontiac, MI
11/24 – Guvernment @ Toronto, ON
Watch "Tritonal / Super8 & Tab – ARC TOUR"
http://www.youtube.com/watch?v=Hv_xVcKzjig
Phase 3 is yet to be announced
, so there's still a possibility to see them elsewhere as well! Are you ready for Dave, Chad, & Super8+Tab? Get some of the latest & hottest tracks including "Still With Me ft. Cristina Soto (Stoneface &Terminal Remix)" & "Sometimes I Wish ft. Bethany (Beat Service Remix) on Tritonal's album "
Piercing The Quiet: Remixed"
!
Hope to see you soon #trancefamily!