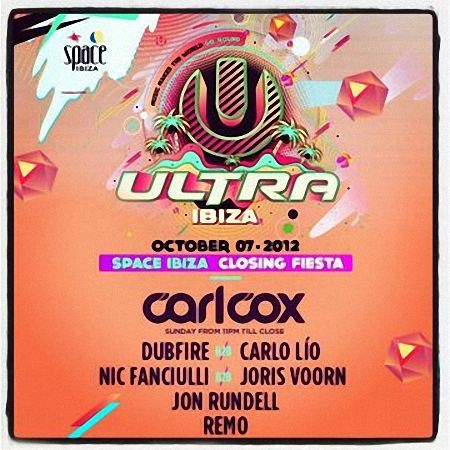 Space Ibiza Closing Party – 07.10.2012
Featuring Carl Cox 24/7 (official page), Dubfire, Carlo Lio, Nic Fanciulli, Joris Voorn, Jon Rundell – Dirty Disco and DJ Remo!
10:30am – 6:00pm Eastern Time (US & Canada) Sunday, October 7, 2012
Live Stream / Live Broadcast:
http://listen.di.fm/public3/techno.pls
The end of the summer is near and as usual, Space Ibiza Closing Fiesta sets the "official" closing of the season in Ibiza. On 7th October, the club in Platja d´En Bossa will hang the sign of 'closed for holidays' after a summer full of great moments. We leave behind four intense months in which we have enjoyed, laughed, danced… a pile of emotions and experiences that only those privileged ones who have chosen Ibiza as their destination holiday, have been able to feel and live.
A summer which will be remembered, among other things, for Carl Cox's revolution, Richie Hawtin´s invasion and his new concept ENTER. leading Thursday nights alongside Kehakuma, We Love Space line-ups, the colourful Café Olé, the musical variety of Beat & Raw, Ibiza Calling´s house and BE´s energy.
To round off the season and turn off the lights, what better way to celebrate than a closing party like the one Space Ibiza has prepared. From 4.30pm on Sunday 7th October, six different areas will host an extensive parade of artists. Carl Cox, Richie Hawtin, Dubfire, Magda, Paco Osuna, Carlo Lio, Guy Gerber, Matador (live), Gaiser (live), Ambivalent, Nina Kraviz, Radio Slave, Nic Fanciulli, Joris Voorn, Nick Curly, Edu Imbernon, Jon Rundell, Saytek (live), Wally Lopez, Juanjo Martin, Albert Neve, Sebastien Drums, Danny Avila, Danny Leblack, Rafha Madrid, Oscar Cano, Marcoloco, Dj Mykris, RiotGear, Ramon Castells, Allan Ramirez, Paul Reynolds, Rad Damon, Mr. Doris and Space Ibiza residents: Remo, Camilo Franco and Danny Marquez, will be responsible for creating and setting the vibe for the last dance of the season.
Naturally, as it couldn't be any other way, Ultra Ibiza will be hosting one of the most emblematic areas: the Ultra Ibiza Area; the open-air space located at the back of the club with a stage in which Carl Cox and Jon Rundell will play b2b, Dubfire and Carlo Lio b2b, Nic Fanciulli and Joris Voorn b2b and Remo all broadcasted live on Digitally Imported Radio. The Main Room, which will open its doors at 8pm, will be led by Richie Hawtin, followed by Dubfire, Paco Osuna, Guy Gerber, Matador (live), Gaiser (live), Magda, Nina Kraviz and Ambivalent. DJ MAG, a mode of communication dedicated to electronic music, will be responsible together with Kehakuma in hosting the Terrace. Saytek (live), Edu Imbernon, Nick Curly, Joris Voorn, Nic Fanciulli, Radio Slave and Remo will be in its DJ booth. We mustn´t forget the Sunset Terrace, El Salón and El Premier Étage, where we will also be able to enjoy successively a long list of artists.
A modified stage, LED screens, moving heads, robots, lasers, visuals, mapping, Foc i Fum performances, acrobatics, aerials, a totally different production from what we are used to seeing and a Funktion One sound system, specifically designed, will all serve to ideally complete the extensive line-up of DJs who will give the soundtrack to this closing party, embracing all genres of electronic music.
The countdown begins. Dejected for having to say bye to summer, but at the same time, willing for this day to arrive and so to enjoy its special energy and magic; that way we will be able to say goodbye the way we should to this season which for many of us, may have been special and unique. Re-encounters, goodbyes and a number of feelings that each year take place at the end of the season. It´s not a goodbye, it´s just a "see you soon". In less than a year, we will see each other again.