Hearing In Flannel
Zedd and Porter Robinson Pacha NY 10/05/12
The pairing of Zedd and Porter Robinson, two of EDM's youngest and brightest stars, can only be described as one of the most compelling symbiotic relationships ever to be formed in the present scene. There are few pairs of DJ's that compliment each other's styles so well. For the lay person, it would be nearly impossible to tell when one left off and the other began. One electro beat after the next, the duo dropped the hammer and absolutely rocked the house at Pacha NY urging every sweaty body there to jump out of their collective shoes.
Never a club to disappoint, Pacha NY provided the scene with the expected laser lights and strobes and filled the dance floor with a luminescent smoke cloud periodically merging the crowd into a frenzy. The hard hits came all night literally shaking the floor with stomping feet and bass cannons. Packed from top to bottom, Pacha housed a younger crowd chronologically appropriate for Zedd (23) and Porter (20). These two came on the set at 2 am each dressed in a casual flannel shirt looking like a couple of EDM frat boys. I had seen them each separately at Electric Zoo 2012 but let me tell you, their combined efforts sparked one hell of a party. A set that would touch and entice even the most skeptical EDM pioneer.
Porter played all of his hits including Language and Unison. These two palm pressers always seem to evoke the same response in every crowd having a sea of hands simultaneously being thrown at the talent. One cannot help but join in as if feeling the actual music through your extremities, a feeling that great EDM is quite capable of producing. Mixing in a number of crowd pleasing essentials bringing heart thumping bass lines to stream his selection together. Porter has an immense knowledge of his music, especially the sound of the music from other DJ's and has a distinct ability to intertwine the two and this skill was brilliantly showcased that night at Pacha. His skill seemed to be enhanced by the team driven efforts of his German companion Zedd.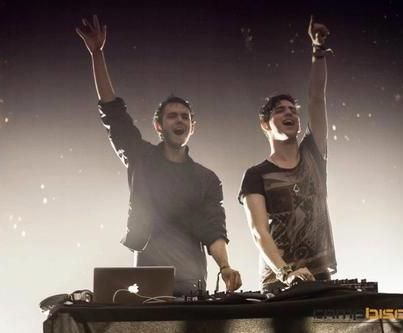 Zedd displayed his elaborate showmanship with a number of his album leading hits one of which I commend him on playing and mixing into the show. New songs like "Stache" "Shave it up" and "Clarity" pleased the audio palette of the thirsty crowd but throwing in his remix of the Zelda theme song drew an awesome response from the Pacha inhabitants dating every gamer with a visual display of the 80's Nintendo hero. He started the set with a faded intro of "Spectrum" and brought the mainstreaming banger back towards the end to make sure he pleased his followers with it's inspiring vocals. This DJ is sure to keep producing and definitely has the energy to spread his music across the globe.
Zedd and Porter share a similar sound that is easy to decipher and made the symphony of their music seamless. Jumping back and forth from the sticks meshing together like a four armed flannel mix monster. You could feel their youthful spirit and it their passion exuded through their drops of sweat off the brow. These two love what they do and who could blame them. They play to their crowd and don't let up making sure everyone leaves happy and fulfilled. I feel blessed to have been witness to their dual showcase and recommend any EDM fan to check out the local stop on the Poseidon Tour.
You can also listen & download the live set of Porter Robinson & Zedd at the Poseidon Tour GLOWfest WVU, United States – 29.09.2012 here.
Written by: Ryan Hennessy