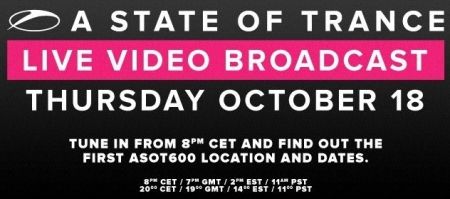 Originally starting back in 1996, the Amsterdam Dance Event (ADE) was a small but popular music conference with only about 30 DJ's performing in 3 different venues. Today, ADE performances have grown to an outstanding 800 DJ's playing in over 75 of Amsterdam's best venues. The conference will start on October 17th, 2012 until October 21st, 2012, five days of pure electronic music.
What makes this week all that much better is that Armin Van Buuren is scheduled to finally announce the first cities of A State of Trance 600 during his live broadcast of his weekly radio show. Thousands of people worldwide have been campaigning on ASOT600-dedicated Twitter accounts, all giving reasons why Armin should come to their home country for the worldwide tour. Dash Berlin World has done us all the favor of organizing the TOP 50 campaigning countries for ASOT600 into a post, found here! On October 18th, 2012, thousands of people will be listening in on the fully live broadcast that will also be streamed live on YouTube. Here are the times you should be tuned in with "A State of Trance" respective to your time zone.
A STATE OF TRANCE 600 LIVE BROADCAST FROM ADE

CET (Central European Time) @ 8:00PM-10:00PM
GMT (Greenwich Mean Time) @ 7:00PM-9:00PM
EST (Eastern Standard Time) @ 2:00PM-4:00PM
PST (Pacific Standard Time) @ 11:00AM-1:00PM
With just a week left before the official announcement of ASOT600, trance lovers around the world are finalizing their attempts to have their countries part of Armin Van Buuren's global tour. What are you waiting for? Go out there and bring 'A State of Trance 600' to YOUR home! Best of Luck!
Are you ready for ASOT600 #trancefamily?
Written by: Edwin Yip